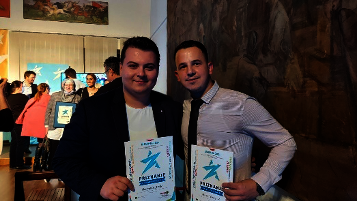 BOSANA FOUNDATION
Scholarship and Personal Development Program
Quarterly Report
October-December 2021
Executive Summary:
Happy New Year and welcome 2022! We are enormously grateful to our supporters who stood by us through this difficult year and enabled us to continue implementation of our projects. Your support allowed us to accept new students into our Scholarship Program. We have also raised enough funds to cover the costs of our After-school program in Tuzla for 2022, and in January we will extend our After-school program to also provide support at the Bjelave orphanage in Sarajevo.Thank you to everyone who has supported our projects over the years. Help us make 2022 an amazing year. Follow us on social media and keep an eye on our website for all the inspiring mini endeavors coming this year.
Students and Program Update:
The last quarter of the year is always a bit slower than the rest of the year. Students have started their classes in October and they are learning new materials while preparing for their midterms. Universities are still deciding on how to proceed with the school year, should the classes be in the classrooms, online or hybrids. The fall semester started mostly in classrooms, only a few programs opted for remote version. Bosana students were happy to be in the classrooms since they missed in-person lectures, however, it doesn't mean that the classes will continue this way due to changing rules and regulations.
Despite the slow few months on the academic front, we still have a few noteworthy news about our students. In this newsletter we are highlighting the impact of the Scholarship Program and the deserving students that you support.
Highlights of the quarter:
We are thrilled to share all these inspiring news about our students:
- Adnan graduated from the University of Electrical Engineering in Sarajevo, Department of Automatic Control and Electronics. Adnan first joined us as our Professional Development student for a year and soon after he joined the rest of our students as our scholarship recipient. While in his last college semester, Adnan took part in a work-study program in Germany from which he just returned and he has promised to share his experience in our students' blog.
- In November we organized an informational session for our new Bosana students to convey our expectations and how we can work together so that they can achieve the best results possible. The goal of the online meeting was to introduce them all to the Foundation, as well as the scholarship program and the Students for Humanity project so that they can also see how they can impact other students' lives. Students also had the opportunity to get to know each other and tell us also more about the organizations where they volunteer.
- In December a couple of our students received laptops to help them work on their academic tasks. Suncica is finishing her M.A. degree in political science and she is also the project coordinator for Bosana's "Students for Humanity" project so that laptop will be most handy.
- Irma is our third year student at the University of Political Science in Sarajevo. Her laptop "retired" in the midst of her exam season so we were happy to have been able to come to the rescue with a new laptop so she can complete her exams and assignments to finish her semester.
- To commemorate the day that marks the anniversary of the University of Pharmacy in Sarajevo, a special ceremony was organized by the head of faculty. At the event, many acknowledgments were celebrated and awarded to individuals and organizations that have significantly helped to improve the work of this institution. In addition to this, students from the Dean's list were announced. Criteria for the best students in each academic year were based on their overall grade point average. Also, selected students had to have passed each year without any renewal or transfer of any subject/class. With a grade point average of 9.0, our student Sumeja was selected as the best student of her generation and received Dean's recognition for these remarkable results. We would love to remind you again that Sumeja was part of the team that had a brilliant pitch idea and won several awards and first places in various regional competitions. She also runs a blog and social media accounts that focus on healthy lifestyle.
Exciting news about Bosana's former students:
- This year, our former students Benjamin and Mirzet participated in the Big Bang Challenge in their hometown of Tuzla. They both won recognition in the category of Science and Education. The Big Bang challenge project is a platform that recognizes new leaders among young people. This type of recognition of the successful young leaders has also created new role-models in the public sphere in the city of Tuzla, which also emphasizes their important roles for a better and stronger BiH. The BigBang Generation is a new generation of young leaders who achieve results or inspire others to embark on the path of self development.
- "Students for Humanity" project has been active for six years now. Bosana students each month put aside 2KM that Bosana also matches. Current students and alumni students alike continue to contribute to this project so the impact is very significant.
- This quarter our students had six separate humanitarian actions all across Bosnia and Herzegovina to help those in need.
- The first project helped a family in Ahmetovic village close to Mostar. Both parents are unemployed and they have a two-year-old daughter. They live in a 22-square-meter apartment given to them by the local municipality. Their electricity was on the brink of being shut down and they barely had food to feed their daughter. The funds given to the family paid all the electricity debt, supplied them with food for the next three months and it covered basic necessities for the little girl. Our former student Matea was in charge of this project where students allocated 960KM to this family.
- The second project provided support to our current student and her sisters with heating for this winter season. Our student will remain anonymous due to the sensitivity of her current situation but we are so happy that our students can help one another. For this project, we allocated 485 KM.
- Our third project helped Mirad, a student from Zenica, studying at the Law School in Zenica. Bosana students allocated 300KM to help Mirad cover books for the semester, pay for his monthly transport to the University, and cover his meal vouchers.
- For our fourth project, our former student Armin proposed to help a single mom with an 8-year old daughter from Brcko. Mother Biljana needed help to pay for basic necessities such as winter clothes for her and her daughter. Her daughter also needed school supplies. For this project, students allocated 200KM.
- The fifth project, our students Bilal and Edina proposed to allocate 360 KM to help Anis from Mostar. Anis is a student at the University of Medicine in Sarajevo and struggles to cover his housing, including pay for his meals. Bosana students decided to help him by paying for his dorm for two months. In addition to that, our former students anonymously supported him and paid for his food for a month.
For the final, sixth project, students used the remaining 70 KM from their fund to buy New Years candy/presents for the pediatric patients who are spending holidays in the hospital. Sava, Medical student, organized this event for the second year in a row.