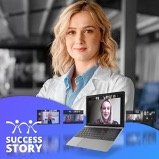 BOSANA FOUNDATION
Scholarship and Personal Development Program
Quarterly Report
April - September 2021
Executive Summary:
October is here and just like that, the end of the year is already in site. In this quarterly report we bring you updates from the past six months of Bosana's activities.
We are honored to have supported the 6th Annual BiH Diasporic Conference (BiHDC) which was held online and the theme of the conference was Vivid Visions: A Decade of Diaspora Development and looking toward the future. Bosana President was one of the workshop leaders on the topic of philanthropy discussing the case of Bosana as one of the most successful BH diaspora organizations working in BIH.
Our Scholarship program is also growing, we have new graduates, new applications for graduate school as well as a new group of scholarship recipents. Due to limitted spaces in our Scholarship program, we have decided to offer something to other aplicants who were not selected, so we organized two professional development workshops for all interested aplicants. Remember to check our website and social media for all of the news and up-to-date information.
Students and Program Update:
The second quarter of the calendar year, although still affected by the pandemic, was little less demanding for our students. Universities started slowly going back to inperson meetings, many classes were still online but some of the exams were offered in person. After almost an entire year of online learning our students were happy to be able to take exams in the classroom.
In the third quarter, students finilized their exams and went home to enjoy deserved summer break. The exam season was stressful yet successful. Bosana scholarship application process for 2021 was opened in August, and we received 125 new applications. The Selection Committee had a hard task of deciding who the most deserving aplicants are, since there were so many great applications. Mid September we have announced twelve (12) new students who were selected into our Scholarship program and two (2) students who were accepted into our Professional Development program.
It is very difficult for the Committee to pick only a handful of students when it is obvious that there are so many amazing students who could benefit from our programs. In order to give something to other aplicants, this year we offered two workshops for all interested aplicants. The first workshop addressed professional communication and aplication process, and the second workshop addressed goal setting and good habits that lead to success.
Highlights of the quarter:
We are thrilled to share all these inspiring news about our students:
- In April, we have started the third cycle of "Kick-start Your Career" program for Bosana students who are graduating this year. This career orientation program was developed in 2019 and it provides a practical, step-by-step approach for each of our students. In this session our students will learn how to create resumes and cover letters that stand out and how to master their interview skills. By developing effective job search strategies, now while isolated, Bosana students will be ahead of their peers when the situation finally normalizes and they start searching for their first job as graduates.
- Our student Suncica was selected to participate in the BOLD program at the Institute on Civic Engagement at the University of Nebraska, Omaha. The program is scheduled from August 15 through September 19th. Due to pandemic, this program will be postponed until next year. BOLD Fellows Institute is designed to strengthen civic engagement leadership development across Bosnia and Herzegovina, provide hands-on leadership experience in developing your action project ideas to improve your community, and strengthen people-to- people ties between the United States and Bosnia and Herzegovina.The BOLD Institute on Civic Engagement is an intensive five-week- long academic program that will take place at the University of Nebraska at Omaha, the U.S. Embassy's implementing partner for this program. The program will include an academic residency for four weeks at UNO which will include classes on leadership development, local community activities, cultural visits, opportunities to engage with a diverse group of Americans, followed by a one-week educational study tour of Washington, D.C., and New York City.
- Our student Selena who is one of our medical students, studying at the Faculty of Medicine in Foca, spends her free time sharing via social networks her knowledge in the field of medicine. Her first discussion was focused on the most pressing current topic about Covid-19 vaccine and all the concerns that individuals have about its effectiveness and risks. Also, she joined in with other doctors and students of medicine all around the world through an Instagram account where they all share positive developments and advice in their field of study.
- Pharmacology student Sumeja, has already tested her waters in start up world with Calvaria, an online tool for professional support, created to conect students from medical fields with professional mentors who will be able to share their skills and scientific research. They have submitted their project to compete for Social Impact Award and they have made it to the finals. Social Impact Award is promoting the knowledge and practice of social enterpreneurship among youth, and they believe in the potential of students to make a difference. In June, a two-day International Student Startup Competition was held in Split, Croatia. Out of the 33 startups that entered the competition from all over the world, Sumeja's team won fantastic fourth place. Finally, in the beginning of October, CALVARIA platform was officialy anounced as one of the winners of 2021 Social Impact Award.
- As part of the Mitigating Online Radicalization and Hate-Speech project, supported by the Anna Lindh Foundation and the European Union, the participants of the program had a task to design and implement mini online campaigns through which they creatively addressed problems at hand. One of the campaigns "STOP hate speech and sexism towards women in the ONLINE space" was made by our student and Humanity in Action Alumna, Lejla. Lejla designed the campaign intending to draw attention to the negative comments sent to women in media articles and social networks. In her video, Lejla gives some concrete steps on how to reduce hate speech if we just simple start from ourselves.
- The first few days of August, our student Jovana participated in a scientific research camp during her summer break. The camp was located in Matinski Vis near Zepce. The goal of this scientific research camp was to research species that are present in this locality, with focus being also on endemic and endangered species. The final goal of the project is for the camp to make Matinski Vis a protected nature park in the near future. " I'm proud that I've participated in such a big project with an even bigger and more important goal and that our research data is going to make the final goal more achievable."- says Jovana.
- Our student Nejra volunteered for the previous few months in the project "HEMDEM". The final activity of this project was a Summer Camp in Turkey on the island of Heybeliada. The camp was organized by the Turkish Red Crescent in co-operation with the Emmaus International Solidarity Forum and it lasted for a week. The project brought together 25 girls and boys from Bosnia and Herzegovina who were left without one or both parents. Our student Nejra was given the responsibility to supervise the children and take care of them during their travels and the duration of the camp. The project was extremely well received by the participants. We are so proud of Nejra's activities because she is always involved in many activities that benefit her community.
- Almost every year, we have students who chose to partake in the Erasmus + study program in the countries of the European Union. This year, Sanel went to Spain, to the University of Lleida to study software engineering for one semester. We believe that this will give Sanel a new perspective and lot of new stuff to learn, from culture to language.
- In August, our student Šerifa received her bachelor's in Geology from the University in Tuzla and plans to continue her Master's studies in the same field. Bosana supported Šerifa throughout her university studies and she was always an exemplary student.
- Jelena was born in Trebinje and she completed her primary and high school in Nevesinje. Jelena attended Medical school at the University of East Sarajevo, in Foca. This September, the dream of becoming a medical doctor has become a reality for Jelena.
- Dzelila was born and raised in Zenica. Since high school, she was an active volunteer donating her time to organizations that focused on children and youth. Dzelila graduated from the University of Zenica, the Department of Enterprise Management. After graduation, she was accepted into Master's program and she started internship in her field of study.
- In September, Nejra graduated from the Faculty of Economic in Sarajevo with a degree in Accounting and Auditing. Nejra is an active volunteer, she has been volunteering since high school in many different organizations. She volunteered in Emmaus, orphanage "Bjelave", Old Town National Kitchen, AKOS "Let's Do It" project, and many more. The next step for Nejra is graduate school and she has already been accepted into the program.
- Danijela was born in Livno and, as she likes to say, her most beautiful childhood memories are from Bilo Polje, where she completed her primary school. She completed high school education in Mostar, and enroled at the University of Mostar. Danijela obtained her bachelor's in Nursing. Currently she is looking for internship.
- Faruk was born in Tesanj where he finished his primary education. He graduated from economic high school in Maglaj and applied to the University of Sarajevo. This September Faruk obtained his bachelor degree at the Faculty of Economic, Department of Management.
- Bosana's Best Student of the Year 2021 is Ahmedina. This award is long overdue. Ahmedina has been a shining star through all her years of bachelor and graduate studies. Ahmedina was born is Srebrenica and she completed her elementary and high school education in Tuzla. She chose program of Social work at the University of Tuzla for her higher education, and she obtained her bachelor of Social Work as well as Master's in the same field. Ahmedina's academic record is impecable, she has been chosen as the President of the Student Council in 2019, she was a member of the Scientific-Teaching Council of the Faculty of Phylosophy for two terms. As part of the same council, she was elected as a student-demonstrator for the Research Methodology course. Bosana is especially proud to point out all the volunteer work Ahmedina was part of during the past six year. She independently launched a home help project for the elderly population within her community, as well as another project to support children affected by cancer. With the help from Bosana Foundation, she organized several workshops for students from her faculty and she also marked the Day of Pink T-shirts. Ahmedina is currently working on her intership and she aquired her teaching licence in the filed of social work and social policy, given by the Senate of the University of Zenica.
At the end of September, she obtained master's degree in Social Work and applied for PhD program in the same filed. Eventually, Ahmedina would like to teach at the same university where she gained her higher education.
Exciting news about Bosana's former students:
- Our former studetn Anela opened the first center for Generic Counseling in Bosnia and Herzegovina. With more than 100 people attending the online event, the first center for Genetic Counseling in BiH was officially opened on April 28th. 'GENETIKA' is genetic counseling center in BiH created to enable each individual to get to know themselves better and act preventively. A team of great experts gathered around a common idea - a personalized approach to diagnosis. The mission of 'GENETIKA' is to enable each individual to get to know their body, their genetic basis, through counseling and personalized analyzes, so that they can more easily influence the quality of life, fitness and health. The entire process, from counseling to therapy, will be made possible in one place. In May Anela won the Young Scientist of the Year award, best known as the Vecernjakov Seal. This award was given to Anela for her hard work and contribution to the field of genetics in BIH.
- This year, our former student Iman was admitted to a fellowship program in Copenhagen. The Humanity in Action journey began for Iman as a year-long Fellowship - an intense period in the summer, (virtual and in-person) and an ongoing virtual training program throughout fall and winter semester. This year, Iman will also participate in three more fellowships abroad that will help her further develop her professional career. Iman graduated from the Law School at the University of Sarajevo three years ago. She was an exemplary Bosana student and continues to provide her assistance as legal council to Bosana Foundation. We are always happy to know of our students engagements past their college days.
- On June 6th, Bosnia and Herzegovina Futures Foundation organized a webinar where we could learn more about design in the automotive industry. Guest speaker was one of our former scholarship recipients Sajdin. The webinar was organized to introduce participants to the process of designing a modern vehicle. Sajdin was born in Zenica and graduated with a bachelor of product design at the Academy of Fine Arts at the University of Sarajevo. For years, he attended the Auto (r) conference and participated in the Auto (r) Design Challenge, which he won in 2013. From 2016 to 2019, he was employed by the Volkswagen Group, Škoda, as an exterior designer, and in 2019 he presented the first car he designed independently - the Škoda Vision IV Concept. Currently, Sajdin is the Lead Senior Designer for a car company in China.
- Foundation 787 together with the support of the US Embassy in BiH, implemented for the first time in BiH, the global AWE Academy for Women Entrepreneurs. The program is intended for 30 women aged 20 to 50 from all parts of BiH who are business owners/founders and are at the very beginning of their business or have only a business idea they want to turn into a sustainable business. Among the 30 selected, is also our former student Amila, who is at the very beginning of developing her business idea. Her goal is to create a business where anyone can "Rent an Engineer", with a focus on providing engineering services by women engineers (mechanical engineering). Amila wants to activate women engineers and break down stereotypes that women are "not as good engineers". In Bosnia and Herzegovina, there are many small companies, as well as individuals, who require some engineering services or engineering solutions but do not need the permanent employment of engineers. The goal is to establish a network that will provide such services within BiH like developing prototype models, 3D printing, etc. Amila obtained Mechanical engineering degree at the University of Sarajevo and is our student alumna.
- Former Bosana student and current volunteer Esma, recently launched a business with her husband. The first price comparison website for Bosnia and Herzegovina called the Cjenolov. The mission is to offer an online platform to consumers to encourage them to make more informed decisions and save money while navigating different retail and online stores. Currently the site offeres options for mobile phones, and the goal is to cover all product cathegories from every webshop in BiH.
New Bosana Project: My Career From Zero to Hero
Back in April, we submitted a project proposal to CEM (Youth Center in Travnik) who is implementing a regional project together with Serbia, Montenegro and Kosovo that is finaniced by the European Union. Goal of the project is to provide support to young people, 18-30 years of age who need to further develop their professional skills in IT, soft skills and job search. The Center had an open call for proposals and Bosana submitted our project plan that is based on our program "Kick-start Your Career" that we created together with a life coach Aida Sulojdzic and we implement each year for our graduating students.
The project will begin in September and last for 6 months. We are very excited that our program was recognized and that we can implement it to include more youth in BIH and help them in their career path.
Other Notewordy news:
In the name of Bosana Foundation and all the Bosana students, we want to thank IMBiH - Inclusive Movement for Bosnia and Herzegovina for their kind gesture and support for our programs!
On August 21st, IMBiH organized a virtual concert "La Convivencia" by accordionist Merima Kljuco and contralto Jelena Milušic. The concert also featured guest pianist, Mirna Lekic and was followed by a question and answer session. The concert was free to attend and open to the public but the attendees were encouraged to donate to Bosana Foundation. Thanks to this great initiative, close to $1000 was raised and donated to Bosana Foundation. We applaud IMBiH for organizing such an event and for directing donations to Bosana.