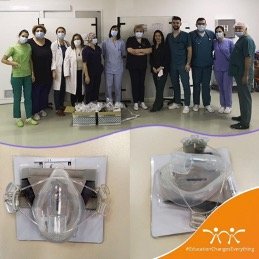 BOSANA FOUNDATION
Scholarship and Personal Development Program
Quarterly Report
January - March 2021
Executive Summary:
It has been a year since World Health Organization officially declared the coronavirus outbreak a pandemic. Looking back at this time, we will remember the isolation, the wide-ranging change of our lives, but also the outpouring of compassion for the challenges faced by our students. We have learned how to come together and make a collective impact. Support from our donors and volunteers never wavered and that is something that we are immensely grateful for.
On the other end, our students responded to calls for help from their communities all the while balancing academic demands and the stress of remote learning.
Students and Program Update:
The first quarter of each calendar year is marked with our students finishing the fall semester, taking their exams and starting their spring semester. It is a busy time for them and we are proud to report that this year, despite all the obstacles, it was a successful time as well. The exam schedules changed and were different for every university, and some students were able to take their exams in person and others virtually. All in all, the results are impressive - many have passed all their exams, but we have a few students that have been struggling with some of their courses. Bosana also covers tutoring if students think they can benefit from it. These students have already started taking tutoring classes and are hopeful that the results will improve in the next semester.
Overall, our students have had very good results, and they were able to rest a little over the break before they started the spring semester. New classes and new challenges are starting now and we cannot wait to report on their success again.
Highlights of the quarter:
We are thrilled to share all these inspiring updates about our students:
Armin, Bosana's former student, now a medical doctor, and one of our most loyal supporters - Authority Partners - partnered together at the beginning of the year. Armin, who works at the Health Center in Brcko reached out to a few organizations looking for a donation. Authority Partners responded immediately and secured funds with which the Health Center in Brcko was able to purchase 37 specialized masks for Covid-19 patients suffering with pneumonia. Because of their severe infection, these patients require pressurized oxygen masks in order to breathe and recover. This is just one of the examples of collaboration between our students and our supporters.
Jovana is in the first year of the Faculty of Science at the University of Sarajevo. During high school, she was an active participant in the Student Council and many school projects. Through her engagement as a volunteer and Board Member in the High School Students Association of Bosnia and Herzegovina, Jovana has worked on many projects that are oriented to improve the status of the high school students in Bosnia and Herzegovina. Her schedule was always filled with youth engagement activities and that hasn't changed at the university. She is dedicated to her academic responsibilities, but she also finds time for additional professional development trainings and online seminars. Jovana is currently preparing training on leadership and mechanisms for high school students' participation on issues that concern them. She is volunteering at Schuler Helfen Leben BiH organization and will be part of the group of young people who will lead a seminar.
Our student Adi started a new position as Physical Therapist Intern at Hospital "Stari Grad" Mostar. In December, he received a Golden Plaque as a student of his generation, and we are so proud to announce that Adi has started an internship in his field of study in January. This is a great accomplishment, since finding an internship in BiH right after graduation is very difficult. Adi was able to get this internship a few months after getting his bachelor's, and while in his graduate program. Right now, he is trying to complete his program and internship at the same time. Once he obtains his Masters degree he will be ready for the job market.
In February, our current M.A. student and part-time employee Lejla took part in two Humanity in Action projects. Humanity in Action supports young leaders and encourages them to be active leaders in their communities through its projects. The projects in which Lejla participated are "Mitigating Online Radicalization and Hate Speech", which aims to suppress extremism in our region, as well as hate speech in the online world. The second project is "The new Wo/man of the Western Balkans", which aims to help participants develop skills to lead the country and what changes are necessary for our communities through state simulation and state-building. Through creative methods, and teamwork with other participants from BiH, Slovakia, Macedonia, and Lebanon, young leaders are given a chance to develop their ideas and thus contribute towards a greater participation of young people in the field of politics and social domain.
Bosana's former student Denis has found employment in his profession, after searching and applying for jobs all over BiH for almost 2 years. In July 2019, Denis completed his Masters in Biology and Genetics at the Faculty of Natural Sciences and Mathematics in Sarajevo. He has worked diligently to find employment in his profession and has not given up despite the rejections and no positive outlook for many months .
During this time, Denis worked as a photographer managing to secure some income for himself. In March 2020, following the pandemic outbreak, Denis offered to volunteer and contribute as much as he is capable within his profession, at the regional hospital in Bihac. At that time Denis did not receive any response. But today, almost two years later, Denis's dream came true. Denis has been employed as the Molecular Diagnostic in the Microbiology Department of Cantonal Hospital "Dr. Irfan Ljubijankic" in Bihac.
Additional noteworthy updates:
Afterschool Program: Bosana Foundation has an active Afterschool Progam in Zenica orphanage, implemented through the Input organization. After 10 years of a very successful project implementation of this program, we are excited to announce that we have started implementing the same project in the Tuzla orphanage in January of this year. Project Coordinator is Edin, a former Bosana student who also grew up in the same orphanage. Edin included four other Bosana students from Tuzla to help him with implementation of this project. Due to COVID-19 measures, they are able to hold classes only once a week during the weekend, however we hope that these classes will soon be offered more often. Children in the orphanage only have 3 computers which is why many have not been attending school and they need all the help they can get.
Academic Writing Class: Bosana Foundation has incredible community support and we have always been able to rely on volunteers to help us raise funds and reach our goals. We are run by volunteers and 85% of your donations are directly allocated towards providing educational and professional opportunities for the youth in BIH. In February, we were approached by Judith Rasson, who is a retired anthropology professor. Judith wanted to volunteer her time to Bosana and its students and one of the proposals was to hold Zoom classes for Bosana students. The class is titled English Academic Writing. The first class started in March, and the students have been working on their writing as well as their resumes. This course was offered to students who already have basic knowledge of the English language and are interested in writing and publishing their academic papers. This is a great opportunity for our students, and we are thrilled that right now seven Bosana students are working on perfecting their academic writing.
We are proud that our students are not only dedicated to their studies, but are also making a difference through their volunteer work.
"Students for Humanity" project is still going strong. Bosana students are all setting aside a part of their monthly scholarship funds for their own humanitarian projects. Bosana's former students are also part of this project. The project is funded with their personal donations which Bosana also matches each month. Students vote each month on what projects they want to support based on the funds available.
This quarter, Bosana students decided to support two students who needed help paying for their basic life provisions.
Donation of 300 KM was made to student Amina from Sarajevo to cover the cost of food and hygiene products.
Marija, medical student studying in Foca, needed funds to pay for her dorm room, school supplies and other necessities. She received 500KM to help her cover those expenses.