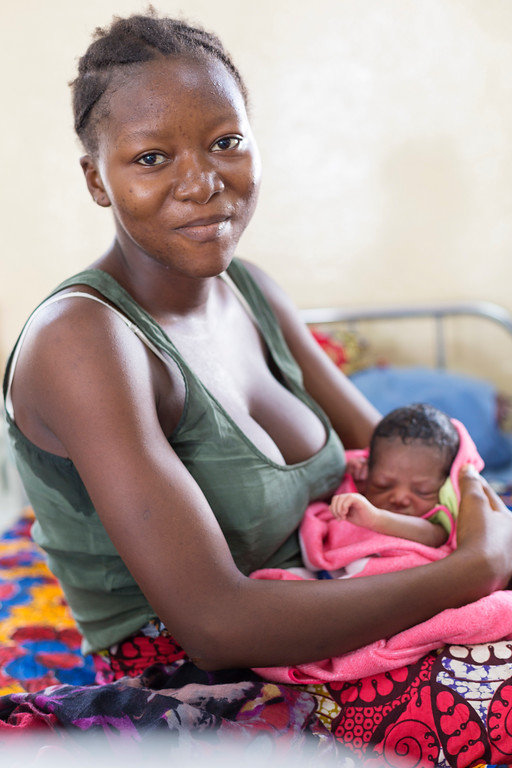 IMPROVING ACCESS TO HEALTH FOR MOTHERS AND CHILDREN IN SIERRA LEONE

July 2017
This is a summary of the main activities that Welbodi Partnership (WP) has been implementing in the past months. Our work continues to improve women and children health through our support to 2 main hospitals in country, ODCH (children hospital) and PCMH (maternity).
We thank to all our donors to continue supporting our work in Sierra Leone.
Ola During Children Hospital Medical Training Program
Progress & Key Successes:
Medical Training Programme:
Having established a regular doctors training programme in 2016 it has been essential to continue its maintenance. Continued timetabling and 2-3 sessions weekly have been facilitated in close collaboration with Dr Deirdre O'Donnell, RCPCH Global Links consultant. A cumulative total of 43 house officers, 5 medical officers and all resident CHO's have now been supported with on-going weekly training.
Since WP introduced the first induction program at ODCH last year it has now become a regular item for all new start doctors. WP has facilitated 1-2 day courses for 11 new doctors between January and May.
February 2017 I facilitated on 2 ETAT plus courses (one 4 day course predominantly for nurses & one 2.5 day weekend course targeted at quickly up-skilling new doctors). Further courses done in June and July.
WP facilitate the first Teaching the trainer's course (weekend course training 13 doctors and aimed at producing more in-country ETAT Plus facilitators).
Training given to 11 new doctors between January and May with formative assessments. This remains an area of need.
Medical student teaching:
(March-April 2017): As part of the COMAHS timetable lectures and daily ward based-teaching were delivered to approx. 25 new students who are due to return for their second placement in July.
Post-graduate training in ODCH
Progress & Key Successes:
Residency Training Committee:
Chief Medical Director of the newly formed teaching Hospital Complex of Sierra Leone visited ODCH in January 2017 and I presented all progressions made towards post-graduate training. Following an additional meeting with him WP were invited to be one of two supporting partners (with Kings Sierra Leone Partnership, KSLP) incorporated into the residency training committee. This committee will replace the previously attended Post-graduate training committee. One such meeting has been held thus far.
Hospital Governance Meetings:
These were established at ODCH in 2016 and include mortality & morbidity meetings, journal clubs and grand rounds). They are not only clinically and educationally important but an accreditation requirement of the West African College of Physicians. Since their introduction WP has always supported timetabling and logistics and facilitation of the meetings.
Residency Training Programme:
WP started a pre-residency primary exam preparation class as advised by the WACP accreditation team. We currently have three medical officers keen to sit the exam in October. It remains challenging to maintain attendance.
Clinical support to the Therapeutic Feeding Centre at OCDH
Progress & Key Successes:
The Therapeutic Feeding Centre remains one of the clinical areas of greatest need and poorest quality of care within the hospital. WP continue to dedicate 3 days a week to clinical support, mentorship, liaising with external partners and pursuing system improvements for the unit.
Significant Challenges:
Following WP presentation the Therapeutic Feeding Centre (TFC) was selected by I-CAP as an appropriate area of need to introduce Quality improvement training and to commence the first non-IPC related ICAP project at ODCH. I-CAP continue to support the facility and conducted a 1 day training refresher that WP attends. WP also established a nutritional task force to assist this process.
Project:
Nursing Care
Individual nurse training logs produced and approved by Matron. Now to be printed and provided to each nurse to track and document their own training.
Clinical competencies developed for nursing skills to be completed by nurses undergoing skills training to show progression in developing and demonstrating clinical skills.
Practical skills training sessions developed and skills area set up in the nurse training office to enable practice in use of medical equipment and demonstration/practice of clinical tasks.
2-hour induction small group sessions now provided for all new student nurses on arrival at ODCH before they commence their clinical placement. Approximately 60 students have passed through this training in the last 2 months since this service began.
In-service training sessions developed in line with requirements agreed with MOHS and delivered to 150 nurses so far.
Identified and recruited 15 nurse mentors – training delivered to 12 mentors
Checklists developed and shared amongst nursing management to aid in inspecting ward areas and quality of nursing care delivered
Monitoring in place focusing on vital signs monitoring and documentation, with feedback given to every ward after completion. Improvements noted since this monitoring has begun. Weaknesses remain during night shifts, weekends and during handover hours.
Clinical support provided for all areas, currently in particular at ICU, Stepdown ward and Triage/Resus. These clinical areas are visited every day to discuss any problems, any clinical concerns and to carry out general checks on routine care delivery. Mentoring of in-charge nurses to improve the physical organisation of the ward, management of staff and duties, and cascading information and training. On-the-job training delivered immediately when errors or problems are identified. Short ward-based training sessions delivered when possible.
Screening set up in the triage area of the hospital to screen for malnutrition on arrival at the facility. Training delivered to 24 nurses in conjunction with ACF and MOHS. On-the-job support and work in integrating this into the triage system is ongoing and spot-auditing has now commenced.
Engagement with the South Wales-Sierra Leone Oncology link (SWSL) in providing a paediatric oncology service at ODCH. Patient tracker completed for Oncology patients and shared to assist in information sharing with SWSL in monitoring chemo purchasing and administration, disease progression and patient outcomes. Plans to begin supporting them more formally from June.
CPES_ESCC (Support Ebola survivors to the free access health care)
All staff at ODCH and PCMH know who to contact if a Ebola survivor arrives, to ensure that the referral coordinator can facilitate their care.
Training around stigma, the CPES system, IPC and common survivor conditions has been delivered.
General nurse training and maternity training has also been delivered to improve care for all free healthcare patients, see QI projects.
An agreement with a government approved pharmacy has been put in place to ensure that drugs more specific to survivors can be obtained for free until June.
A national referral coordinator is currently being recruited to facilitate referrals between Connaught and PCMH/ODCH for all free healthcare patients, as well as supporting referrals for EVD survivors from all facilities. They will help strengthen the referral process and criteria between the tertiary hospitals and improve information sharing.
Newsletters for both hospitals have been circulated monthly including hospital updates, quotes from management and success stories with photographs of staff and patients. This aims to improve staff morale, provide positive feedback and prompt learning.
CRADLE
352 staff have been trained and 167 devices have been distributed over 11 Peripheral Health Units (PHUs), Rokupa Government Hospital and Princess Christian Maternity Hospital (PCMH).
Data collection, ongoing training and supportive supervision visits are carried out a minimum of every month at each area. This has identified other training needs, which are generally met at the time of visit.
Focus groups were carried out with positive results from staff using CRADLE, also providing key information on reasons that referrals can be delayed.
Training of four midwives in the hospital to take over the projects is currently underway. This will help the sustainability of the project, increase the skill set of influential midwives in the hospital and improve the links between PCMH and PHUs.
Quality Improvement Projects
A maternity specific triage tool was developed in partnership with the in-charges, hospital management and other partners, based on the same system successfully used in Connaught. Key staff members were taken to see the system and were keen to adopt a similar approach. It was completed by December, at which time a designated triage area was created to allow the tool to be used to effectively as well as freeing OPD for emergency cases to receive immediate care. Clinical mentorship by WP midwife was provided consistently 5 days a week from 8 - 2 (the busiest early shift) during the period of implementation, from December to March. Group training sessions were run in January, as well as individual sessions for night staff.
Health workers of PCMH are the in-charges of Triage and OPD and have been supported successfully to lead the project. This included them facilitating the training, mentoring and assessing staff and feeding back progress to management.
The correct triage of patients was audited before implementation of the tool then two weeks and two months following staff training. This showed an increase from the baseline of 43% to 82% then 88%. The final audit was completed after R. Best had handed over the mentorship completely to the in-charges, hopefully meaning the change is sustainable.
Staff had to complete a practical exam at the OPD, assessing three patients to receive their certificate of achievement and "Triage Team" t-shirt, which are now worn every Friday. When staff passed, they were photographed receiving their T-Shirts, which was printed and displayed on the team photo board and posted to the WhatsApp group. This has been successful in improving the reputation of OPD which has increased staff morale and their pride in their work.
60% of staff passed on their first attempt, 32% on the second and 8% on their third. At two weeks following training 48% of staff had successfully passed, at three weeks 84% and at three months 100%.
Increasing the number of patients which are seen in their urgency time is now the next target, with a baseline currently being collected.
Community Project in the neighbourhoods around the hospitals
The project has been increase the number of women group facilitators from 45 to 70 volunteers to promote community health education through women's group meetings
Health facility interventions and health system strengthening at PHUs has been increased from three to seven.
In view of health system strengthening at PHU level and PCMH, quality improvement trainings and group have been formed in one PHU and at PCMH respectively. At the PHU level, A drug store has been constructed at the Ross Road Community Health Centre in order to address barriers to the drug supply chain management as identified in the Quality Improvement training facilitated by the project. Participants were the Centre's health workers and community stakeholders.
The project constructed and donated a Chest Unit at Jenner Wright Community Health Centre proposed by the District Health Management Team (DHMT) aimed to separate TB (tuberculosis) patients from children under five years who were using the same consultation room for health care seeking and treatment services. The newly constructed chest unit would be used by TB patients only and saved children from exposure to the airborne TB bacteria.
A total of 88 PLA women's group have been formed in Welbodi Partnership communities targeting 94 for the first year. All Participatory Learning Approach (PLA) group members have received Maternal Neonatal Child Health (MNCH) education and household preventive care practices for pregnancy related problems and childhood illnesses.All PLA groups were established, led and managed by community facilitators. PLA is a methodology wherein facilitators will take group members through a participatory learning and action cycles aimed at delivering key messages about safe delivery and health care seeking through stories and games. Group members are encouraged to identify maternal and newborn health problems in their community, to generate and select relevant strategies to address these problems, and to implement and assess the results of their strategies.
A two- day refresher training was conducted for 45 women group facilitators in February 2017 as the project planned to move on to the next stage of the PLA process.
A total of six hundred and forty-one PLA group meetings have been held so far using maternal, neonatal, and child health (MNCH) picture cards designed in collaboration with Women and Children First (UK based partner) and Ministry of Health and Sanitation, Sierra Leone.
The project in collaboration with DHMT/PHU staff and community stakeholders (chiefs, councilors, women, youth leaders, etc.) carried out a national Polio immunization campaign during the months of December 2016 and February 2017 respectively in targeted communities.
To date a total of eighteen sessions of monthly learning review meetings were held with the volunteers (knowledge sharing, lessons learned, best practices). It serves as refresher and capacity building for all volunteers for subsequent PLA meetings. All project review meetings are supported by the M&E component.
During February 2017, a two-day community stakeholders meeting and general community meetings were held respectively to discuss project progress and challenges with participants. This resulted in increased commitment of stakeholders and awareness of PLA meetings going on in operational communities.
The project consulted the service of local partner Tok fo Pikin Welbodi to support the social mobilization of communities to attend PLA meetings in order to boost attendance from pregnant women and lactating mothers to the meetings. They used drama series in an entertaining way but educative to support the project messages on maternal and child health. The consultancy lasted for three months and as a result the project observed increased in community participation to meetings.