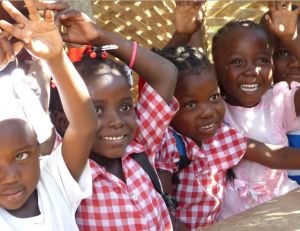 Thank you for your generous support of Save the children's efforts in Haiti. As we near the anniversary of the devastating earthquake in Haiti, Country Office Director Stephen Gwynne-Vaughan, sends this informative and inspiring message to Save the Children's supporters.
On January 12, 2010 at 4:53pm, Haiti was rocked by a devastating earthquake. In October of 2010, thousands of Haitians succumbed to the world's worst cholera epidemic. Haiti rose to the top of the list of humanitarian hotspots because after decades of political instability and corruption, economic and social underdevelopment, and environmental degradation, the majority of the population was poor and extremely vulnerable to natural disasters.
But, even as they dealt with family tragedies, Haitians proved to be quite resilient and overcame the most adverse conditions to begin the long process of recovery. With an outpouring of aid from the international community, the Haitian people shifted their immediate response from life saving to pursue a more ambitious and endurable plan to 'build-back-better'.
By the time I arrived in Haiti in mid 2013, the initial recovery work had taken effect, and the end to suffering from the earthquake and even the eradication of cholera were in sight. Compared with conditions in 2010, the achievements made are easy to see. Of the million-and-a-half people displaced by the earthquake, 89% have left the camps.
Thousands of families moved from tents into wooden houses, then laid new foundations and built more solid cement brick homes. To the uninitiated visitor, the piles of gravel and sand that still dot the sides of narrow, winding streets may look dirty and disorganized, but they are clear signs of steadily advancing long-term construction.
As the rains ended in December, the number of new cholera cases dropped from 14,000 per week at the outset of the epidemic to manageable levels below 1,000 per week, and the mortality rate fell to below 1%. Most importantly, research indicates that while cholera is persistent in Haiti, the disease is not yet endemic and can be eradicated in the dry season if all existing cases are identified and treated.
There is also good news to report on the protection and education of children, who are among the most vulnerable to disasters. With help from Save the Children and other international organizations in the construction of new schools, rehabilitation of unsafe classrooms, provision of school equipment, teacher training, and financial support for operations, the government was able to introduce 'Free Universal and Compulsory Schooling', benefitting over a million children. After the earthquake response, enrolment rates rose above 50% for the first time in Haitian history.
According to the latest reports, in 2013, 77% of school aged children attended primary school. Looking ahead, I see the work that still needs to be done. On the roads there are still thousands of children working and playing who need safe playgrounds, and an education. Over half of the population lives on less than $2 a day, and a quarter of all households are not sure where there next meal will come from.
One in every three Haitian children is stunted from undernourishment, and 20,000 children in Haiti are severely malnourished. Although many more children are now enrolled in school, over two thirds of pupils in primary school are overage and struggling to cope in an environment that is not conducive to learning, where the majority of teachers are unqualified, and buildings and classes are unsafe and ill-equipped.
While there is a lot more to do here in Haiti, the attention of the world has shifted to new crises and it worries me that the gains from the earthquake response might be lost before already identified lasting solutions can be applied to the underlying problems afflicting Haitians.
So much has already been done, and if timely resources are supplied, displacement could be ended and cholera could be eradicated in Haiti—not through emergency response but through investments in education, nutrition, clean water, sanitation, and protection, which take time but bring lasting results that save lives and reduce suffering. Since 2010 Save the Children has reached over one million Haitians with life saving relief and recovery assistance: with your continued support, we can help the children of Haiti to build a better future.
How You Can Help
Please support Save the Children's global mission. Your tax-deductible gift gives children in the U.S. and around the world what every child deserves – a healthy start, the opportunity to learn and protection from harm. When disaster strikes, we put children's needs first. We advocate for and achieve large-scale change for children. We save children's lives.
Please keep children in your thoughts for a bright new year.
http://www.globalgiving.org/projects/save-the-children/
Have a wonderful holiday season.
Happy New Year!