Project Report

| Apr 29, 2016
Building a Legacy of Bonobo Research at Kokolopori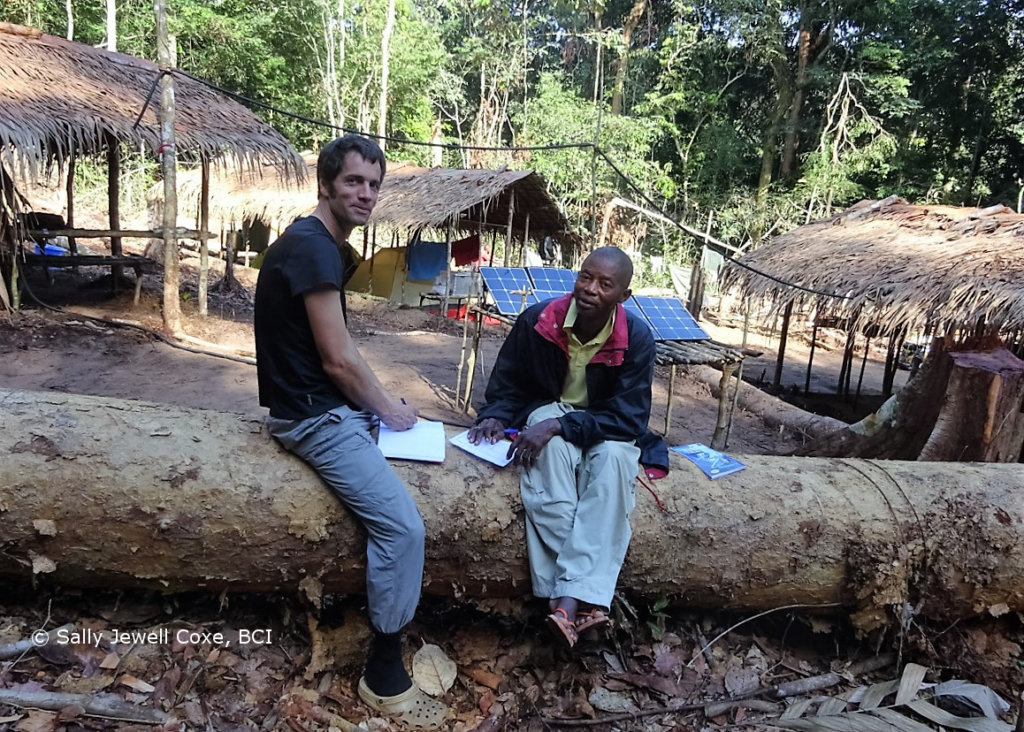 BCI President Sally Jewell Coxe has just returned from a trip to Kokolopori Bonobo Reserve. The main objective of this trip was to establish a new research project in partnership with the Max Planck Institute for Evolutionary Anthropology. Under the guidance of Dr. Martin Surbeck—a primatologist who has previously studied bonobos at Lui Kotale near Salonga National Park—the project aims to gain greater insight into how individual bonobos and their groups interact.
In early March, Sally and Martin, along with the rest of our team made a two week journey up the Maringa River, from BCI's regional office in Mbandaka to Kokolopori. Along the way, they were treated by the sight of hippos in the river! Once the team was settled in Yetee, headquarters for our conservation programs at the reserve, they began process of setting up a forest research camp and orienting local tracking teams (led by longtime supervisor Leonard Nkanga Lolima) for the project.
The Yetee forest is home to two habituated bonobo groups (Ekalakala and Nkokoalongo), offering a rare opportunity to observe bonobo groups interacting in the wild. The team was fortunate to witness the two groups meeting and interacting while the camp was being constructed. This bodes well for the kinds of data and insights that the Max Planck research team will be able to collect.
This project would not be possible without the years of investment in the communities of Kokolopori and the research projects that have come before. Through the generosity of our donors, we have been able to train, equip, and employ local trackers to monitor bonobos in their forests. This foundation of local knowledge has been instrumental in attracting the interest of researchers, like Dr. Deborah Moore, who conducted a pilot study at the reserve two years ago.
Martin is enthusiastic about working with local people, and is keenly aware of the importance of local involvement in conservation within communities. He plans to collaborate with Congolese students in his research, to train a new generation of conservation advocates and ensure that the knowledge gained from his research benefits the Congolese people.
Ultimately, the more we can learn about bonobos, the more we can learn about how to protect them. We continue to look forward to the promise of this project and its benefits for both bonobos and our community partners. As always, thank you for standing with us!
P.S. If you were wondering about the orphaned bonobo that was rescued over Christmas…Sally also paid a visit to him at the Lola ya Bonobo Sanctuary. Bikoro is thriving and has become quite a playful bonobo! He is in the capable hands of the "mamans," who care for infants until they are ready to be integrated with the other bonobos at the sanctuary.