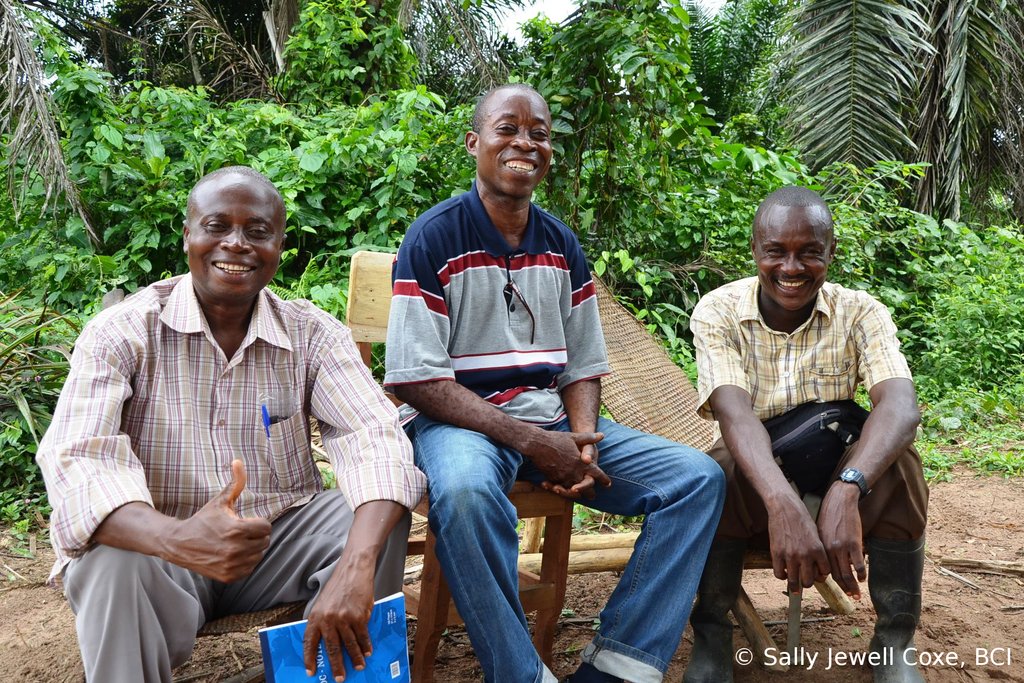 First off, let us offer a heartfelt thank you to our generous Global Giving supporters. You helped us make October's Bonus Day one of our most successful ever! Thanks to your donations, our project ranking was elevated to Superstar status, affording us greater opportunities for exposure to corporate donors, features in GlobalGiving's communications, and opportunities for training.
Support from our donors over the years has helped us lay the groundwork for our Bonobo Peace Forest—an integrated network of grassroots, community-managed reserves in the bonobo habitat. The activities initiated at our pilot site, the Kokolopori Bonobo Reserve, have "gone viral"—inspiring three neighboring communities (Lingomo, Nkokolombo, and Likongo) to establish their own reserves. We have dubbed the dynamic leaders of these communities "Les Trois Mousquetaires" or "The Three Musketeers." At Lingomo, Cosmas Bofangi manages conservation programs through the NGO Conservation of the Resources of Lingomo. Roger Afelende, founder of the Association for Conservation of Bonobos in the Source of Lomako, leads community conservation efforts at Nkokolombo. Finally, at Likongo, Jean Gaston Ndombasi—a provincial Environmental Inspector—heads the NGO Debout Likongo pour la Conservation et le Développement.
These biodiversity-rich sites are situated near the territorial capital of Djolu and are particularly vulnerable to logging and the bushmeat trade. For that reason, the hard work that residents have put into protecting them is all the more urgent and commendable. The energy and devotion of Ndombasi and his community has recently paid off: just this September, Likongo received an arreté from the Ministry of the Environment, signed by the Prime Minister, granting 50,000 hectares as a community forest. This is an important step toward securing greater protection for the area.
Earlier this year, Bofangi, Afelende, and Ndombasi traveled to Kokolopori to meet with BCI President Sally Jewell Coxe, our team and other partners in the field. The meetings offered us the chance to talk in-depth about the future and how we can improve the odds for bonobo populations. One of the top priorities will be to map the limits of all three forests, which in actuality form one large forest bloc; this will allow the three communities to coordinate their strategies and pursue other goals such as expanding legal protections like the arreté granted to Likongo. It will also support the creation of more habitat corridors for bonobos to travel safely through different regions. Supporting animal husbandry and agricultural programs in the region will also help to mitigate the illegal hunting of bonobos for bushmeat markets.
We at BCI are so thrilled to work in partnership with our wonderful Three Musketeers and their communities. We are proud of the Peace Forest that our loyal supporters have helped create to protect the bonobos, and yet we are even more gratified to see our strategies inspiring others. As Deni Béchard uncovered in Empty Hands, Open Arms, the true measure of our program's success lies in its self-replication, as our model spreads to protect more bonobos and more rainforest. With enough support, our successful conservation strategies can truly achieve their promise now and for many years to come.
Thank you for standing with us!