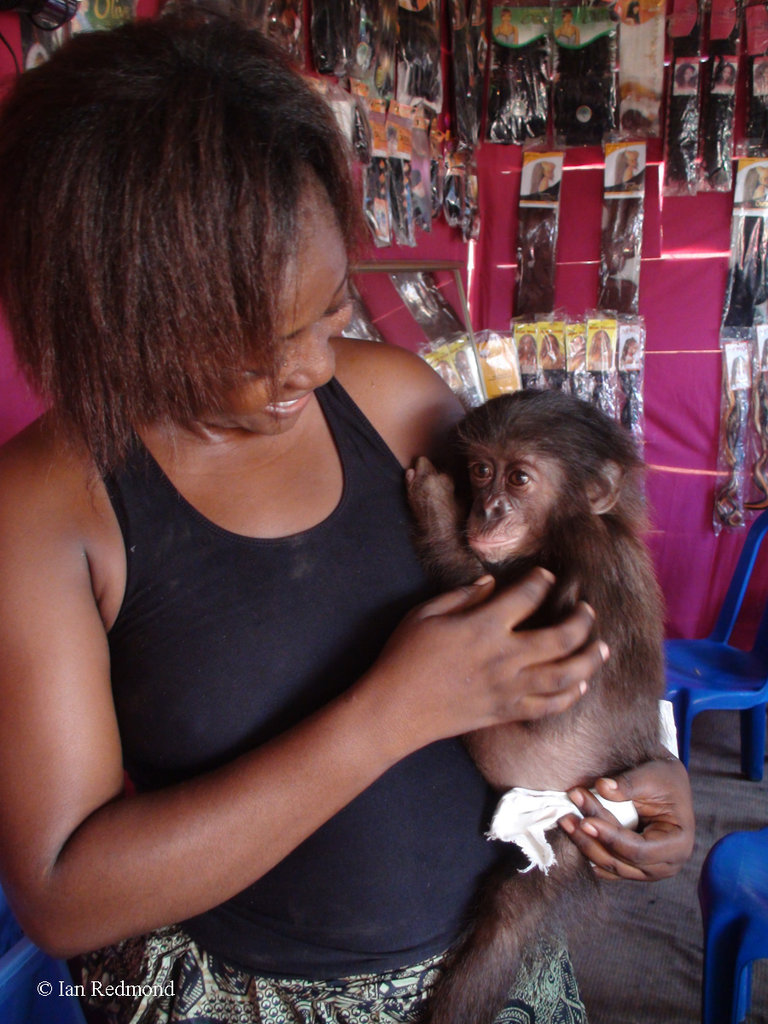 Thank you for supporting us in our mission to protect bonobos in their natural habitat. In previous updates, you've learned how your generosity has allowed us to impact the lives of bonobos on a large scale. Today, we'd like to bring you the story of one special bonobo and how the combined efforts of organizations, individuals, and donors like you helped save her life.
Orphan bonobos are all too common, a devastating side effect of the bushmeat trade. These young bonobos, too small to be sold as meat, are often illegally sold as pets. Ian Redmond, OBE, a wildlife consultant for Born Free Foundation, recently traveled to the Democratic Republic of the Congo to investigate illegal trade in great apes and other endangered species. BCI's Evelyne Samu joined him on his journey to the Bas Congo region to visit the port at Boma. It was here that they learned of an 18-month-old orphan bonobo.
Boma's port is a flurry of activity, filled with ships carrying all manner of wares. The sailors typically stay on their ships, relying on local men (known as "washmen") who paddle canoes between the ships and shore to ferry goods and information. When interviewed by Ian and Evelyne, the washmen reported that they had seen a large variety of items, including illegal goods like ivory. Ian and Evelyne asked if they had seen any great apes—"mokomboso." This Lingala word literally translates to "like human." At this point, Ian and Evelyne were told that a local woman named Mme. Rebecca was keeping a "gorilla" as a pet for her children. Upon further investigation, they learned that the family was willing to sell them the ape for $450.
Ian and Evelyne visited the family under the guise of being interested in purchasing the ape. Rebecca introduced them to Mireille, the "chimpanzee" she had gotten as a playmate for her young daughters. Ian and Evelyne quickly realized that Mireille was neither a gorilla nor a chimpanzee but, in fact, a young bonobo. This orphan bonobo originally came from Kikwit in the Bandundu province. The bushmeat trade is rampant in that area, and her mother was likely killed and sold for meat. For every orphan bonobo, there is at least one—and sadly, usually more—bonobos killed. The illegal sale of apes as pets is also common practice. When asked if her family would be sad to lose Mireille, Rebecca told Ian and Evelyne that it would be no problem to get another ape. Her report is a sad illustration of the fact that, as Ian says, there is "clearly both a supply and a demand for baby apes, and that the indications are that almost anywhere an investigator starts to dig, he or she will find them for sale." However, Rebecca told Evelyne that she herself did not purchase Mireille; she took Mireille from relatives in Kikwit a few weeks ago. Mireille had seemed ill and sad, and Rebecca wanted her to have a better home.
After this visit, there was discussion about how to proceed. It would seem simplest to buy Mireille to get her to Lola ya Bonobo, the orphanage in Kinshasa, immediately. However, this course of action would be illegal and only stimulate the pet trade they were trying to stop. The only solution in these situations is to contact authorities for proper legal confiscation. The process can be long and complicated, involving legal fees, veterinary fees, and a great deal of both paperwork and logistics. Everyone worked together to make the rescue happen quickly. Born Free secured initial funds, BCI provided transportation and logistical support, and Lola ya Bonobo prepared a new home for the baby bonobo. The next day, officers from the Ministry of the Environment visited Rebecca and her family and explained the situation.
Bonobos are deeply sensitive and highly social creatures. In order to thrive, they need a very specific environment and the company of other bonobos. For these reasons, among many others, even loving human homes are not the best place for bonobos. To allay any concern that the family had over the fate of their "third daughter," Ian and Evelyne took the whole family to visit Lola ya Bonobo so they could see the sanctuary for themselves. Through their interactions with Ian and Evelyne, Rebecca and her family learned more about bonobos and why it is illegal to buy or sell them. Ian remarked that the family will likely now "be allies who will help us close down the Matadi trade" after this eye-opening experience.
Mireille is now living safely in the sanctuary, where she is known as "Boma" in honor of the town where she was rescued. Through the collaboration of many people and organizations, Boma is getting a second chance at a happy life. This rescue is cause for celebration, but, sadly, it is the exception rather than the rule. For every rescued bonobo, there are countless others whose stories end quite differently.
Eco-guards and trackers are the first line of defense for bonobos like Boma. With proper training and equipment, these brave individuals can help protect against poaching and keep the forest safe for bonobos. We can do more than rescue orphans--let's work together to prevent the tragedies that create orphans. Thank you for your participation in this vital cause.