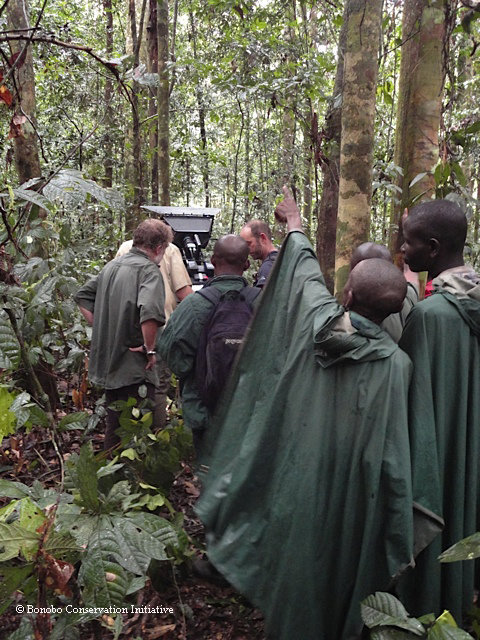 Thanks to dedicated supporters like you, BCI has made great strides in 2012 toward our goal of protecting bonobos and the Congo rainforest. As a Global Giving donor, you may already know some of the year's highlights, including the official accreditation of Djolu Technical College and the addition of Likongo as a Bonobo Peace Forest site. But your generosity has enabled us to do so much more! Here is a small sample of the past year's achievements and the exciting opportunities ahead in 2013:
The Bonobo Peace Forest is going strong. BCI is happy to announce that, for the first time ever in the DRC, land originally set aside for logging is now being re-designated for conservation. After a decade of preparation, BCI, Conservation International, local partners and the DRC government have launched the first conservation concession project in the Congo—and in all of central Africa. In partnership with Conservation International, we are receiving support from the Congo Basin Forest Fund to implement the Bonobo Conservation Concession. More than 2330 square miles of rainforest comprising prime bonobo habitat will be designated for protection, thanks to this innovative strategy.
REDD+ is coming to Sankuru. With support from the UK and Norway through the Congo Basin Forest Fund, we are preparing the Sankuru Nature Reserve for participation in the UN's REDD+ program, an initiative designed to create financial value for carbon stored in forests. The Sankuru Community Carbon Initiative will bring many benefits to local communities over the next 25 years, empowering them to protect their forest and wildlife, while providing vital livelihood opportunities and social services.
We're helping to spread the word about bonobos. The first-ever 3D movie about great apes, The Last of the Great Apes, was filmed in part at the Kokolopori Bonobo Reserve. This ground-breaking film will be released to theatres next year. We also hosted legendary filmmaker Alan Root and began laying the groundwork for future ecotourism possibilities. Last but not least, award-winning author Deni Béchard features BCI in his new book Empty Hands, Opens Arms, forthcoming from Milkweed Press next year.
Our friends, supporters, and partners made these accomplishments—and more—possible. We couldn't do it without you.
Make your funds go even further—become a recurring donor! From December 1 through December 31, Global Giving will match 100% of your initial recurring donation, up to $100 per donor. If you've always been a one-time donor, or this is your first donation to BCI, please take advantage of this great promotion. Your caring, tax-deductible donation will fund our vital on-the-ground programs month after month in 2013. Bonobos need you!
We wish you a happy holiday season. Let's make the New Year a great one for bonobos!