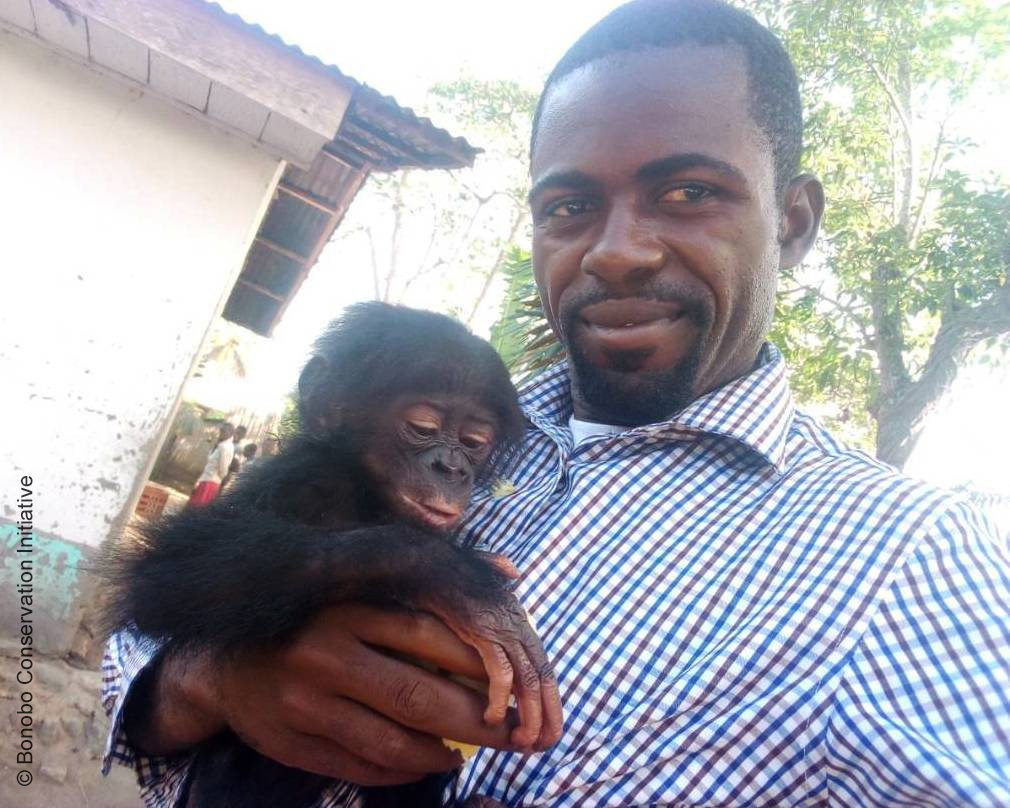 We are pleased to report that we have successfully rescued another orphan bonobo! Orphans are an all-too-common side effect of the bushmeat trade, and few survive without their mothers. Thanks to the combined efforts of BCI staff and partners, this little bonobo will get a second chance at life.
In early March, BCI community partner Héritier Mpo was on assignment in the Sankuru Nature Reserve. While in the village of Hiekele, the chief informed Héritier about the orphan, a female approximately two years old. A hunter had killed the bonobo's mother for meat, and then two days later sold the baby bonobo as a pet to a soldier from Lodja. Working with provincial and military authorities, Héritier and BCI staff devised a plan to retrieve the bonobo.
Many people within the Congo and beyond are still unaware that it is illegal to keep bonobos as pets. Humans are ill-equipped to provide for the physical, social, or emotional needs of bonobos, and pet bonobos usually do not live long. After informing the soldier about the law, Héritier successfully negotiated for the bonobo's release. He obtained the necessary paperwork—no small feat given that Sankuru is a new province and still establishing its government services—and prepared the bonobo for transport to the Lola ya Bonobo sanctuary in Kinshasa. She is now doing well and awaiting her official name.
This orphan is one of the lucky ones. We are grateful for her rescue, and all the other orphan bonobos we have helped to safety. Still, the vast majority of orphans do not have a happy ending. Rescuing a bonobo can be difficult and dangerous. It requires awareness on the part of the community, political and legal support, and perseverance and bravery on the part of our field staff. As we celebrate this rescue, we recognize the contributions of the people who put their lives on the line every day to protect the bonobos. We also gratefully acknowledge you—your support makes it possible to train and equip our field teams, provide economic alternatives to poaching, and spread awareness about the importance of conservation.
As always, thank you for standing with us!