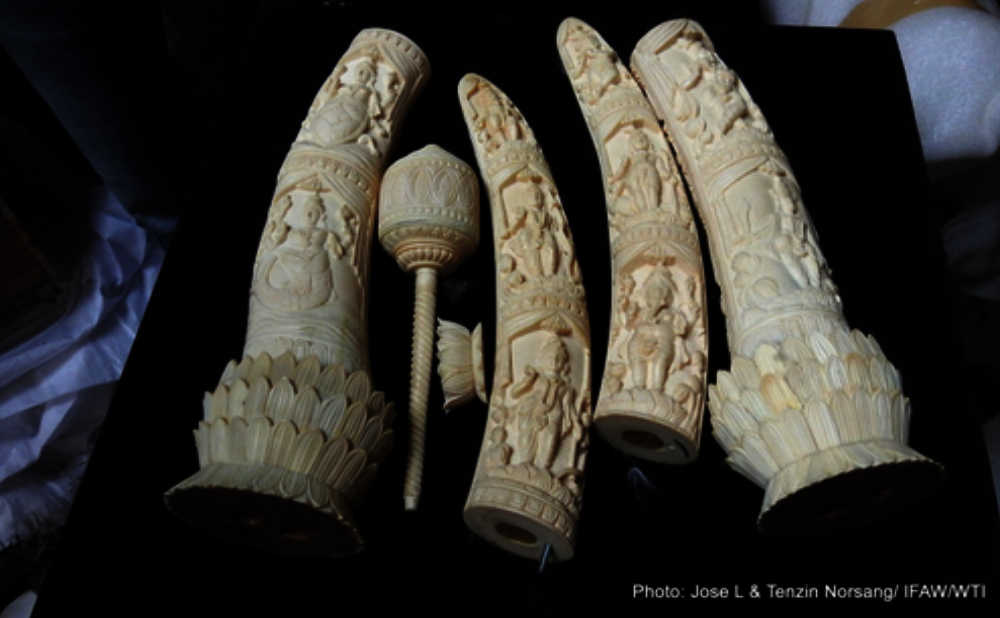 Greetings from Wildlife Trust of India.
Every ivory artefact seized in enforcement operations comes from a dead elephant tusker. We are appalled at the very thought, that an innocent animal, from an Endangered species with a dwindling population, is killed for a senseless, ornamental demand for its tusks.
As barbaric as it may sound, Illegal Wildlife Trade (IWT) is a lucrative business, earning big bucks for those involved.
At Wildlife Trust of India (WTI), we are committed to dismantling this illicit trade network through strategic interventions and collaborative efforts.
Over the years, WTI has established a robust informant network, that is on a constant vigilance against illegal wildlife trade networks and their activities. They provide timely, actionable intel which is shared with the enforcement authorities within and outside India. This Intel has led to multiple seizures of illegal wildlife articles and successful convictions of those involved in the trade.
These highly organised trade networks not only operate on-ground but also harness the power of online channels - social media and the internet - which provide massive reach and anonymity to the buyers and sellers of illegal wildlife articles.
WTI has appointed a dedicated team called 'Cyber Spotters' who are on a constant watch against the online illegal wildlife trade. Apart from several enforcement operations conducted using the Intel from cyber spotters, we have managed to flag such activities to online channels like YouTube, which immediately took down videos promoting online trade and blacklisted the reported channels.
In addition to numerous successful enforcement operations facilitated and informed by WTI, both online and offline, there have been over 24 significant operations resulting in ivory seizures and convictions so far. Hundreds of kilos of ivory (in pictures) were seized and multiple arrests were made. In one operation alone in 2015, 487 kg of ivory was seized from Delhi and the kingpin was arrested.
Although these numbers are significant, it is just the start. Illegal Wildlife Trade and this nefarious network, if left unchecked, shall undermine conservation efforts and could push several species, including elephants toward extinction.
Thank you so much for supporting our efforts so far in protecting India's elephant population and countering trade in their parts. But we still have a long way to go. Together, we can break the chain and protect precious elephants from the clutches of this destructive trade.
This #GivingTuesday (on 28 November), donate to our efforts in fighting illegal wildlife trade and participate in GlobalGiving's exciting challenge!

All the news articles on ivory and other seizures conducted so far. Link to the WTI website.