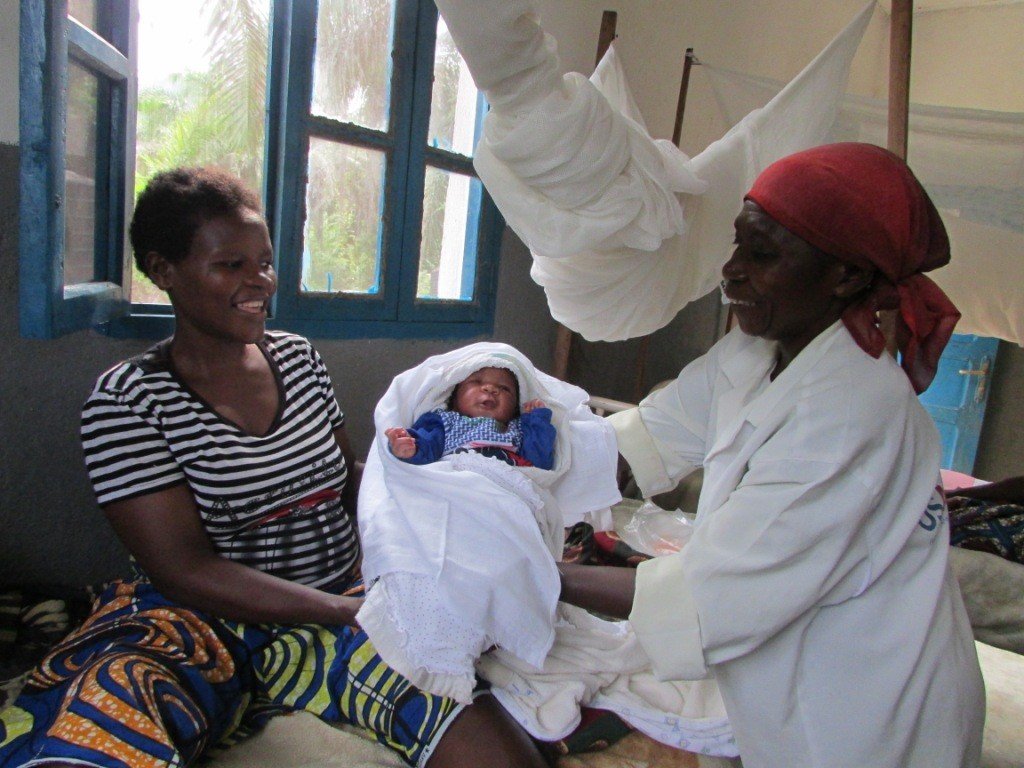 The presence of armed groups in Eastern DRC has resulted in devastating abuse, violence and looting of resources, leaving families in an unstable economic situation. Displaced populations cannot afford to meet basic needs like primary health care and, due to insecurity in the region, pregnant women can't access health facilities for the delivery of their children. As mothers and newborns are exposed to the risk of contamination when delivery occurs at home, they are at increased risk for maternal and neonatal mortality. To help ensure that the lives of the mother and the child are safe, International Medical Corps provides clean delivery kits to pregnant women during antenatal care visits.
In the first three months of 2015, close to 2,000 pregnant women received clean delivery kits provided by International Medical Corps in health facilities in Walikale, Kibua and Itebero health zones.
In Karete village, Gisele, who received a clean delivery kit, says "I am happy to receive this clean delivery kit provided by International Medical Corps. I will use it when I will give birth. My baby and I will be healthy and safe. I was wondering who would care for me, I was wondering what I should use when I will give birth. My husband and I are from Masisi and we have no means of paying for essential needs"
To further address barriers to accessing quality reproductive health care, International Medical Corps has put in place a referral system for emergency obstetrics cases in the 30 areas in Walikale, Kibua, Walikale and Itebero health zones. With International Medical Corps' support, every month approximately 80 pregnant women benefit from free transportation to hospitals and referral health centers along with free obstetric care upon arrival.
"I was referred for complications during delivery in my village Malembe, almost at night. I was transported to Karete reference health center and received free and appropriate medical care. Thanks so much to International Medical Corps and health providers of Karete. I can't believe my baby and I are safe and are not charged anything for all the attention given in this health center. Thank you so much," said Yvonne from Malembe.
Thanks to the generous support of GlobalGiving and other donors, International Medical Corps is able to continue meeting the needs of mothers and soon-to-be mothers in Eastern DRC. This lifesaving support is critically needed in the region and will have a lasting impact for generations to come.