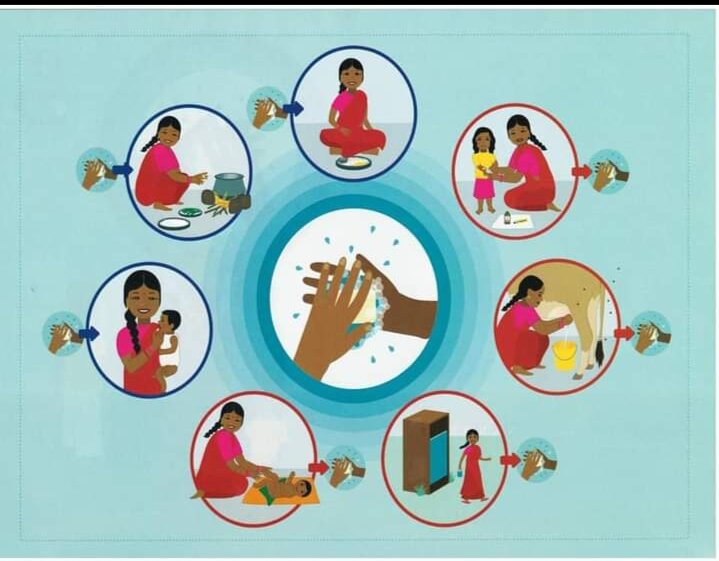 Nandri is working with the Indian Government to ensure that every child in the Tamil Nadu region has access to clean water and basic toilets. We implemented an education programme for our families so that they can learn to appreciate the importance of basic hygiene practices. Poor hygiene is responsible for the spread of many illness and bacterial infections. With the additional problem of Covid, it is even more important to educate our mothers on the importance of basic rules of hygiene such as washing your hands after using the toilet and before preparing meals.
If we impact this knowledge on our Nandri mothers, they in turn will educate their children. With this in mind, Nandri organised an educational camp for our mothers. Some of the basic hygiene practises covered were:
Teaching children to brush their teeth twice a day
To encourage children to wash their hands after using the toilet, before eating and after playing outside.
To wash hands frequently when preparing food, as meat or vegetables could carry bacteria before being cooked.
Using a tissue to cover their mouth when sneezing or coughing.
We continue to help our families build toilets in our rural villages. It is a very important factor in helping to prevent the spread of diseases. Still many of our families have to defecate in fields close to their houses due to the total lack of toilets in their villages. A new toilet is life changing and an enormous source of pride to our families.
Mary, one of our mothers is from Pulivanthal VIllage. Two years ago she tragically lost her husband. With the help and financial suppport of Nandri she now has a new toilet beside her house. Mary is so grateful for all the support Nandri has given her since her husbands passing.