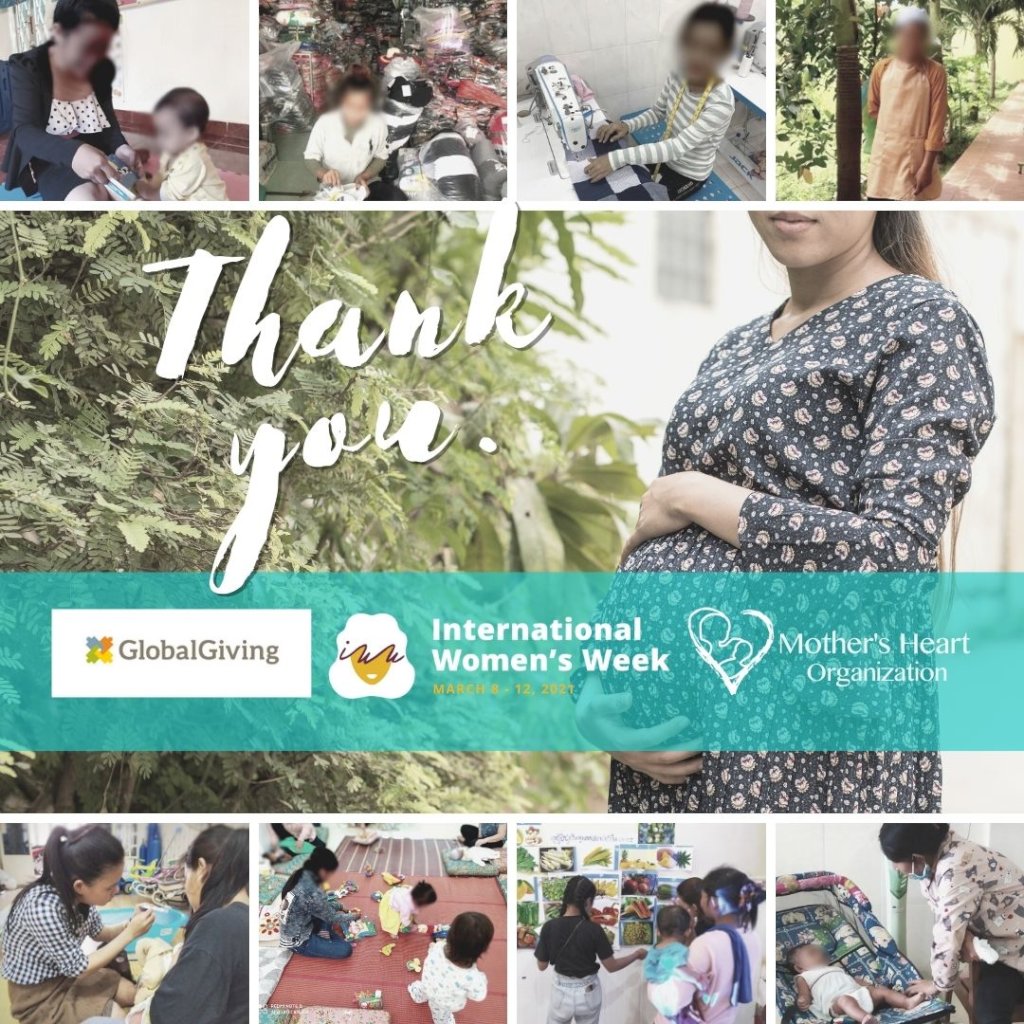 Highlights*
The year 2020 is a year like no other. It was a year that plunged the world in uncertainty, fear, loss, and challenges. It was also a year when we saw a lot of inspiring stories, of incredible people finding ways to connect and help each other. Through this generosity and connections, despite the COVID-19 pandemic in the background, Mother's Heart was able to deliver the critical support services to the 92 women and 86 children in our Crisis Pregnancy Support Program (in Phnom Penh and Battambang program office). This number includes the 35 women who entered our program and the 29 babies born in 2020. In 2021, beginning in January up to the time of this writing, there are 10 newly-registered women and 4 babies born in our program in both offices.
*N.B.: Faces on the pictures have been blurred for privacy.
***
At the moment, Cambodia is experiencing the effects of what is called the "February 20 community event" which has seen the biggest number of positive COVID-19 cases linked to a community outbreak to date. The news of the incident broke on Sunday 21st February 2021 and since then, a number of industries have announced temporary closures or changes to help prevent the spread of coronavirus in the capital and beyond. Based on media reports, positive COVID-19 cases have been registered in 8 provinces – Kandal, Sihanoukville, Prey Veng, Kampong Thom, Kampong Cham, Battambang, Siem Reap, and Koh Kong - besides the capital city Phnom PenhCOVID-19. On March 11, Cambodia reported its first COVID-19-related death: a Cambodian man who was said to be exposed to his employer on Feb. 28. The total number of positive cases resulting from the February 20 community event is 751 and the national total to 1,264.
As per government order, most of Mother's Heart staff have resumed working from home again with only a few staff manning the office on a rotation-basis. This is the third community event in Cambodia and third time we are working from home. During the first event, we had some challenges in terms of communicating with our beneficiaries and providing face-to-face counselling but we were able to sort these things out so that in the succeeding incidents, we didn't encounter any major issues anymore. Some of our face-to-face interactions with beneficiaries (counselling) and partners (meetings) have either been postponed or moved to virtual communications or via mobile phones. House visits are only done when deemed critical or emergency cases such as serious physical and mental health conditions, signs of violenace or abuse at home, birth of babies, just to name a few. We are also temporarily closing our daycare centre in Phnom Penh but the staff are on-call in case a mother needed emergency child care support. Like previously, we are using mobile internet apps to communicate between staff and our beneficiaries. The distribution of food support, stipend, and sanitation and hygiene items continues every month. Our tuktuk drivers in Phnom Penh and Battambang offices deliver the food packages to beneficiaries who live far from the offices (especially in Battambang province since many of our beneficiaries live in remote villages). The others, who live close and are able to, pick it up themselves. So far we have no reported positive COVID-19 cases amongst our beneficiaries as well as their family members and we hope to keep it this way. We continue to stress the importance of hand washing, wearing of facial masks, and the practice of social distancing if there is a need for our staff and beneficiaries to go out of their houses. We also have telephone numbers list of staff and health centres and government dedicated phone lines to use in case any of the staff or beneficiaries experience the symptoms.

Stories from Mother's Heart
When Sitha became pregnant, she remembered feeling like she had no hope left. But when she entered MHO, Sitha decided that she would take care of her baby no matter what. So she sat down with her case worker to help her make a plan for herself. She expressed her desire to learn and work after she delivered her baby.
After her baby was born, Sitha attended maternal educational classes at MHO and was able to participate in a skills training program. When older, her daughter started attending the MHO daycare centre. At first, her daughter spent her first few days in the daycare crying and didn't want to participate in any of the activities. She wasn't happy until her mother returned to pick her up. The daycare staff would provide her daughter with the comfort she needed and patiently engaged her in play, conversations, or any other activities. Three months on and she is a completely different child. No more tears when Sitha leaves her in the daycare. Now, she is enjoying stories, singing songs with the other children, and learning the many important skills.
Sitha is so thankful for the care and attention MHO are giving her daughter in daycare. She says that this has given her a peace of mind knowing that her child is in a safe, loving, learning environment, being cared for while she completes her training, and eventually attends work.

International Women's Week Campaign
Mother's Heart's campaign has just concluded and we are in gratitude to those who participated and supported us for we had a successful run. We are happy to report that we have reached our target of $3,000 putting us in 11th place overall out of the more than 220 participating projects/organizations. Thank you for your generosity. Our work would not be possible without your continuing support and belief in our mission.