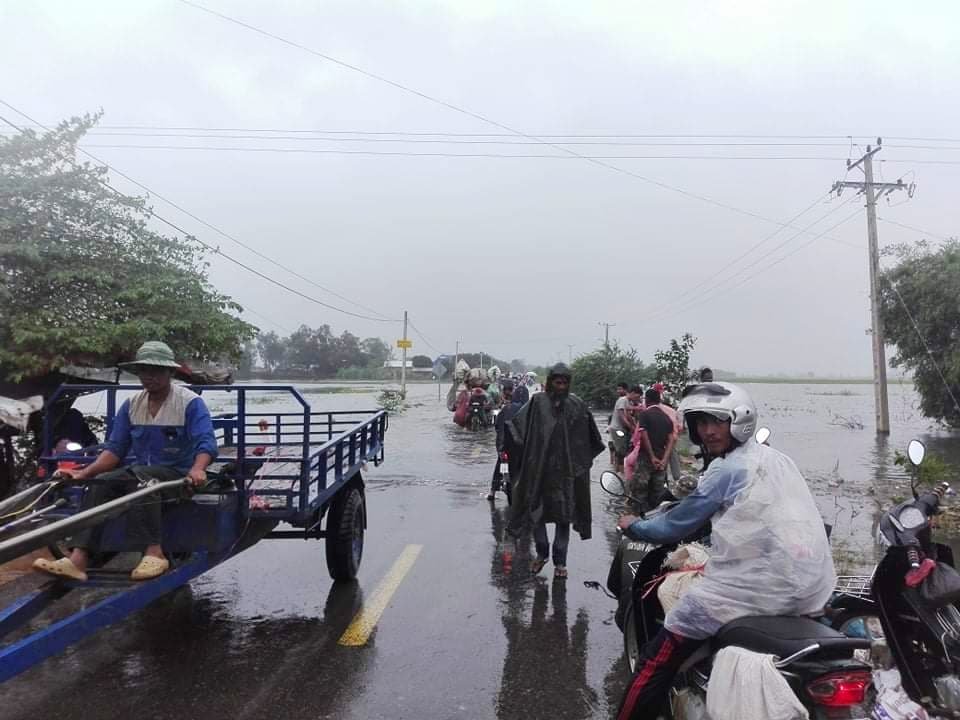 Highlight: From January to October 2020, there is a total of 79 women and 68 children in Mother's Heart Organization's Crisis Pregnancy Support Program (CPSP). There are 38 new women who entered the program and 23 babies were born this year.
Last month, several provinces in Cambodia, including Battambang, and the capital Phnom Penh were flooded due to excessive rainfall at the height of the rainy season. In Battambang province, 15 of our beneficiaries' houses and crops were damaged by excessive floodwater. Out of the 15, seven of them needed immediate help as they lost most of their belongings in the flood. With additional support from our partners based in Battambang, we were able to provide our beneficiaries of with their immediate needs. All in all, the mothers and babies are safe and keeping well despite the natural calamity.
With the current slowdown of economic activity and loss of income compounded by the recent flooding, Mother's Heart continues to distribute food packages and provide a modest stipend to ensure the women and their babies are well-nourished, healthy, and have roofs over their heads until the restrictions were lifted and they have access to employments again.
Our counselors have the important responsibility of providing counseling service to help each woman heal from emotional wounds, trauma, depression, and also from the insecurity and anxiety brought by COVID-19 pandemic.
Even though infection rates in Cambodia remain low and cases are mostly imported, the impacts of travel and movement restrictions imposed by the government suggests impacts to the women and children have been immense – on their livelihood, food security and nutrition, and their well-being. But, thanks to your continuing support, all the mothers and babies in our care are healthy, safe, and thriving despite the many impacts of the COVID-19 in Cambodia.

These are challenging times for us all. We are doing everything possible to sustain operations and provide services and support to our target beneficiaries. Next month, Mother's Heart will be taking part in GlobalGiving's #GivingTuesday campaign (December 1) and we hope you will be joining us. Your participation will go a really long way for Mother's Heart to continue supporting women through crisis pregnancy.
Stories from Mother's Heart

Last week, our Social Workers taught budget management class to six young mothers in our Crisis Pregnancy Support Program after several months of lockdown due to COVID-19. Panha was one of them.
Panha has a learning disability. Many people with learning disabilities in Cambodia do not have access to education, employment, nor control over their finances. Months after giving birth to a beautiful baby girl, Mother's Heart supported her by providing her access to vocational skills training and found employment for her soon after.

The money management class is very beneficial for Panha to understand about money, how to handle money, including how to pay bills, planning their savings and spending, and how to keep her job. Our Social Workers ensure that the class is conducted with special consideration of her abilities, making it easier for her. They also regularly check on her progress at work and offer her encouragement and feedback. A young mother like her raising a child on her own needs to be supported to develop her skills. Mother's Heart believes that with the right support and guidance, Panha can live independently and better.