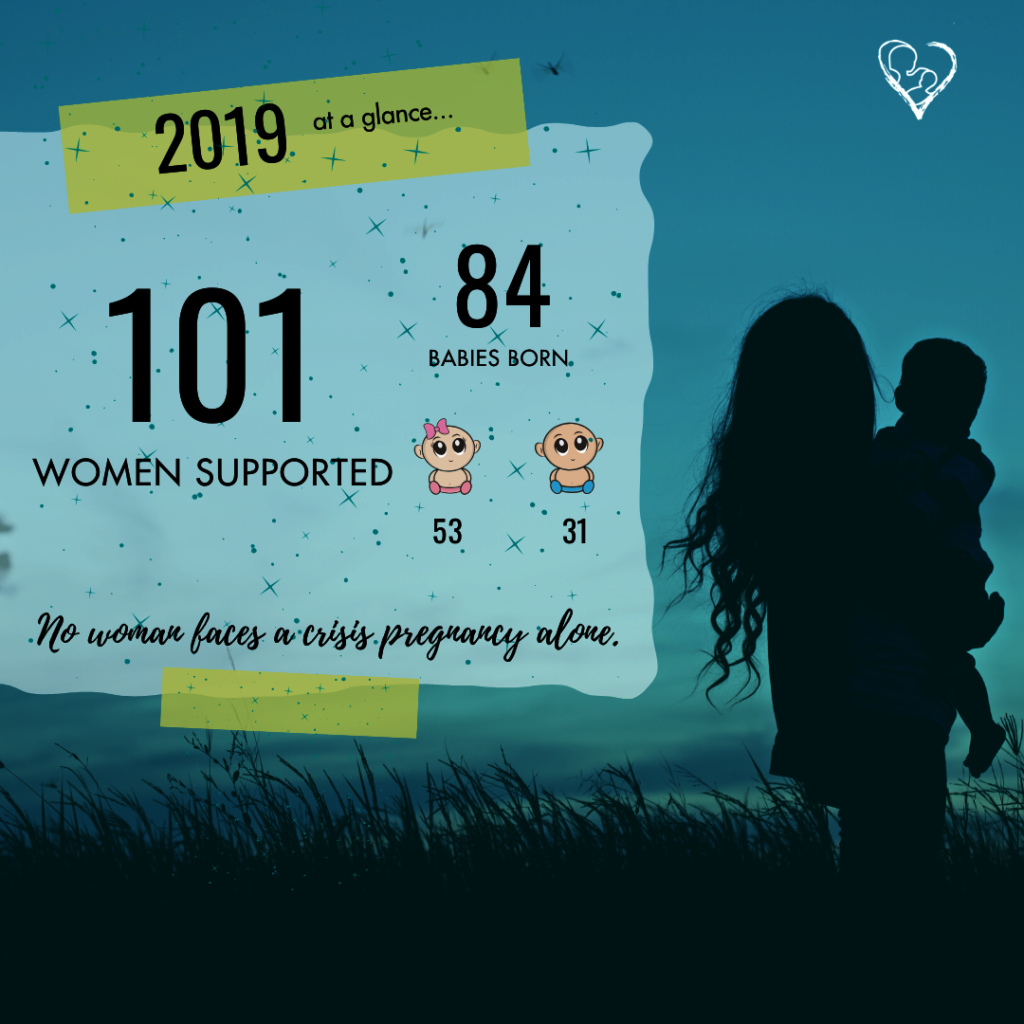 Mother's Heart has just closed a challenging but very rewarding 2019, with a total of 101 women supported and 84 babies born in our care. Your generosity has impacted their lives and ensured mothers are healthy, stable or working towards stability, and their babies have a better start in life.

The impact of Mother's Hearts' works are, perhaps, best measured one mother and baby at a time. The value is even higher when the community recognizes the importance of the services we provide and gets involved to ensure that a woman gets their further support and services so she can start her new life as a mother.
Here is one example of how our partners and community rallied behind one of the women in our care.
***
Stories straight from Mother's Heart
Our clients come from all walks of life. The beginnings of their stories are all different, and so are the endings. But one thing each woman has in common is this: when she comes to Mother's Heart, she is in the midst of a crisis.
Each year, dozens of Cambodian women are trafficked to China and sold as brides.
Vorleak*, not her real name, is one of them; she comes from a poor farming family in rural Cambodia, and is helping her widowed mother to support a family of ten.
One day, a stranger approached her family offering her work in China as domestic help for $1,000 USD a month. Like most young, out-of-school women in rural villages lured on the promise of a better income and brighter prospects, she jumped at the opportunity, only to find out that she had been sold and forced to marry a Chinese man.
For many months, Vorleak had been in domestic servitude under the close watch of her husband and his family. They controlled her movements, finances, and banned her from communicating with her family in Cambodia. When Vorleak found out she was pregnant, she was distraught. However, undaunted, she made a plan to escape. One day she found her opportunity to run away and made it to an embassy where she was assisted to come back to Cambodia.
Pregnant and ashamed to go back to her village, she was referred to MHO by the Provincial Office of Social Affairs, Youth and Veterans affairs in Battambang province. She was immediately given medical and social support.
During her pregnancy break, Vorleak was provided food support by one of our local partners, Hope for Justice. Her family, upon learning of her situation, came to her aid, something that doesn't happen often to a single, pregnant woman in Cambodia. Through counselling and home-visits, regular maternity check-ups, and by her participation in maternal education classes, we began to see a marked change in her. She began to smile again and engage with those around her. When she gave birth to her baby, we saw those changes in her continue. Our midwife is happy to note that baby's growth is on track and that Vorleak was doing everything needed to ensure her baby is healthy; the baby is meeting important developmental milestones.
These days, Vorleak is back in her village. She continues to receive support from Mother's Heart for her continuing life journey and personal recovery. You can find her there taking good care of her baby and, at the same time, managing a small but thriving home-business she set up with the help of World Vision Cambodia.
There are many other stories of vulnerable women like Vorleak who are facing crisis pregnancies in Cambodia. Without intervention, they would have faced pregnancy isolated, alone and with limited options that would put both them and their babies' health, safety, and even their lives, at risk.
Vorleak is taking steps toward stability and increasing independence and these wouldn't be possible if not for your generosity.
*Her name has been changed to protect her identity.
***
We also would like to thank our local partners, local authorities, business establishments, and those supporters who continue to be actively involved with Mother's Heart's beneficiaries and program. To those who gave their support to us in the recently-concluded 2020 GirlFund Campaign, we are truly grateful.