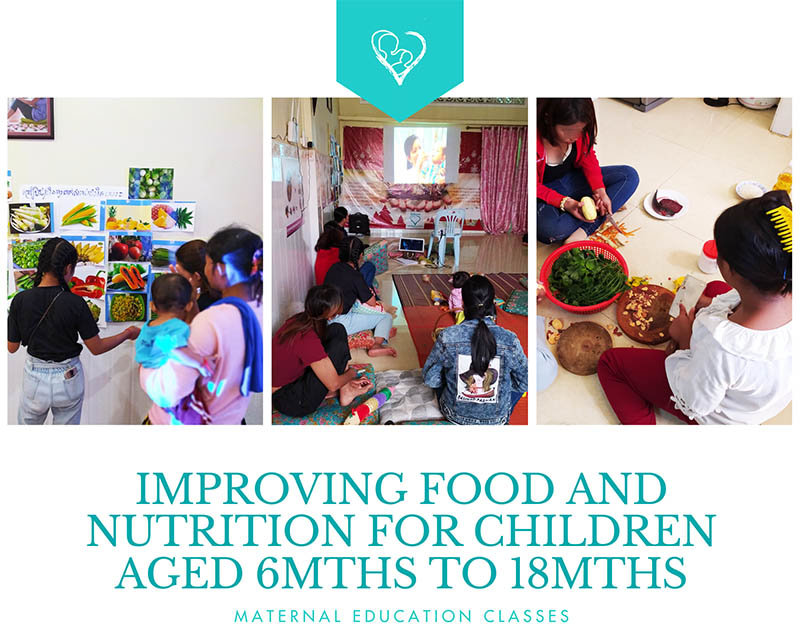 Mother's Heart Organization Highlights:
From September to November, Mother's Heart Organization has accepted a total of two new clients, one each from our Phnom Penh and Battambang provinces. Between the same period, a total of eight babies were born with seven girls and a boy. In total, we now have 81 women and 79 babies receiving life-saving support and services under the Crisis Pregnancy Counselling and Support Program.


What's making us busy: Maternal Education Classes
A. Food and Nutrition
Ten mothers and child carers in Battambang recently participated in the food and nutrition class taught by our social worker and midwife in our office there last November. They were re-introduced to the concepts of food and nutrition and the different food groups. One of the tasks for the participants was identifying nutrients-rich vegetables that are grown locally. There was also a participatory cooking demonstration in which they learned how to prepare a multi-ingredient porridge using vegetables available in the local markets. Other things discussed were food hygiene and safety practices. Our staff will conduct follow up home visits to check on the mothers and carers and observe any changes in their practice.
B. Money Management
Twelve young mothers in Phnom Penh office attended the money management class in October. In order to achieve empowerment, Mother's Heart equips our clients with the basic financial literacy, which includes budget planning and saving, and how to live within their means. The women who attended this class are already employed and since they are young they easily spend beyond their means. Hence this series of money management classes are conducted. To give the women a good understanding of what budgeting and savings mean, Mother's Heart staff use a learning-by-doing methodology where the women are given real-life scenarios and, with the use of play money, do some budgeting and savings exercises.
Staff News:

A. Mother's Heart staff receives First Aid Training

The two-day course was attended by our staff from the social work, medical, and day care departments and covered basics such as choking, burns and shocks, wounds and bleeding, drowning, common allergies and illnesses, and CPR with focus on babies/children. Also emphasized during the training was the importance of the safety of the responder by assessing the scene first before doing anything else.

The knowledge and skills were put to a practical test when the trainers, who are medical professionals from our partner organization Chab Dai Coalition, quizzed the staff on what to do by providing different scenarios and required each one to perform Heimlich maneuver for choking and CPR.

Mother's Heart works with pregnant women and babies/children alike and it is important that our staff are capable of providing immediate aid when a child or a pregnant woman has suddenly taken ill or has been injured while waiting for medical help. Trainings such as first aid equip them with the knowledge and skills to handle emergencies in the work place and beyond.
Savy, one of our staff said, "I need to know how to help if someone has an accident. Now that I have some knowledge, I feel I can do that." We are looking forward to the next level of first aid training in the coming months.
B. New Staff:
Mother's Heart is pleased to inform our supporters and donors that we have a new staff addition. She is Kim SreyMach, our new Women's Home mother. She provides support to the women and babies staying there – many of the women have intellectual disabilities while some are teenagers so they need a safe place to stay where there is a house mom looking over things and helping them be independent. She has years of experience in a similar capacity and we know that she is very capable of taking care of the residents there.
Thank you!
This year's GivingTuesday was a success and we learned a lot of lessons from our experience. On top of our list, we would like to thank our supporters and donors who participated in our GivingTuesday campaign. Our work would not be possible without you. We are already looking forward to next year's campaign.
We would also like to thank our friends everywhere for always thinking of the mothers and babies in our care. We regularly received donations of clothings and toys.
We are truly grateful and thankful to you all for sharing your blessings with us.