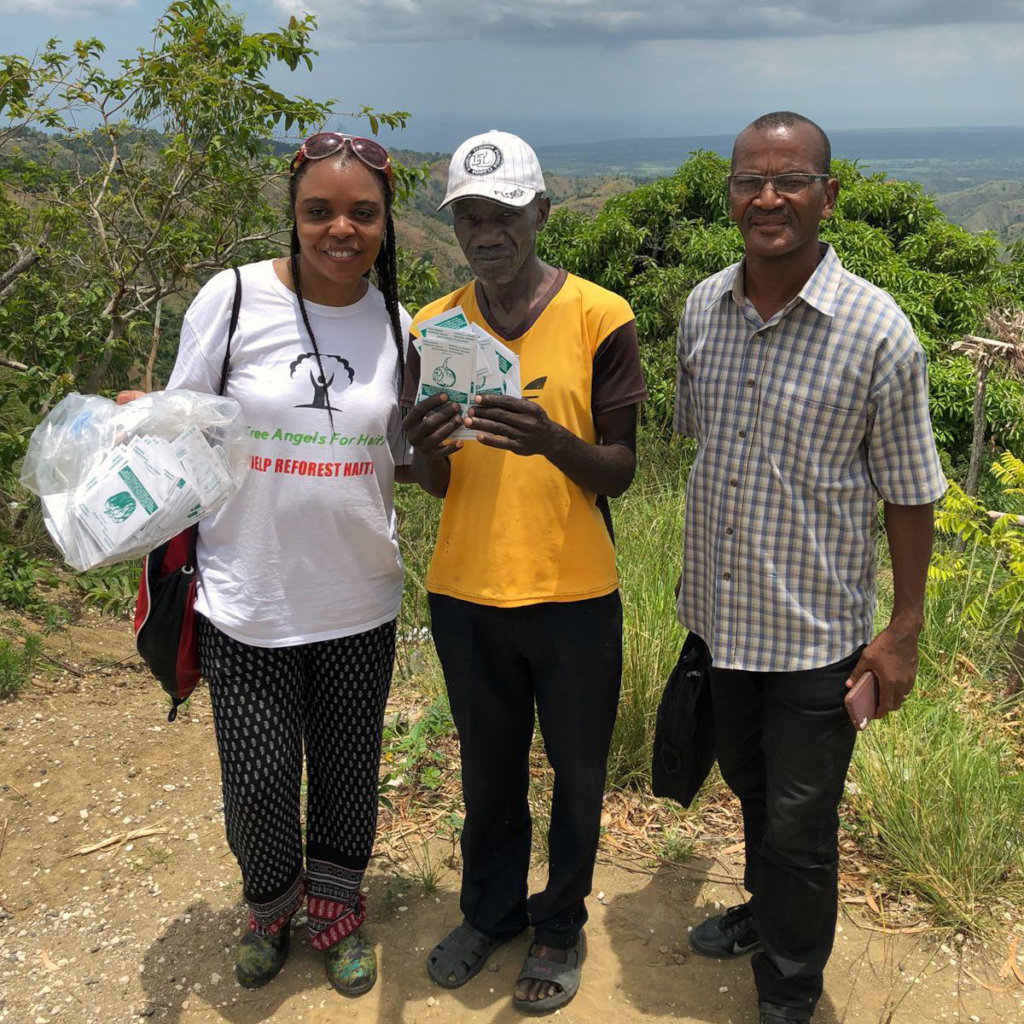 Hi folks,
As we approach the one-year mark for the major work of this project, we're working with our partners through the SPI Haiti Partnership Network to assess what has been accomplished in the past year and understand where our partners would like to grow in the coming year. After we've heard from our partners, we'll publish a longer report that describes the last year's work. In the meantime, we'd like to share smaller updates from three SPI partners who are strengthening communities and families in Haiti.
Ayiti KonseVet (via June Levinsohn)
June Levinsohn is a US-based coordinating partner for one of our long-term Haitian partners, Ayiti KonseVet (AKV). We opened this project with an on-the-ground description from June, so it's fitting to share her latest update describing the report from AKV's agronomist, Wedly Deceus, one year later.
"Wedly sends his report on our annual May 1st school garden celebration which this year was held in Po Mago / Port Margot, where we have the 2 newest school gardens. The usual format was followed with participants from all 10 schools bringing vegetables from their respective gardens. This year's theme was the importance of produce transformation into marketable products.
There were also the usual games: musical chairs, egg-balance, apple jig. Lunch was local chicken and green beans (!!!) from the Po Mago market...no USAID rice 'n beans, hooray!!! And it was served, as Wedly writes, on 'STAINLESS' (i.e. not paper or styrofoam)! This is definite progress!
With this year's group of university interns we will eventually incorporate them into our school garden program and will bring in next semester another group of these 5th year agronomy students.
As always, thanks for your continued support of AKV / Ayiti KonseVet. — June
Little Footprints, Big Steps
Little Footprints, Big Steps (LFBS) was featured in our last report, and they continue to share their approach and progress:
"The amazing agricultural recovery and revitalization for our families throughout Haiti's southern peninsula continues to increase under the enthusiastic expertise of LFBS' full-time Agronomist. We have included the introduction of new vegetables; new processes, tools and training, including seed harvesting and reuse; materials/tools and training for sound storage practices; materials and support for taking/setting up at market; livestock as possible. This all contributes toward healthy food security - for the families involved and their communities; families being able to stay together; and steps toward self-sufficiency and empowerment."
To understand what is most needed, their agronomist has been making a detailed inventory for the families in the area. They're using this inventory to recommend tools, seeds (dry and wet season), livestock, and water access for each family. As families gain access to the training and resources they need, livelihoods return. LFBS describes a little of what that looks like:
"New crops, new market business! Our Agronomist has been working to make parents of children in our programs more self-sufficient. This...child is now able to help his mother sell cabbage produced in their own garden. We are thrilled to see the parents in our business startup program having such success! This is definitely a program we would like to continue to grow – most children are abandoned into orphanages or end up on the streets simply because their parents don't have the economic stability to care for them. So empowering that these parents can help protect their children, and that the children are able to grow with their families and communities – thank you for helping us provide the tools for them to do so."
Tree Angels for Haiti
Tree Angels for Haiti is another partner we featured one year ago. Tree Angels has planted 70,000 trees since 2010 as part of their program to reforest the island. They've lately started growing vegetables as part of a program inspired by SPI seeds.
Their first season was rough. A lot fof crops failed because farmers lacked tools, knowledge, and experience with these vegetables. Many farmers were even using makeshift tools like spoons and sticks to try and get the job done. After learning what the farmers needed to be successful, SPI helped fund a local purchase of tools and connected Tree Angels' grassroots Haitian staff with SPI's contracted Haitian agronomist, Renel Bruno.
Tree Angels' Lynette Crocker recently shared, "Renel traveled more than eight hours on a raggedy bus overnight to get there! He had good insight and recommended some solutions to try. And the donation of tools helped tremendously. Now, things are going very well with our community garden project! The people are now selling their excess produce!"
In total, more than 500 households around the port town of Leyogàn are now enrolled growing fresh, nutritious food as part of a strong, locally led effort. The farmers are invested, too — they're reinvesting 20% of their vegetable income into the project.
Haitians are innovative and brilliant people of thought and action. SPI's role, and your role in supporting SPI, is to provide a few key resources and connections to support and strengthen them further. From all of us at SPI, and for our partners, thank you!
P.S. You may have heard about the unrest in Haiti that began as a response to a proposed increase in gas prices. As of earlier this month, partners have reported they are safe from the demonstrations.