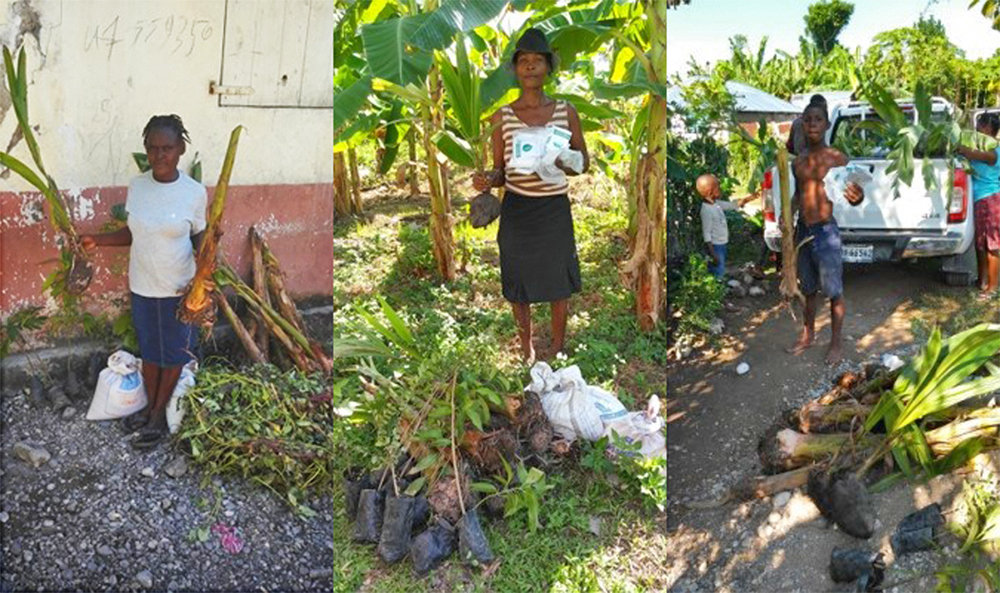 The road to reviving gardens after Hurricane Matthew has been a long road, and we're working with partners who are in it for the long haul. Little Footprints, Big Steps (LFBS) is one of those partners. They've recently shared an update about how they're working to support communities affected by Hurricane Matthew, providing a snapshot of where gardens fit into the larger picture of recovery and rebuilding. We're sharing this with you because we're proud of their work, and we think it's a great example of how many different pieces need to come together for folks to rebuild their livelihoods.
"Since Hurricane Matthew we have been able to build Maxima prefabricated homes for over 21 families! Homes built or repaired, crops planted, medical outreach clinics regularly underway, children attending schools, parents starting businesses, and the addition of livestock – the recovery and rebuilding of the families in rural communities, whose lives were shattered by the October 2016 Category 5 hurricane, continues in great strides through the dedicated LFBS staff, collaborative partnerships… and your support.
Our staff have also been able to deliver goats to families in the Grande Anse! The families lost their livestock during hurricane Matthew, and now that our agronomist has helped them revive vegetation in their area, they are ready to regain this important aspect of their livelihoods! The vehicles that deliver the agriculture supplies, livestock, building supplies, food supplies, medical team, support workers, transport the sick children – YOU have made possible!"
A Household Snapshot: Estelle
Joseph, an agronomist with LFBS, recently visited Estelle, a farmer and mother for a household of six. Estelle and her family accessed vegetable seed through our partnership with LFBS and participated in formal training with Joseph on how to prepare a vegetable nursery and eventually transplant the seedlings into her garden. Joseph will follow up by phone to ask about progress with the nursery, and he will visit the family next month to help them transplant the seedlings.
In the meantime, Estelle has planted tomatoes, cabbage, peppers, beans, beets, lettuce, and carrots in her nursery. Morgan from LFBS says, "Unfortunately there has been a dry spell in the Grande Anse lately, so their gardens are going through a dry patch right now. But otherwise, the gardens are thriving. Thank you so much for making this possible!"
In addition to distributing seed and coordinating trainings, LFBS is facilitating community discussions about the importance of agriculture and trees (arboriculture) as part of a long-term recovery plan. As part of these discussions, communities promise to support families and households who have made the commitment to growing vegetables for their families and community.
"We continue focusing on what can be done and celebrating what has been accomplished; on empowering and building the capacity of a dedicated staff; on including affected individuals, families and communities in solutions; on collaborating deeply with local organizations; on persistently moving forward – one step at a time – and having the courage of conviction. Everything in the world that is accomplished starts with the decision to try. Your interest and support for Little Footprints Big Steps Child Protection Organization is in evidence daily as brave beginnings unfold." — LFBS
For your support of Little Footprints, Big Steps, and for your support of this project, thank you.