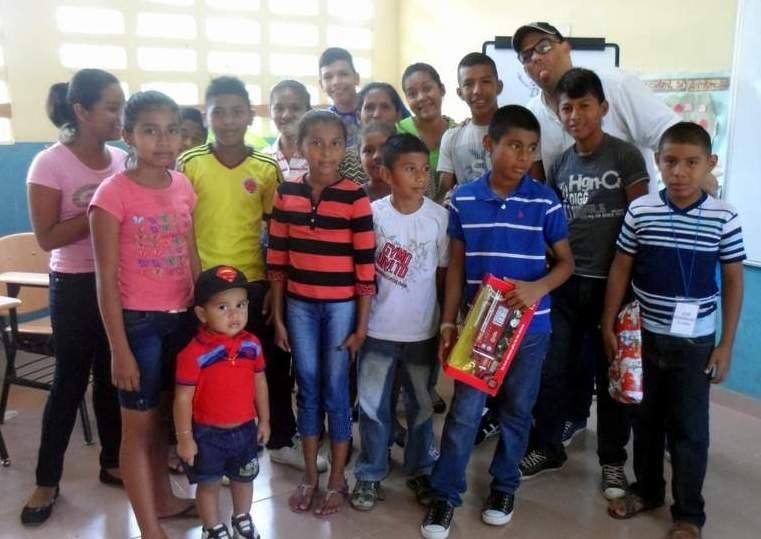 In 2015 we made more than 3,000 hearing tests and 29.3% of those screenings did not pass the first test requiring additional attention.
Watch your hearing, it is important!
First Tour of Hearing and Dental Health 2016
In collaboration with the Kiwanis Club Las Perlas, more than 50 volunteers included otolaryngologists, speech pathologists, dentists and people of great heart, we could provide free hearing and dental exams to more than 100 children in the community of Nueva Arenosa in La Chorrera. Also we gave an educational talk about hearing health through the School for Parents. In this way we started the year bringing health to those in need. Thanks to all who came together to make this possible.
Next Hearing Health tours:
Caimito Capira - April 2016
Yaviza in Darien - July 2016
If you want to participate as a volunteer with us just write to contacto@fundacionoiresvivir.org
This year, the Baby Fair trade show had less noise and more Health.
For the fourth consecutive year, we provided valuable information about the importance of hearing care for the Baby Fair held in Atlapa from 15 to 17 January. In this way we ensure that more children have the opportunity to become the Hearing Screening, screening test to assess hearing loss. This year also was held within the fair # Solo1Minuto of Silence, to educate about the importance of protecting hearing the noise. Thanks to Expo Events for the space we yield every year to participate and thanks to our dear volunteers who supported us.
Hearing Tests, Hearing Aid Placement and Speech Therapy available in our Clinic from Monday to Saturday.

see pictures enclosed
Taking care of hearing adults is also our job!
Hearing exams for adults, we hope in our clinic, conveniently located in Vía Fernández de Córdoba Córdoba Square, 1st Floor, Local 8. Or ask our mobile program for companies calling us at 317-0562. We also have gift certificates, from $ 10, you can purchase to donate to the adults who love them.
BEGIN YOUR SCHOOL YEAR WITH GOOD HEARING
Remember the beginning of each school year is recommended to make to your children a hearing screening to ensure they hear well. Temporary or permanent hearing loss will cause delays in language development and school performance and have a significant influence on your child's attitude toward school. Dating at 317-0562 / 1516. also we attend Saturday until 12 md.
Audiometry yes, SCREENING, YES, TYMPANOMETRY YES, Evoked potentials yes, ... All examinations under one roof.
see pictures enclosed.
Cochlear Implant INTERNATIONAL DAY FEBRUARY 25
This day we honor Dr. Graeme Clark, creator of this wonderful invention that has already helped thousands of people. The cochlear implant is a device that transforms acoustic signals into electrical signals that stimulate the auditory nerve, allowing people to listen implanted. It has an internal component that is placed through surgery and an external component that is used in the head. It may be unilateral or bilateral and can be used by children and adults. After cochlear implant placement come a long period of oral rehabilitation to teach patients to talk. Not all deaf people are candidates for a cochlear implant, so will the doctors and specialists who define this. For more information: https://es.wikipedia.org/wiki/Implante_coclear
MORE SPEECH THERAPISTS BETTER TRAINED TRAINED THANKS TO LOPEZ FAMILY FOUNDATION
Thanks to the Lopez Family Foundation to Children's Hospital, Panama City. and the Children's Hospital Los Angeles for making possible the February conference call, issued by Dr. Ali Strocker for the benefit of a select group of more than 20 speech therapists who attended. In this way we join forces to continue working for a common goal pursued not only to provide hearing to poor patients in need, but also educate and provide new knowledge to professionals who care for solutions.
The Saturdays we like
Alex (implanted patient) & Yenifer from San Miguel Island begins its speech therapy in the foundation this is the gift of sound through the provision of a hearing aid. For their convenience we serve in our clinic on Saturdays until 12 md.
Potential Automatizados
this is another test that we offer to babies in our clinic located in Via Fernandez de Cordoba. This test evaluates the cochlea and auditory pathways. On the picture Lianys 3 months old to perform the test that was conducted by our team of speech therapists
SOON ONE MINUTE OF SILENCE 2016
WORLD DAY OF HEARING AND EAR CARE - MARCH 03
It is important to know that about 60% of hearing losses are preventable, so caring for your hearing. Hearing is Living Foundation in're here to help !! 317-0562 - 317-1516.
NEW MEMBER OF THE TEAM
Today happy to add to our team to two new members of the family WELCOME Julissa (speech therapist) and Kathia (Assistant) team Hearing is Living Foundation. We are sure that with Gabie, Addis and Nany, continue to do wonders for those who trust their hearing us. Congratulations, happy to see grow this great family !! #Gracias To Your Good Neighbors Foundation for the support to achieve this growth.