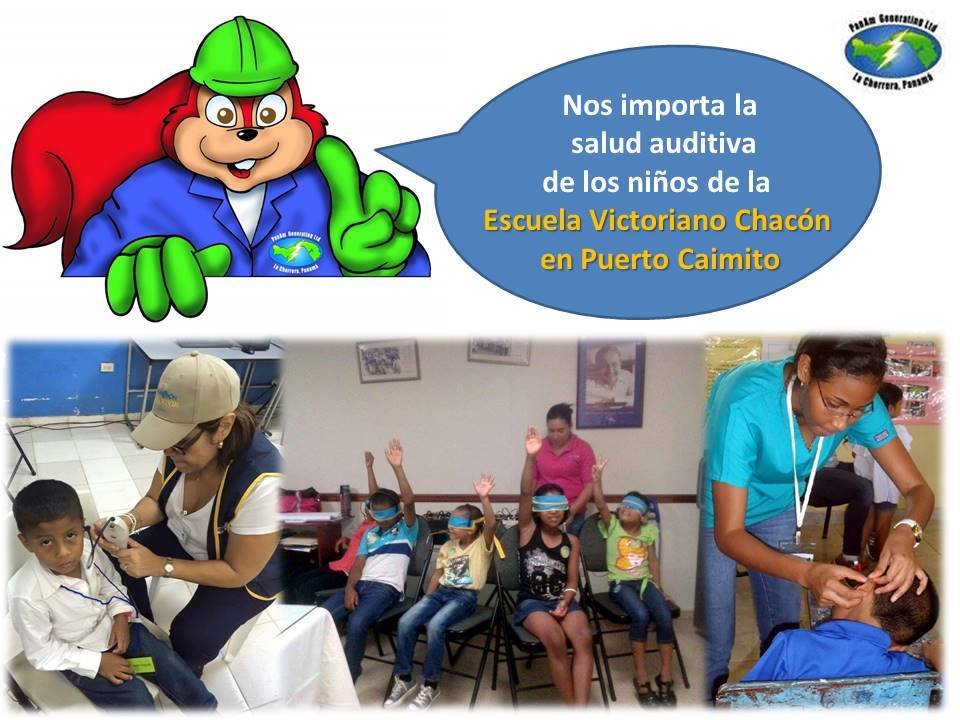 Gracias a todas las empresas, organizaciones, personas y voluntarios que nos
acompañaron este año en nuestra labor.
¡Sin ustedes no es sido posible!
SEPTEMBER
HEARING CARE IS NOT JUST FOR THE DEAF
When we talk about hearing health, not only are we referring to the treatment of hearing loss, but all the conditions that may affect your sense of hearing temporarily or permanently. The common ear infection, excessive earwax or exposure to loud noises can cause you temporary hearing loss. Check your hearing and your children´s hearing at least once a year.
MY SON FAILED THE HEARING SCREENING!!
In fact this is common when performing examinations in public and private schools. When a child fails the test, there can be various reasons so the first step is to refer you to receive an ear wash and if necessary repeat the test or conduct additional testing. As data of interest: 35% of first graders in one of the schools visited during the month of September failed the test.
HEARING HEALTH IS FOR ADULTS TOO
Felipe Motta invited us to bring Hearing Screening tests and a briefing with best practices for their employees and their children. Thanks to this company for giving value to hearing care.
ROYAL SCHOOL OF PANAMA (Colegio Real de Panamá) GAVE A GREAT EXAMPLE
By allowing us to bring, besides hearing exams for their children, an educational conference for teachers and 9th graders. Widex professionals were accompanying us during this day of awareness where they provided valuable information for the audience
PANAM GENERATING LTD CONTINUES TO BRING HEARING HEALTH TO PUERTO CAIMITO
To complete the cycle hearing health for those children who failed the test in Phase I testing, the company sponsored Phase II which included washing ears and repeating auditory screening for the group of children who required it. We applaud this action of solidarity and responsibility .
UDELAS STUDENTS ARE THE BEST
We extend our thanks to all students in speech therapy of Udelas that daily accompany us on our tours to support us with hearing health examinations. Thank you !
OCTOBER –
EL VALLE CHILDREN COME FOR HEARING TESTS IN THE CITY.
Because sometimes a single round of hearing tests is not enough, we brought to our clinic in the City of Panama, children from El Valle de Anton requiring additional tests that are not mobile. We hope this second stage, will help in further improving their hearing health. Thanks to donors and volunteers who made it possible.
CELEBRATING OUR PROFESSIONALS
On October 15 FOV team held on behalf of our beloved speech therapists, Lic. Addis Sotillo, Lic. Nadiezdha González and Lic. Analida Pitty Ceballos, speech therapist and vice president of our board. Thank you all for your great job!
ENGAIGING AIP STUDENTS AND COLLEGE STUDENTS
This month the students of the American Academy of Panama, were presented with our projects to see if they join us to achieve them. They work closely with United Way to promote their talent and energy to various NGOs working for a better Panama. We also participating in "Ponte en Algo Fest" to attract university volunteers to make a difference in the lives of others.
NEW ALLIANCES :
A) KIDS AND FAMILY CENTER INCLUDES THE HEARING AS PART AS THEIR REQUIREMENTS
An example to follow; K & F Center, with who this month we signed a cooperation agreement, have decided to include in their requests for registration the Hearing Screening Test. In this way they ensure that the hearing of the little ones who attend, is in the best possible condition to start the development of their language. Congratulations on this tremendous initiative. Ah, furthermore thanks for donating the fabulous Light Table which will be used in our clinic for speech therapy.
B) COOPERATION AGREEMENT WITH VITAL VOICES OF PANAMA
We signed the cooperation agreement with Vital Voices, to provide the free hearing screening test for the babies of teenage mothers at the LasClaras Center. Thanks to its President Gisela Alvarez de Porras for her trust in our work.
NOVEMBER –
THANKING DONORS, FRIENDS AND VOLUNTEERS
For the fourth year we celebrate with donors, volunteers and friends, the great job we have achieved which makes a difference in the lives of so many. Their support has enabled us to do more than 8,500 hearing tests to identify and provide treatment to children and poor adults who otherwise would not receive the "Gift of Sound". This year's event took place at the Marriott Hotel who donated us an event that was full of emotions and warmth. Thank you all!
VOLUNTEER WHO MADE THE DIFFERENCE
We were happy to nominate Marsha Diaz as our volunteer of the year for the contest "Award 2015" runned by "Ponte en Algo" , which recognizes volunteers who have excelled in their work and rewards the winning organization. Marsha, thanks for all your support and passion for our cause.
SCREENING TESTS, ARE VERY IMPORTANT FOR KIDS
We carried out our mobile testing program "Aprendo Escuchando", to the following schools to ensure that these little ones hear well and are able to develop their language skills properly and on time: Foundation Working for a Better Future, Kids & Family Center and Kinder Joy. Thanks for the support to do so.
UNITED FOR A CITY WITH LESS NOISE
Along with the capital's mayor, we were speakers at the seminar "The Importance of Acoustic in a City with Noise" to various local businessmen by the company ContraXeñas Our thanks to Ricky Ramirez Flower Berbey who recognized the event and give value to all the work we have been doing in support of better hearing health for children and adults in Panama
We also:
Participate in the Health Fair for employees at DELL
Participated with exams during the Christmas Party offerend in Colón by the BioComunidad Team, program conducted by the First Lady of Panama.
We are preparing our next tour with Kiwanis Club to serve nearly 150 children in Nueva Arenosa.
REUNIDOS PARA AGRADECER
Por cuarto año consecutivo celebramos junto a donantes, voluntarios y amigos la dicha de haber logrado un gran trabajo que hace la diferencia en la vida de muchos. Su apoyo nos ha permitido ya realizar más de 8,500 exámenes auditivos para identificar y poder brindar tratamiento a niños y adultos de escasos recursos que de otra manera no recibirían el "Regalo del Sonido". Este año el evento tuvo lugar en el Hotel Marriott quienes nos donaron un evento que estuvo lleno de emociones y cordialidad ¡Muchas gracias a todos!