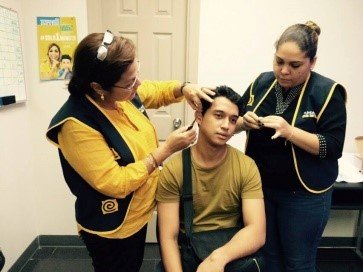 JUNE 2015
GIFT OF SOUND: Adapting Hearing Aids!
In June we celebrate with 6 patients and their families, the joy of providing the "Gift of Sound" through the provision of hearing aids, held in our Clinic Thanks to teamwork, trust, support and cooperation of Your Good Neighbor Foundation and Funproi, today these patients and their families begin a new era full of hope and new opportunities. We rejoice to serving our kids!
HEARING SCREENINGS for children and adults, UNDER ONE ROOF.
Children and adults take care of their hearing with us. They recognize the importance of hearing screening. For babies, it is the ability to hear well for a healthy development of language. For adults it is safety to hear well to stay active and really connected to their work, family and social world.
GOTTA LISTEN TO LEARN PROGAM REACHED LA CABIMA
Sponsored by Expo Event organizers of the Baby Fair and Expo Mom Fair, we were able to bring hearing exams to more than 100 children of this school. With this program of early detection of hearing loss, we assess hearing of the smallest to ensure the development of their language Thanks to Expo Events for supporting our hearing screening program.
JULIO 2015
We thank His Buenos Vecinos Foundation and the Association of Colombian-Panamanian ladies who donated this month to support us with our work. We continue to seek the support of companies and individuals who believe that our work makes a difference for children and adults to hear.
KARAOKE FUN TO BENEFIT FOV
Thanks to all the people and companies that contributed or attended to the "Karaoke Night" event in which we collected funds to continue carrying out the Hearing Care program and provision of hearing aids for children, youth and adults with hearing loss.
MOBILE HEALTH HEARING PROGRAM FOR KIDS
We recently had the opportunity of taking hearing exams for children from the following schools: Panamanian-Chinese Cultural Center, Alfred B. Nobel Bilingual School
PROBONO MORGAN AND MORGAN
The professionals at Morgan and Morgan, now pro bono support us! Thanks to them now Hearing is Living Foundation offers free counseling for our legal issues. We also had the opportunity this month to take an interesting conference Hearing Care for its employees.
Mossak Fonseca sponsored "GOTTA LISTEN TO LEARN PROGRAM" benefiting more than 100 children .
Children from the Public School Our Lady of Mercy were helped with our mobile hearing screening program , which came to them, thanks to Mossak Fonseca Law Firm. Thanks to this company for supporting our work.
EXAMS OFFERED IN TVN
At the end July, we had the opportunity to continue educating through the interview conducted by Channel 2-TVN where we also had the opportunity to perform hearing screening tests for adults . This also included the reknowned presenter Roland Sterling who sets example by checking his hearing
AGOSTO 2015
EDUCATING AT EXPO MOM FAIR
On the first weekend of August we were invited to participat at this fair in which we handed out thousands of educational flyers for moms to be. Our team as well as a group of enthusiastic volunteers offered valuable information to visitors. We hope all these people are now better informed and will take better care of their hearing.
HEARING AIDS AFFORDABLE FOR THOSE WITH HEARING LOSS
We have started the promotion of the recently received Starkey Hearing Aids which we are making available affordable for those who need them. We have in the past few month helped over ten patients and hope to keep helping many more.
HEARING SCREENING FOR ADULTS AT TOWERBANK'S HEALTH WEEK
Exams were offered for adults at Towerbank during their Health Week. Along with exams we offered an educational conference to better inform them about taking care of hearing and risks when exposed to excessive noise.
MORE KIDS BENEFIT FROM OUR HEARING HEALTH PROGARM
Kids at ABCnMe School received their hearing screening to ensure there are no hearing losses and that they can develop language on time. During our visit, kid's mothers had a bake sale which funds will be donated in part to FOV to help us carry out our programs.
EXAMS FOR KIDS AT "Aldeas SOS"
Aldeas SOS in Panama shelters kids with no home and helps them get educated and become useful members of society. To contribute with this cause, in August we offered screening hearing to 40 kids and their guardians.
COMING SOON TO EL VALLE DE ANTON
On August 29 – We will go on a Hearing Screening Tour to El Valle, along with Hope Worldwide Foundation, were we will attend approximately 200 children from four different schools.