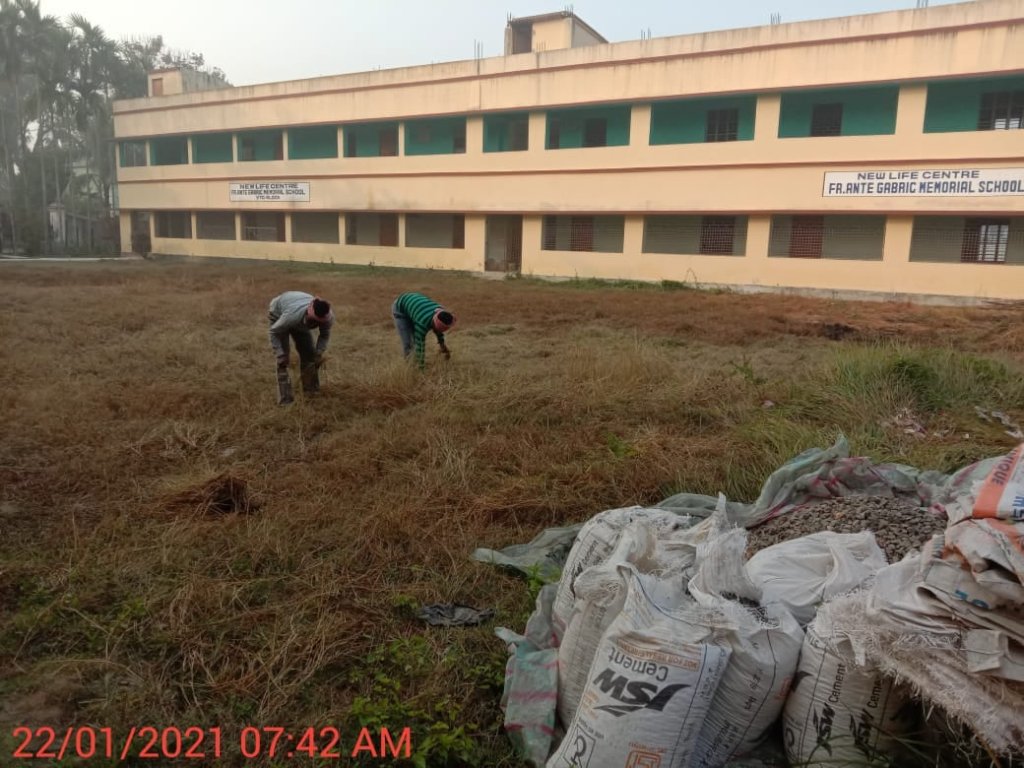 INDIA
New Life Centre School, Sarberia:
The school has sadly been closed since March 2020 and whilst the Government advises online learning this is virtually impossible in Sarberia. The area has an unreliable electricity supply and with no facilities for studying in the houses that the children live in and parents who can help with only the basic level of education, online study at home isn't practical and the children have been missing out, not only socially but with their education. Thankfully, the teachers who are receiving some pay (a percentage of their salaries through the HATW sponsorship scheme), have been producing hard copies of work, mostly for the older children, and then marking the work and tutoring the children in this way, with physical contact in small groups, as and when possible. It is hoped that schools can reopen again in March 2021. Exactly a year after they closed.
The Government has decreed that January and February 2021 will be spent doing revision classes online which will mean by hard copies in the New Life Centre, and then the new syllabus will begin in March when the school should hopefully be open. Registration for school places has taken place.
AFRICA
Zambia: Pizz school, Monze
Pizz School has continued to offer practical support to its pupils, and some past pupils, through the pandemic. During the periods of enforced school closures, a feeding programme has been implemented to ensure that the absence of a school lunch does not impact too adversely on the children.
The periods of school closure have been a challenge, with many suffering through hunger and poverty. The cost of food and other essential supplies has increased with limited availability. The latest 'return to school date' this year has again been delayed by another two weeks, with the latest news for schools is that they will open 1st February.
Throughout the school closure the school staff and volunteers have remained committed to the wellbeing of the children, ensuring that contact is maintained wherever possible and that the most vulnerable children receive donations of food to prevent hunger and malnutrition.
Zambia: Kaliyangile Vocational Training Centre, Chisamba
Sadly Kaliyangile Training Centre hasn't been able to continue their training work for the community due to the local COVID-19 restrictions. However, the months have been used productively to ensure that the Centre is ready for full and extended use once they are able to open. Much needed support has also been given by the Centre to those locally, as poverty levels have increased with many losing their source of income to provide meals and clothing. With your help food and clothing distribution has been a vital and key component of Kaliyangile's support to the community during this long and difficult period of COVID-19 restrictions.
The total number of confirmed COVID-19 cases in Zambia is 46,146 (6,847 currently active – 25 Jan 2021) with 660 recorded deaths¹.
Benin: Chez Papa Geoff Orphanage, Affame:
There have thankfully been no reported cases of COVID-19 at the orphanage, Chez Papa Geoff and they remain reasonably isolated and therefore continue to function well as a 'safe family unit'.
The total number of confirmed COVID-19 cases in Benin are 3,643 (278 currently active – 25 Jan 2021) with 48 recorded deaths. ¹
Kenya: Disability Community centre, Maua
DCC staff continued to visit children in the programme at their homes and provide COVID protective equipment and food to their families over the past months of lockdown. Thankfully, the special schools supported by the DCC have now been able to open again but are understandably cautious and keen to ensure that all COVID precautions are taken. Again, your donations have helped to facilitate the safety of children here through the provision of facemasks, sanitiser and food for distribution at home during the periods of lockdown. Thank you.
The total number of confirmed COVID-19 cases in Kenya are 100,193 (14,818 currently active – 25 Jan 2021) with 1,750 recorded deaths.¹
HATW support for all projects:
Volunteer involvement to help with practical tasks, as well as in advisory and support roles, have always been a vital component of the success of the overseas projects that HATW are involved with. Sadly, with the necessary COVID-19 travel restrictions, volunteers have been unable to visit to undertake this support. But thanks to the technology now available to all (albeit with hugely restrictive internet and often electricity outage issues, in the project locations) support has continued remotely with all our volunteer project co-ordinators, that are based in the UK and in Jersey, actively engaged and helping the project managers and their teams through this difficult time. Financial support, as and when needed, is also a vital and very necessary part of HATW's support to each of the projects and we are grateful to you for your help with this. Finances are stretched for the majority of charities at this time and without you, this much appreciated and vital network of support for our overseas projects would not be able to continue. Thank you.
¹ Data source: BBC resources/Coronavirus in Africa Tracker. 25 January 2021