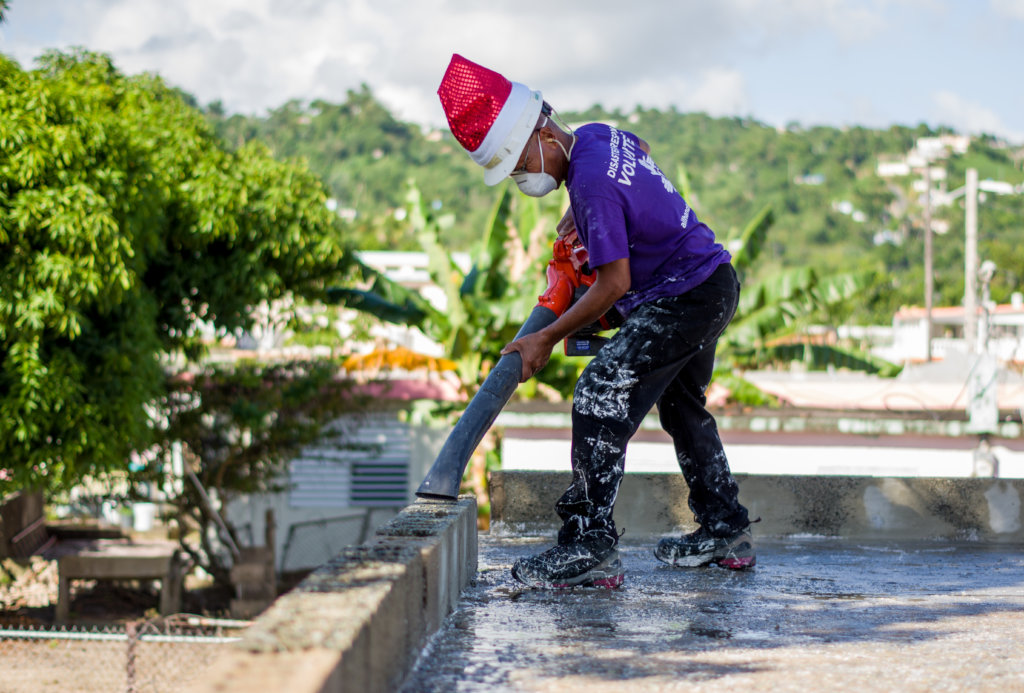 Hello Donors!
As you may know, All Hands and Hearts has been in Puerto Rico since Hurricanes Irma and Maria hit in the Fall of 2017. Officially starting the first week of January 2018, our teams worked incredibly hard to help those impacted by the storms move beyond the destruction they faced as a result of the heavy winds and rain. Originally working in three locations (Barranquitas, Yabucoa, and Toa Baja), our recovery phase of work is now operating solely out of Yabucoa.
The efforts of our field teams are focused on some mucking/gutting/mold sanitizing, and our primary work on roof and critical home repairs. For thousands of residents after the initial storm hit, roofs were severely damaged, or even removed altogether. Even now, at higher altitudes in the areas we work, you can see the blue tarps speckling the landscape as many are still depending on these tarps to keep water out of their homes. This is by no means a long-term solution to the problem, and simply acts as a bandaid leaving homeowners vulnerable to even a minor storm. Our goal is to repair as many of these roofs as possible, building them back stronger than ever. Until a roof is fully repaired, it's very difficult for homeowners to address the damage to the inside of their homes as rain leakage has been a big issue.
Teams and volunteers worked straight through the holidays (notice the santa hats in one of the update photos!) in order to make sure that All Hands and Hearts can serve as many individuals as possible over the full timeline of recovery. 7,014 people have been impacted by the work of 2,392 volunteers. We are thrilled that our teams have been able to make this kind of impact so far, and thankful that we have been so strongly supported by the Globalgiving community from day one. Thank you for your ongoing support and partnership as we work together to see these numbers grow!
As always, thank you from everyone at All Hands and Hearts!