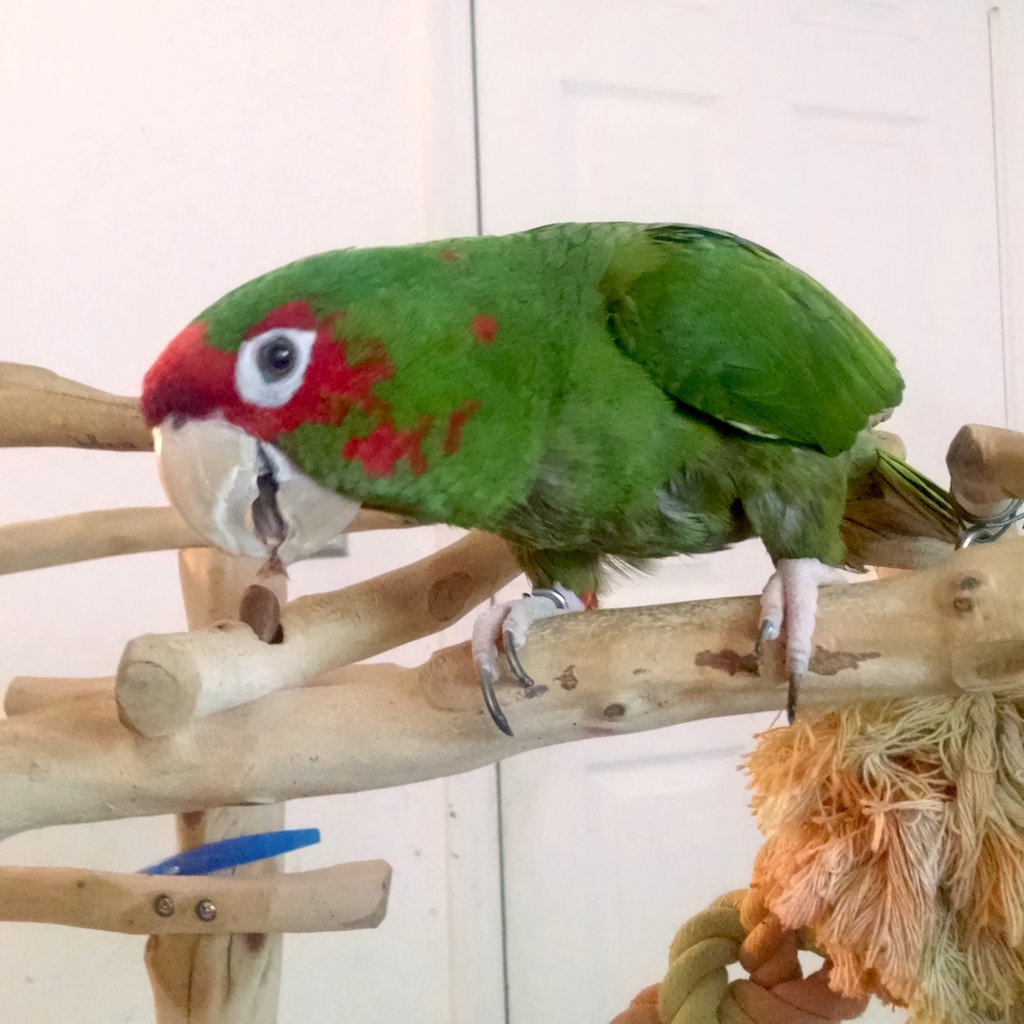 THANKS to all who voted for us in the recent GlobalGiving Photo Contest. We did not win, but we made more people aware of Mickaboo and how we can help them and their birds, an important step toward our goal of making better the lives of birds who live in our homes. Read more about what we do in our latest newsletter. If you are in the Sacramento / San Francisco / San Jose area, visit us at one of the many public events in which we participate.
YOUR help and that of our many volunteers are what make Mickaboo miracles happen, day after day, for so many of our intelligent and beautiful parrot friends. Your donation now can go further; a matching gift event is underway TODAY! On September 16, 6 am - 9 pm PT GlobalGiving will match your online donations at 30%, up to $1,000 per donor per nonprofit, until GlobalGiving has given away $70,000. Go to Mickaboo's GlobalGiving page to take advantage of this opportunity.
Your donations help birds like TJ, a 15+-year-old mitred conure. His owner of 14 years surrendered TJ to Mickaboo, saying TJ was aggressive and loud. We think TJ simply didn't have a chance to impress his guardian family. Here is a video of TJ in his foster home, showing off his speaking skills!
Up until recently, TJ had been a happy-go-lucky guy in his new foster home. He loved playing and exploring with anything, anywhere…right up until he fell off his cage, laying on his back partially paralyzed. After about an hour he improved markedly but he was still struggling. He wasn't able to feed himself for days afterward. All signs point to TJ having had a major stroke followed by smaller "mini-strokes". He is still hospitalized, not stable enough yet to return home, though the vet believes he will soon.
TJ's vet bills have exceeded $2400 so far, and hospitalization costs continue to mount. Would you consider taking advantage of this matching gift opportunity to help TJ and our other birds heal so they can find permanent, loving homes?
Would you want to adopt TJ after he recovers? Email us at coordinator-conure@mickaboo.org!
Links: