Project Report

| Feb 16, 2018
Mickaboo Adoption Fairs - You're Invited!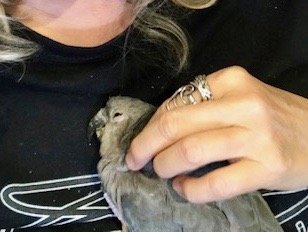 Mickaboo is hosting two adoption fairs over the next few weeks - and you're invited! These fairs are a great way to meet some of the many birds in our rescue flock, talk to volunteers about bird care generally or with regard to a particular species, and start becoming qualified to adopt or foster from us.
The first of the adoption fairs will be in California's San Jose area:
When: Saturday, Feb 24, 11 am - 4 pm Pacific
Where: For Other Living Things, 1261 South Mary Blvd, Sunnyvale, CA
More information at this link.
The next adoption fair will be in the Sacramento area:
When: Sunday, March 25, 11 am - 4 pm Pacific
Where: Carmichael Public Library, 5605 Marconi Avenue, Carmichael, CA
More information at this link.
Buster is an example of a bird who found happiness in a permanent home. Buster is a 25-year-young red-bellied female poicephalus surrendered by her original owner because she was "in the way". The females of this species are often ignored or passed over in the pet industry because the males are more "colorful."
Buster loves to chew cardboard, makes soft whistles and kind of says "hello". She enjoys having her head scratched, and though she is missing one toe on each foot, she relishes dancing with her human friends.
Perhaps YOU will find a friend at one of these adoption fairs, like Buster did? If so, not only will you have a new friend in your household, but you will be creating the capacity for Mickaboo to save another life.
We hope to see you at one of the fairs!
Links: