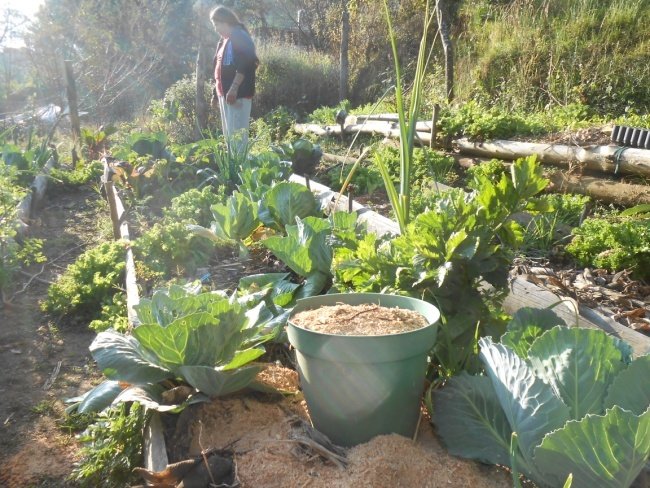 Since our project was initiated, 30 technicians, agricultural producers and students from the agricultural department assisted our Holistic Management Diploma course. The objective of this course was to train Holistic Management educators from the central and northern Mexico that will go on to regenerate soils, reverse desertification process, mitigate droughts, floods, erosion, diseases, and the loss of biodiversity, and, above all, tackle climate change. The course provides its students with knowledge of regenerative soil practices that reinitiate biological productivity. The participants learn about re-mineralization, preparation of biofertilizers, and runoff management using the Yeomans Plow that helps infiltration and combats drought. Furthermore, students discuss cattle management that can contribute to establishment of carbon and water sinks in the soils, hence enriching the soils and decreasing food shortages in the region.
We continued our work with the network of 122 biointensive gardens and 99 agricultural plots in the state of Querétaro, as well as with 22 holistic management pilot ranches that together cover more than 50,000 hectares and are located in the states of Querétaro, Guanajuato, San Luis Potosí, and Chihuahua. We also carried out 400 field visits during which we provided specialized technical assistance to 267 producers, sharing regenerative tools such as planned grazing, keyline design, fermented biofertilizers, use of microorganisms to inoculate fields, re-mineralization using rock meals, applications of manure or compost, agri-silvipastoral system, and winter crops on prairies among many others.
The participating producers have improved their quality of life while growing organic foods, given that besides improving their lands' productivity, they also ensure a healthy diet for their families. Observing positive changes, their commitment to the field is strengthened and they share the proven benefits and techniques in their communities. Moreover, observing positive changes, they implement other regenerative techniques to further improve their production process. It is a win-win for a healthier planet.