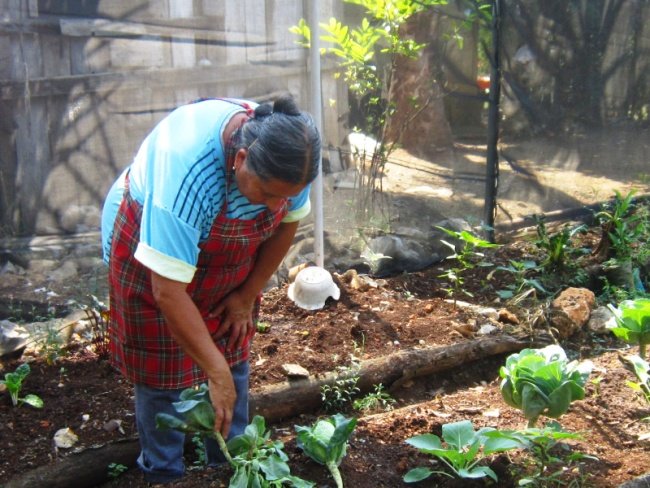 During this quarter we carried out 200 field visits and provided 267 gardeners, agricultural producers, and livestock farmers with specialized technical assistance. In the state of Querétaro we operate a network of 130 backyard gardens, which are located in five municipalities of the Sierra Gorda. Of these, 30 percent produce surpluses that are traded or exchanged (bartered) within the region. Therefore, besides harvesting food without chemicals, agricultural producers also obtain additional income by decreasing their food expenditure and by selling production surplus.
On average, each garden covers an area of approximately 80 square meters. During each implementation stage, biointensive gardening principles are applied, including plantation of creole seeds and replenishment of minerals to the soil. Together with other techniques these principles guarantee complete organic production.
We also work with agricultural producers that apply regenerative techniques to restore soil health on 100 agricultural plots, which together cover 200 hectares. These techniques include implementation of keyline hydrological design, incorporation of organic matter, application of rock flour, preparation of biofertilizers, reduced tillage, and winter planting.
We work with 23 pilot ranches located in the states of Querétaro, Guanajuato, San Luis Potosí, Sonora, and Chihuahua that together cover 70,000 hectares and practice holistic management. In the Sierra Gorda region, we have been working with ranches to develop management plans, including infrastructure planning, planned grazing, and biological monitoring. In the state of San Luis Potosí, we have been strengthening the infrastructure to improve holistic management practices on a pilot 'ejido'. This includes construction of ditches for water collection and division of pastures. In the state of Guanajuato, we have been working with ranches to seed and divide their pastures. Based on the planned grazing carried out by the producers, these activities will improve ranch conditions and enable greater production of fodder. In the states of Chihuahua and Sonora planned grazing was implemented on each pilot ranch.
Visiting pilot ranches in the Sierra Gorda and in the replication states where regenerative management has been implemented, we also carry out soil carbon monitoring.