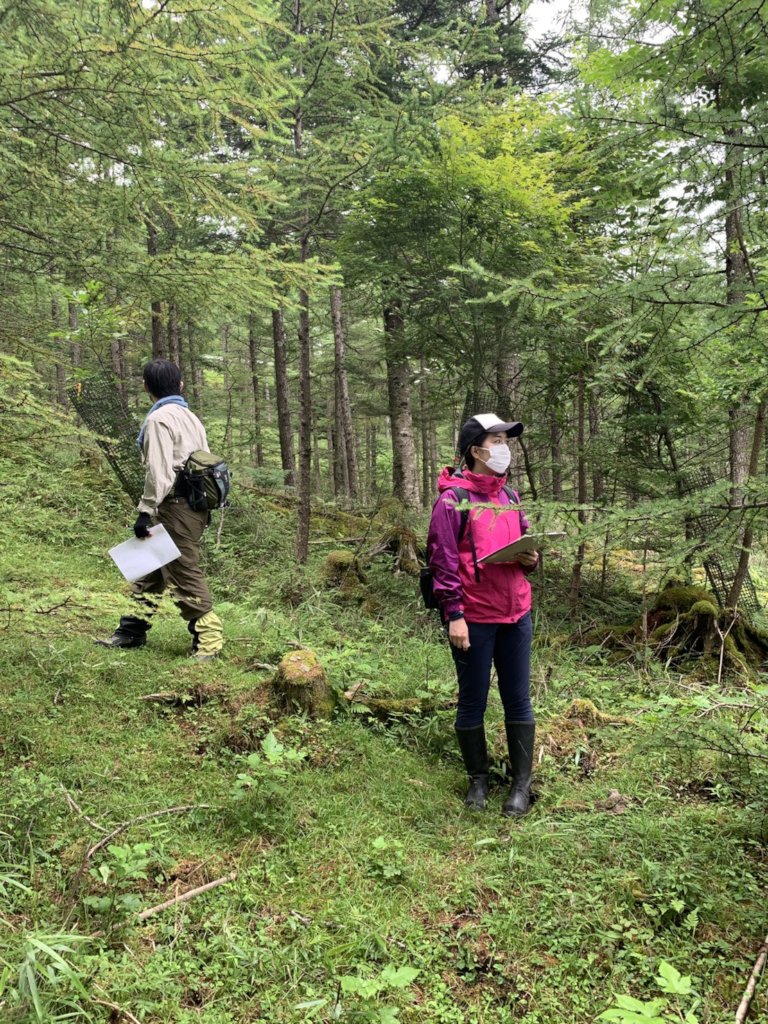 At some point, we thought that corona has subsided, but in July, there was a surge again and quite a number of people was infected. Across Japan, vaccination is progressing gradually, but the emergence of new strains made future infection trends unclear.
In May, we scheduled our reforestation related activities with the help of volunteers, including the representatives of the companies supporting our project. Due to corona, we have no choice but to cancel all of them. We are lucky enough that we have our sub-contracted local forest workers who are helping us with the site maintenance. From September through October this year, we will organize events to mobilize volunteers to help us in the maintenance of our site. We are hoping though that there will be no corona surges.
Meanwhile, on the 16th of July, we conducted a population survey of Japanese bush warbler in cooperation with Dr. Morimoto of Yamashina Institute of Ornithology. The survey`s objective is to assess the forest condition, and evaluate the impact of our reforestation project. Birds are known to be good indicators of sustainable forest management.
We started doing bird survey since last year. This year, we originally planned to carry it out as part of our volunteer activities. However, corona problem and time constraints (survey can only be done from May to July), we have no choice but to do it on our own.
The survey method includes assigning 10 survey points within our 100-hectare reforestation site. At the survey points, within the 50-meter radius, we listened to bird calls for five-minute intervals. In general, it is difficult to identify bird calls unless you are an expert. This is the reason why we chose warblers, because they have distinct calls that can be easily identified.
Doing bird survey needs a lot of patience and concentration. It may be difficult for us to provide a result since we are still on the survey`s initial stage. In spite of this, we are happy to share with our GlobalGiving donors how are efforts are gradually paying off. Despite the difficult site condition (located at 1,500 meter-high, our planted trees are exposed to strong winds, typhoon in summer, and heavy snow in winter), our planted trees are thriving.
We thank you for your continuous support. Under much better circumstances, we are hoping that you could visit our project site.