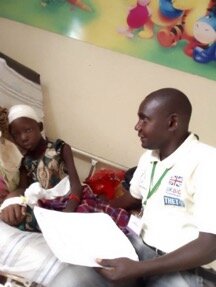 This is our first report in the new year and we wish everyone the very best of 2023!
Below we share with you our highlights on what we have been able to do with patients and their families, opportunities to educate and train others, and highlights in network and mutual learning through conferences.
We hope you enjoy our updates over the last few 3 months (December -February) below.
Patient highlight: V's Story: "To Love and care is the Palliative care team!"
By Ronald and retold by Hannah
All quotations and pictures are taken with written consent; see bottom of report for photo of patient with volunteer social worker Ronald and her mother.
In our palliative care unit, we offer free palliative care services to anyone with serious health-related suffering and palliative care is not limited to those who are dying (end of life). Quality of life, as we understand it, comes from holistic measures: pain and symptom management are crucial aspects, but we cannot forget the assessment and support in areas such as psychosocial and spiritual care.
Ronald, a volunteer at Mulago Hospital's palliative care unit, shared his experience caring for Patient V, who is currently undergoing radiotherapy for cancer around her arm (Rhabdomyosarcoma).
We have been visiting Patient V, a 12-year-old female from Western Uganda, since she begun to have swelling in her arm in 2021. Her grandmother took her and applied herbal medicine, but her arm continued swelling, so she was taken for surgery and had a biopsy at the local hospital. Patient V was referred to Mulago Specialised National Hospital in February 2022 when it was confirmed that she had cancer. The primary doctors consulted the palliative care team regarding V's pain management and to hold a family conference about the family's expectations, treatment goal, disease process and V's understanding of her condition. This was done and it went well with lots of discussions and emotions but was quite rewarding to the family who now have insight into what is happening and are being supported to cope and plan for the future.
We continue to visit V and her family as she receives her radiotherapy treatment. One of the days when we visited her on the ward the family caregiver said "as a family, we are very pleased with the care that we have received during our stay in the hospital. All the staff are passionate, caring and helpful and for this, we greatly appreciate and we feel we have been treated with dignity, keep up the good work."
Ronald and I spoke more about V and the role of palliative care, which Ronald sums up as "to be her family away from home." He explained that the palliative care unit has identified financial needs and social problems through the family conferences. They used the donations to the unit (via the "Patient Comfort Fund") to support travel expenses to the hospital for radiotherapy, bought them food while they were at the hospital, provided pampers (diapers) for V as well as giving her some small toys. Ronald and other trained volunteers have also collected her drugs as needed from the pharmacy and taken time to provide spiritual care through counselling and prayer.
As I reflect on my conversations regarding V and her family, I realise that it takes teamwork to support a child with palliative care needs. For V, this team has been the one or two family members from home, her "family" of the palliative care unit doctors, nurses, and volunteers, as well as friends around the globe who support our Patient Comfort Fund. Thank you for your role in providing compassionate care to V; each donation does make a difference for our patients and their families.
Clinical care and relationships
In the three months of December, January and February, our clinical team, including social worker volunteers, visited our patients 965 times. We also contacted them by phone, with 664 calls carried out during this time. Phone calls are especially needed to provide consultation and counselling for patients who are discharged, or to provide grief and bereavement support to the families of those who have died. We are grateful for your continued support that enables the team to provide care to these patients and their families.
Patient demographics
We have continued to care for patients and their families during and after their hospital stay and whenever possible, when a patient is discharged the team follows them up to provide further support via telephone including referral to another palliative care service in their home area as appropriate. The majority of our patients have their pain and other symptoms managed by the time they are discharged from the hospital. We were honoured to care for 83 patients and their families on our programme, in both Mulago and Kiruddu hospital through 704 physical reviews and 704 telephone calls. Where the patient died (R.I.P. on Ward) the team continues to provide bereavement support through the grieving process.
Please look at the bottom of this report for charts or graphics about the patients we serve.
Educational activities
Our palliative care unit is experienced in the training and mentoring of other health care workers. From clinical clerkships with postgraduate doctors at our partner Makerere University to training social workers on bereavement support, our mission is to promote excellent and accessible palliative care services for all. In the last three months, we have trained and mentored the following categories of professionals;
Research and Conference activities
We have once again been honoured to participate at the 30th International conference of the Indian Association of Palliative Care (IAPCON) that took place 10-12 February 2023 in Bengaluru, India with the theme: "The emergence of subspeciality Palliative medicine" We were represented by Dr.Mhoira, Prof. Julia and Dr. Peace.
We hope you have enjoyed reading our update! If you have any questions or feedback, please do email us at info.pcerc@gmail.com.
Best wishes
The PcERC team.