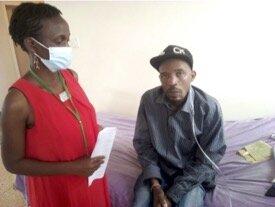 To all our supporters and friends, thank you so much for your continued support of our work, we are delighted to share with you updates from the team on what we have been able to achieve in the last three months since we last shared with you.
1. Patient care
In our provision of care to the patients and their families, the team continues to observe the COVID-19 control and prevention guidelines and measures including; social distancing, sanitizing our hands and wearing masks as we care for the patients even when there are now low fewer infection rate and admissions in the hospital.
However, even after the lifting of the lockdown and restrictions due to COVID-19 the after effects are still on and affecting our patients and their families and the entire economy. Even though our patients are now able to come to hospital, and access services, transport fares is still a challenge to move from one place to another as the costs of fuel continue to raise making it un affordable for many of our patients.
With your support, in this period the team has been able to care for 310 patients and their families in Mulago and Kiruddu hospitals with 1,115 physical reviews/contacts and 554 phone contacts. This enables follow up patients and their families to ensure adequate symptom management, and continuity of care through referrals to community based palliative care services, referral pathways consultations between the multidisciplinary team as well as bereavement support to families.
With your financial support, the team is also able to buy the masks and sanitizers that are needed for their own protection and safety while caring for the patients.
Below we share with you some reflections from our patient care service.
Restoring hope and Bringing joy
A 38-year diagnosed with a lung disease admitted on the pulmonary ward in Mulago hospital with difficulties in breathing.Two years ago he felt hopeless and he thought his days on earth were limited as he struggled to yarn for his breath. A few months later he was admitted on one of the wards with difficult in breathing due to complications with his lungs.
He was then linked to the palliative care team for pain, symptom management and emotional support since he had no care giver.
All his dreams and aspirations were rudely shattered due to the illness in his lungs which largely affected his breathing forcing him out of work. He painfully watched as his friends went about their work and businesses. Neglect of family members, limited resources to take care of his two children affected him psychologically! However, with regular visits by the team including volunteers his symptoms and now controlled and continue to provide psychosocial support and counseling which has restored his hope and meaning in life hence improving his wellbeing and quality of life as the team became part of his family.
He says "Before I came to the hospital my family members chased me away from home and said they could never sell any properties that my late father had left to help me, so I struggled since I was new at Mulago hospital and didn't know where to start from".
I am happy because I have been supported by this wonderful team who visit me regularly, they counsel me and give me hope. I sleep well, eat well, and I am not worried any more. Thank you for loving me I feel valued and cared for"
The story of A is an inspiration and evidence that we your continued support we can make a difference in patients life's. Together we can restore hope.
2. Education & Training
Training of undergraduate medical students and postgraduate students
In the last 3 months, we have trained 125 undergraduate medical students from Makerere University; 34 from the Islamic University in Uganda, and 6 palliative care nursing students. On the 14th July, we hosted 8 students on the palliative care initiator course with the Institute of Hospice and Palliative Care. These came from 4 African countries including; Ethiopia, Nigeria, Sierra Leone and Uganda. It was a great opportunity to support people who are passionate about starting palliative care in their own settings, as we show cased how much we have been able to do in Uganda especially as a hospital based palliative care unit in a National Referral hospital
Through our advocacy, Mulago Hospital has now availed us Intern students who rotate in the Palliative Care Unit on a bi-weekly basis, they come to learn but are an additional resource to the team that is so stretched.
We share with you some of their learning below;
"It was a very rewarding experience rotating in a palliative care unit. It has opened up my mind as regards looking at patients holistically and attaching meaning to every question and answers given by the patient. I gained a lot of insight as far as breaking bad news. Thank you very much being a great team" by Student IUIU
"it was a wonderful opportunity to work with a very dedicated palliative care team that is well knowledgeable and skilful and also committed to making a difference in patients lives through holistic approach. And I promised to do the same in practise." Intern Doctor - Mulago
3. Research and research related activities
3.1 International African Palliative Care Conference 2022; We are delighted that we will be presenting our work at the 7th International African Palliative Care conference that will be held 24-26 August 2022; Kampala, Uganda with the theme: Palliative Care in a pandemic!
The team has had 4 abstracts submitted and accepted as oral presentations at this conference and we are looking forward to this exciting event.
3.2 Research project: Exploring the Needs and lived experiences of people with chronic disease among the refugee and host communities of Obongi district and the experiences of Village Health Teams workers in providing PC in Obongi and Adjumani districts project. We continue we data collection for this project alongside our partners Cairdeas IPCT and Peace Hospice Adjumani. This project is funded by UKAid- From the British people.
Thank you so much for taking time to read our updates, we share these updates regularly and for more information about our work please free to contact us on; info.pcerc@gmail.com
Your continued support is much valued, God bless you all
PcERC team