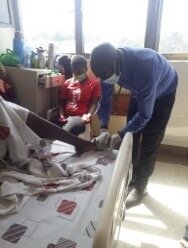 Dear donors and supporters,
We bring you warm greetings from the team here in Kampala! We hope you enjoy reading our updates as you can see the difference that your support is making in the lives of our patients and their families.
Below we share some highlights from the "Bringing Hope" project since our last update in February.
1. Patient Care
In the last three months, the team has cared for 272 patients and families admitted at Mulago and Kiruddu hospitals and the Uganda Cancer Institute. With 1,042 physical contacts and 508 telephone contacts by the clinical and volunteer teams, we have walked with them through their time during and after hospitalisation.
Below we share with you some reflections from the patient care service.
'Disappointed and Heartbroken'
Disappointment and heartbreak circled in his mind when the Palliative Care team met Luke (not his real name), a young man with his life aspirations shattered by a lung disease. The 28-year-old had overcome many challenges in his life already from the passing of his father to the struggles to make ends meet with his mother while he attended school. During his studies, he worked hard to become a lawyer and looked forward to a better life for himself and his family. However, when Luke started to have difficulty breathing, his life drastically changed.
"I was so scared, and only death came to my mind," Luke shared with us on the ward. "I was told that my lungs had been damaged beyond any repair and was to depend entirely on oxygen for the rest of my life. I also heard rumours that I can't be cured and everybody at home was scared for me too."
Luke's underlying lung disease emerged after he went for the COVID-19 vaccination alongside the rest of the law students. While his friends went about their normal routines in classes, study halls, and exams, the complications in his lungs forced Luke out of the classroom and into the hospital ward. "Why is this happening to me?" He asked us. "Why me? Did I do any wrong to get the vaccine? What crime or offence did I commit?"
As a multi-disciplinary team, we offered Luke guidance, support, and counselling. As we took time with him, we were able to restore his hope and hence improve on his social functioning and quality of life. Luke appreciated the Palliative Care team for the visits they made during his hospitalization. "You are such a great team and each one of you is unique yet similar; you make me forget that death is coming my way. Thank you for being there for me and my caregiver. May God bless you so much".
2. Education & Training
2.1 Training of undergraduate medical students, postgraduate doctors, and other cadres.
We have been involved inteh following training:
The teaching, examination, and marking of the palliative care module within the medical exams of Makerere University for end of Semester 2 (May 2022) for 123 students.
Hosting a total of 57 students from the Islamic University In Uganda (IUIU) on a 2-week placement for each of the students for their 2nd semester and after their assessments.
Hosting 9 students from different hospitals in the country who are currently on the Advanced Diploma in Palliative Care supported by the Palliative Care Association of Uganda.
Hosting 15 students from MMed Internal Medicine, Makerere University.
Hosting 2 postgraduate doctors from the Family Medicine Department of Makerere University. During their month-long stay with us we supplemented their clinical training with expert lectures from international palliative care specialists.
Finally, we are looking forward to expanding our trainings to a fellowship programme, which will be the first ever fellowship in Palliative care in Sub-Saharan Africa. Cairdeas IPCT have given us an initial grant to commence our programme planning and proposals. We will share more details about the fellowship soon!
Below we share some feedback from students and doctors who completed clinical rotations with us.
"I am grateful that I got this opportunity to come to this health facility where I was able to see patients in need of palliative care, not only curative care. This supportive care to the patients has taught me that when we attend and address the patient's needs, we create difference in their lives. Skilful lectures from different skilful professionals have also equipped me with insight and knowledge of different conditions in assessing [patients] and their management in addition to what has been taught while at Hospice Africa." Nursing Student (APDCN course)
"As a family medicine resident who found this wonderful opportunity to have a placement at Makerere Palliative Care Program, I gained incredible knowledge and timely skills, not only to integrate this into my general practice but has prepared me to be a complete 5-star family doctor in all settings including a post-conflict South Sudan. I appreciated the expert lectures that had wonderful global perspectives, the holistic patient assessment skills in Mulago and Kiruddu hospital, and homes family visit exposure at Hospice Africa Uganda." Family Medicine Resident, Makerere University
2.2 The Transform Adjumani and Obongi project
In collaboration with our partners Cairdeas IPCT and Peace Hospice Adjumani, we have been implementing the project titled; Transforming, empowering communities and health systems to address health related suffering in host and humanitarian settings through capacity building and integration in Adjumani and Obongi districts and is funded by UKAID. We continue with the mentorship and supervision of the Village Health Teams (VHTs) alongside collection data for the Needs Assessment project. We have been blessed to host Chris from our faculty from Cairdeas IPCT, and he has been working alongside the team at Peace Hospice Adjumani.
3. Research and research related activities
We are delighted to announce that we have received the final ethics approval for our research project titled: "Exploring the needs of lived experiences of people with chronic illness disease among the refugees and host communities of Obongi district and the experiences of VHT workers in providing palliative care." This is part of the project of Transforming, empowering communities and health systems to address health related suffering in host and humanitarian settings through capacity building and integration in Adjumani and Obongi districts and is funded by UKAID. Data collection is ongoing for this project in Obongi and Adjumani districts.
4. The team:
4.1 International volunteers:
We are privileged to host Dr Kate and Dr Kath from the UK, who have come for six and four months respectively starting in March. They are working alongside the team in clinical work, teaching, research (data collection in Obongi and Adjumani) and with the fellowship programme. Both Dr Kate and Dr Kath have brought much energy, knowledge, and skills to our team, which has made a huge difference to our patient care and trainings.
4.2 Esther's graduation
We congratulate Esther on her graduation with a BSc in Palliative Care of the Institute of Hospice and Palliative Care and Makerere University.
4.3 New Staff
In March, we were joined by Hannah, who is working as an Education Programme Consultant. She assists the team in their cadre trainings, the expert lectures offered to Family Medicine postgraduate doctors, and with the development of the Palliative Care Fellowship.
Thank you so much for taking time to read our updates over the months of March, April, and May. We will be sharing our progress regularly, and if you would like more information about our work, please free to contact us at info.pcerc@gmail.com.
Many blessings from the team,