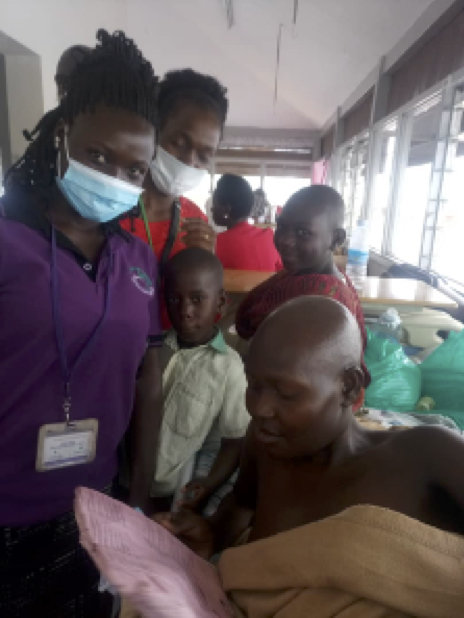 Dear friends,
We once again bring you some updates about our work over the last few weeks, and we thank you for your contributions in whichever way; financially and through prayers. Covid-19 has brought many challenges but we are glad that we are able to continue to provide care to our patients and their families.
1. Patient and family care
Our clinical team together with the volunteers have cared for 230 patients and families since July by relieving their pain, treating their symptoms as well as providing social, psychological, spiritual and practical support. Whilst we have lost many of our patients, many of them on discharge are referred to a palliative care centre nearest to them for continuity of care.
We share with you a story of Nampijja (Not real name) who we cared for but unfortunately passed on a few weeks ago. She was a 30year old widow who was diagnosed with advanced squamous cell carcinoma of the right thigh and had had an amputation of the right leg. She also had HIV/AIDS and was on ART. She was a mother of 2 children, a boy 9 and girl 12 years who was her caregiver. She was abandoned by her family due to her sickness except her 2 children and her home was 400km away from Kampala. She was eventually admitted at the Cancer Institute solid tumor centre ward. The specialist palliative care team was then consulted to review her and to manage her uncontrolled pain and other symptoms. She presented with overwhelming pain, a huge fungating tumour, with a foul smelling discharge, and was unable to move out of the bed and could not even sit up. The only thing she could do by herself was feeding but the rest was done by her young daughter (toileting, bathing, picking of medicines…) and this was very distressing to her psychologically. We eventually controlled her physical pain with oral morphine and the foul smell was managed by the metronidazole powder (bought through our patient support/comfort fund supported by UCT-UK).
And she says "Thanks to the doctors and to the miracle medicines" as she put it.
Our volunteers made follow up visits regularly since she didn't have any family who visited her for all the time she had spent in the hospital accept for a friend would come in occasionally. We established a good rapport with her and the caregiver (child daughter) and became so close that they were able to open up to us, share their main distresses, fears and concerns.
We found out that she was psychologically distressed because not even her own mother was willing to come and take care of her and the fact that her main caregiver was her young child, her son was left alone in the house but also the fact that they were not going to school. This was a very complex situation seeing a child caregiver being involved in the nursing care such as dressing and cleaning her bedsores, cooking, washing her clothes to mention but a few. They didn't have enough money to meet their basic needs, or even buy medicine that was not available in the hospital or do investigations as required by the doctors so the daughter kept on begging for money from well-wishers. Nampija also had fears of what would happen to her children if she died since their father had died earlier due to HIV/AIDS.
Her daughter also expressed psychological distress seeing many other patients who are very sick and occasionally die, feared that her mother may end up dying since she was becoming weaker and weaker. She desired to go back to school and the prayer she had was that her mother gets better so that they can go back home and meet the brother whom she missed a lot.
The volunteers continued visiting her and were able to address some of her issues by contacting some of her family members on the telephone and encouraging them to come and support her since it was overwhelming for the young child to continue with her care and support. We also liaised with the cancer institute social work department who helped in finding her a hostel where she would be accommodated with her child. She was so grateful to the palliative care staff and volunteers who visited her regularly and ensured that she was pain free and improved on her quality of life.
This is what she had to say as she was leaving the ward for home "Thank you for being my new family, caring, helping me and loving me as your own, whenever i see your team come I get encouraged, you bring me hope. You have showed me God's love, unconditional love, may God grant you all that you desire. I now believe that God hears and answers my prayers. She was later discharged back home and the team continued to follow her up through phone calls and picking and sending her morphine for her pain management through a friend since she could not access palliative care services from her village for continuity of care. Unfortunately, her health deteriorated till she passed on last month 20thSeptember with her loved ones around her after our continued engagement with them - RIP Nampija
2. Conferences and research
We have been privileged to participate in several different conferences that have been taking place which has enhanced our knowledge and thus we have been able to integrate new learning to improve our services.
We participated in the European Association of Palliative Care (EAPC) online research conference 7th-9th October 2020. It was an online conference with participants from across the world. It was very well organised and a whole new experience for the team who attended. We thank the International Association of Hospice and Palliative care (IAHPC) & the International Children Palliative Care Network (ICPCN) who supported some of our team to participate in this conference. It was also great that some of our work was presented at the virtual conference, for example our study looking at childrens understanding of illness, death and dying.
We take a quote from one of the attendees;
……I hope to incorporate some of the information obtained at this conference e.g use of patient reported outcomes to assess our impact on patient care and this information will be used in our advocacy for palliative care services with policy makers. The information got on palliative care in the COVID-19 response will be used to advocate for having more integration of palliative care in our COVID-19 response in Uganda. In Uganda several institutions are trying to integrate palliative care in their care and I am a member of a consultancy team that will advise on integration of palliative care in one national institution and the information I got from the session on Integration of specialist palliative care session is timely and will be used to advise the Institution…"
This year the Tropical Health Education Trust (THET) annual conference was held virtually on the 1ts and 2nd Oct and the 5th and 6th. We thank our international partner Cairdeas IPCT who supported our team to participate in this conference and it was great that some of our work in Adjumani with Peace Hospice was presented at the conference.
"….as a palliative care clinician I appreciated many of the sessions that were shared and noted that world over there are challenges and a session on overcoming challenges in service delivery was very enlightening. I must say that all sessions were very relevant and informative, especially integrated and health partnership model, quality improvement, use of digital technology, power dynamics, to mention but a few..."
We all thank our friends who enabled us attend the Palliative Care Works (PCW) conference on October 24, 2020 with the theme "unprecedented times –Global palliative care more relevant than ever times of Covid 19
3. #Hatson4CPC and World Hospice and Palliative Care Day celebrations,
We have also participated in the celebrations of two global palliative care days. 'Hats on foru Children's Palliative Care' took place on the 9th October and our team put on hats, took selfies and posted them on social media to help raise awareness for the need for children's palliative care. Then the 10th October was World Hospice and Palliative Care day with live online discussions, TVs shows amongst the Palliative care fraternity and a showcase of the different organisations that provide Palliative care services in the country supported by the Palliative Care Association of Uganda (PCAU) and the African Palliative Care Association (APCA), with the overall them of " My care…My comfort"
4.Training/Workshops
7th-8th September, we were delighted to participate in a workshop on; Capacity Building for hospices and Palliative Care Organizations during COVID - 19 Response organized by the Ministry of Health Uganda and the Palliative Care Association of Uganda with a theme "A reflection and Sensitization of Palliative Care Health Workers"
The objectives of this workshop were to share; Share an update on current SOPs for Infection Prevention and Control (IPC) in response to COVID-19, to equip hospices and Palliative Care Organizations with infection protection control knowledge and skills and discuss mental health and Psychosocial support during COVID-19.
5. University teaching and exams
Following the presidential directive to reopen all medical schools after the Covid-19 closure, we have resumed training and examination of MMed students and their clinical exams for the current semester are now completed.
We thank you for reading our updates and for your continuous support, this will probably be our last one in the year, so we wish you all a very merry x-mas and a happy new year! We are privileged to have you as our supporters and partners, we wouldn't have made it without you and our patients are in a better place. Please look out for more in our next updates report.
#Stay safe #God bless you