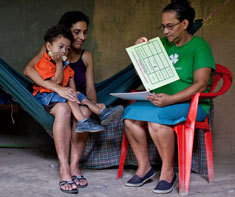 In Remote Nicaragua, Timely Treatment Helps Wilmer Survive Pneumonia-
When children in many remote mountain communities in Nicaragua face a health crisis, help is no longer hours away by foot or horseback.
With donors' support, Save the Children is training and equipping community health workers to deliver front-line care to children right in their homes. Our goal is to save more of the 24,000 children who die daily worldwide from preventable or treatable illnesses through simple, low-cost interventions.
Wilmer, 2, whose family lives far in the hills of Nicaragua, was one of the many children your support helps us reach. Because Save the Children trained Natividad, a local community health worker, and provided her with a kit of essential medicines and supplies, Wilmer was diagnosed and treated for pneumonia before his condition became life-threatening.
Wilmer had recurrent bouts of pneumonia. "The first time it happened I was very scared," said his mother, Maximina. "I thought he might die."
Maximina learned from Natividad how to recognize pneumonia's symptoms. When Wilmer began showing these danger signals she took him to Natividad's home.
Natividad gave Wilmer an antibiotic and instructed Maximina to provide regular doses for the next week. Natividad also urged Maxima to make sure Wilmer was well-fed, drinking liquid, and stayed warm and dry.
Wilmer started improving the next day and, when Natividad came to visit five days later, she was pleased to see how well he was recovering.
"I am very grateful for Natividad's help and to all those who support this health program," said Maximina.
Photo Caption: Maximina, left, listens to community health worker Natividad. Through Save the Children's training and supplies, Natividad is able to diagnose and treat pneumonia – the world's number-one killer of children.