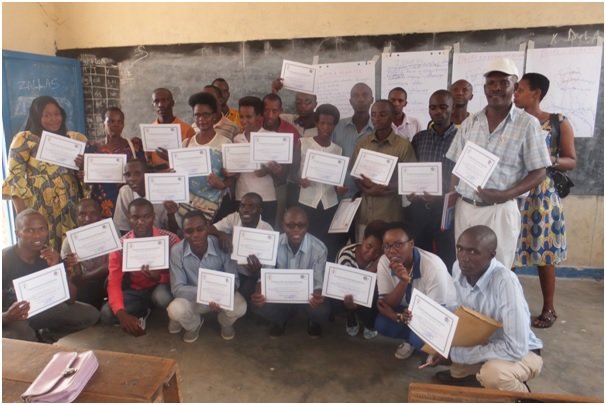 Heads up:
Starting a 9:00 AM eastern time in the United States on Wednesday, July 18, Global Giving will be donating a half match for the first $240,000 donated on that day. A half match means that if you donate $100, Global Giving will match this with $50. The maximum donation for any donor to be matched is $500. Since this match is open to all 4600 projects on the Global Giving webpage, the funds will go quickly. Therefore it is important to donate as early as possible after 9:00 AM eastern time. Our goal for the day is to receive $1000 in donations and $500 in matching funds.
To donate to the Innovations in Peacemaking – Burundi, go to http://goto.gg/33287.
Thanks for your support.
*****
This is the IPB/ HROC June 2018 narrative Report. Eleven activities were conducted during this period of June including two HROC basic workshops with AGLI support, four workshops within Bukire –Tubane project of CRS Burundi, four peace dialogues with QSN project, and participating to the Global Giving Accelerator campaign .
These activities aim at "Contributing to the Burundi peace consolidation through trauma healing, social cohesion and economic resilience".
Activities performed.
HROC Basic workshops
Two HROC basic workshops were conducted during this month of June using African Great Lakes Initiative funds. One with Universality students and one with Buyenzi zone Red Cross volunteers.
Testimonies:
NKURUNZIZA Odette (Red Cross volunteer)
I lost my husband during the recent political crisis of 2015. Since our marriage, I had always woken up early in the morning to prepare his morning breakfast. But the day I lost him, I got a heavy sleep and I woke up when he had gone for work. I was disapointed by this act as it was my first time to miss his breakfast. I cooked very quickly for his lunch. When he reached home at twelve, he found that the food was not yet ready and he went back without eating as he was in hurry. Due to the fact, he didn't eat either breakfast nor lunch. I went shopping to look for a good meal for super. When he came in the evening, I told him that the food could be ready as soon as possible. He told me that he was going out the gate for a short time and was coming back in few minutes. Just when he reached our gate, many guns were shooting and I ran to hide my little children in the room. When I was still calming down my children, one of our neibghor came in and told me, "You're here when your husband is seriously wounded by guns!". I ran out and I found he was evacuated to the hospital. Reaching there, he was in the emergency room. I tied to get in to see him and the physician urged me to wait. A few minutes after that I was told that he passed a way. I directly lost my mind. After a time I developed a kind of avoidance saying that he was not my husband who died. When I saw his corpse, I missed words to express myself and went back blaming myself saying, "If I had prepared supper quickly, he wouldn't have left home that moment. He could be eating and miss those guns' shootings." And continuing by saying, "He died with much hunger."
After the funeral, his parents and brothers kicked me out of our house and urged me to live in one bedroom extended to our main house. It was very small to host me and my children and I went to rent a convenient house. What makes me suffer more is when I think how my husband built the house and, when I missed money to pay the rent or food to fed my children, my own house is occupied by those who were suppose to support my life and that of my children.
Other thing hurting more is when children are asking me why his/her uncles did this act? I don't have what to tell them as I avoid to sow hatred within the whole family.
After the lesson about trauma symptoms, I find myself traumatized. I committed myself to be practicing what we come to learn to see I should be completely healed as we learnt that "life must continue after traumatic experiences".
Let congratulate IPB/HROC for having developped these teaching to help express their traumatic event. It's my first time to express it and I feel released.
Thank you for your active listening
KWIZERA Marie Chantal (a university student)
I was very shocked by the death of my neice who was not sick. I was with her at 2:00 pm playing with her. After 2 hours I got information saying that she had passed away. Her death remained in my mind as whenever I saw her photo or heard a similar name, I went back where we were playing together two hours before she died and say, "Oh she was telling me 'bye' without knowing it." Since her death I have never played with my other remaining neices thinking they could die too. It was like a had anger to them. After this three days workshop and sharing this, I feel released and able to continue sharing about this death and able to play or joke with other neices. More thanks for IPB/HROC facilitators who invited me to participate in this workshop. I commit to share with my whole family about trauma, its consequences and how to recover from it.
DUKIRE TUBANE PROJECT OF CATHOLIC RELIEF SERVICES BURUNDI
Context
From 18 to 29 June 2018, trauma healing activities were organized in both Bujumbura and Bubanza in the framework of Dukire -Tubane project of Catholic Relief Services -- Burundi using the Healing and Rebuilding Our Communities (HROC) methodology. Dukire -Tubane projectaims to strengthen the resilience and cohesion of Burundian youth, targeting Bujumbura Mairie and Bubanza, two provinces most directly affected by the 2015 violence. Activities feature trauma healing and social cohesion workshops among youth, as well as between youth and local authorities, while forming youth savings groups and developing entrepreneurial skills to strengthen resilience.
The following activities were carried in this month of June with the technical support of HROC program:
(i) A community healing companions workshop and setting network
(ii) Complementing the social cohesion workshops
(iii) Two workshops on principles and practices of trauma healing
(iv) A cultural events/community celebration accompaniment
Accompanying the social cohesion workshops
A five days workshop was organized from June 25 to 29th with local leaders and youth from Kamenge and Ngagara. The first four days were organized in separated settings and the two groups met together the last day for a whole day for a joint exchange on their own collaboration for the social cohesion as common goal. HROC was present in both sides to share on how trauma is one of the hindrances of social cohesion in Burundi today in general and their own provinces and communities in particular. Along with the social cohesion facilitators on 3 B (Binding, Bonding & Bridging), one HROC facilitator was present for a complementary facilitation on trauma healing as one component to restore social cohesion.
Workshop on principles and practices of trauma healing
A one-day workshop was organized for the new Community Healing Companions respectively on June 26th in Bujumbura and 29th in Bubanza. That single day was dedicated to principles and practices of trauma healing. The agenda of this workshop includes (i) the cycle of violence and revenge and the way of breaking it, (ii) the uniqueness and particularity of HROC through its philosophy as a community healing program and (iii) listening practice:
Accompanying cultural event / community celebrations
Cultural events/community celebrations were organized in both Bubanza and Bujumbura during the month of June to provide an opportunity for beneficiaries to express what they have already gained from the project and sensitize to the whole community the benefit of social cohesion and the way to restore it in their own community. This was an opportune moment for representatives to present Dukire Tubane project to the community and appreciate how communities are joining it through its activities when the coordinator of HROC supported them by sensitizing what is trauma and its current consequences on social cohesion and how the project is providing appropriate solutions through trainings, permanent community healing facilitators and community healing companions. The counselor of the communal administrator presented his appreciations of the project. "The conflict and violence are going to reduce significantly in Gihanda commune and Bubanza," said the counselor of Gihanga commune"
We should note that, a soccer match, a beating tambourine, cultural dances and sketches explaining the cycle of violence and revenge and the way of breaking it were presented , followed by personal testimonies.
Participants in all these peace activities promised to be good Healing Companions and good models in their communities and that they are ready to intervene and help people in need of healing accompaniment in their communities.
Conclusion
IPB/HROC met one hundred sixty three (163) people in training and a huge number of people in cultural event in this June 2018, among them one hundred forty five (89) male and eighty four female (84). Note that one hundred fourty five (145) are youth and many of them in cultural events.
Thanks to donors and AGLI regional coordinator who continue advocating for the program in Burundi. Thank you Dave Zarembka for connecting IPB/HROC to new donors and Red Cross volunteers who looked for a place to conduct the two HROC basic workshop in a high school facilities in Buyenzi zone without any financial charge. Many thanks go to IPB for the positive collaboration and HROC program facilitators and new staff for their commitment.