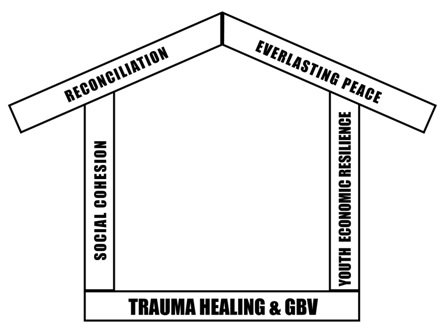 This is the final report for Innovations in Peacemaking-Burundi's (IPB) project, Reconciling Youth and Police in Bujumbura, Burundi. Donors contributed $10,845 in donations towards the activities in this project.
IPB has now intiatived a new project called "Reconciliation of Refugees Returning from Exile." With the successful Burundi election this year with the result of new leadership, there is movement to repair the damaged relationship between Burundi and Rwanda. One aspect of this is the return of Burundian refugees from Rwanda. This new project will promote reconciliation between those refugees who return and the communities where they left. To donate to this new project click on goto.gg/49443.
This report consists of a number of pictures illustrating the successful activities IPB has done in the last two years of this project in promoting peacemaking between youth from different sides of the political divide together with the security forces.
See picture #1 which illustrates what Innovations in Peacemaking Burundi is envisioning through its programs and activities taking in account the community trauma healing as the foundation where the social cohesion and youth economic resilience were built on.
Healing from the trauma facilitates to (2) social cohesion and this gives opportunity for youth to (3) identify economic opportunities to address poverty, widely recognized as a driver of political conflict in Burundi. These give to (4) the reconciliation and the (5) community wellbeing.
The main activity within IPB passes by conducting workshops and the targeted group is youth in general
1. Community trauma healing with the National Police University
Picture #2 illustrates a "trust walk exercise" during a workshop on community trauma healing, where a blind-folded person was led carefully around by a partner whose eyes are open, and they changed the role afterwards. This aimed at restoring the trust lost due to the hardship time met in Burundi.
2. Workshops with Secondary Students
Picture #3 is a group photo after a three-days trauma healing seminar (certificates of participation in hands) in Cibitoke Secondary School.
3. Workshops on social cohesion in Bujumbura community following the 3B approach developed by Catholic Relief Services (Binding, Bonding & Bridging).
Picture #4 shows one of these workshop sessions.

4. Dialogue on reconciling youth and the police in Bujumbura workshops.
Picture #5 shows the police and youth attending a workshop.
5. Gender Based Violence workshops
Esperance shared a testimony about her trauma healing journey and her positive change regarding the gender based violence as follows:
With IPB-HROC teaching, I got to accept myself when I understood that even though I am a girl, there is something I am best at a boy is not good at. Before, I believed that I was able of nothing. This kind of belief matched with what the society and my family taught me. At home, I was mistreated because I was the only girl among five brothers. Whatever they told me at home, they tried hard to show me that I am nothing and I am able of nothing constructive. Now, I understood and I even experienced that I am a child like others in the family. I have something I am good at that boys aren't. I understand that I existed so that we may complete each other.

6. Economic resilience for youth.
Emmanuel's testimony (see picture #6):
I personally set up a cooperative named "Notre Avenir" (Our Future). We farm rice, vegetables and other food. In addition, we are now re-cycling domestic waste and transforming it into combustible (charcoal) for cooking. I assure you it is moving very well.
7. Small group discussion within Cathoric ReliefServices' project
See picture #7.
8. Playing soccer to reconcile the youth and the local authorities in Nyakabiga zone.
Picture #8 illustrates the reconciliation of the youth and local authorities in playing soccer
9. Youth involvement in community improvment.
Picture #9 shows that community work is proof in testifying to the mutual collaboration and communication between youth and local authorities.