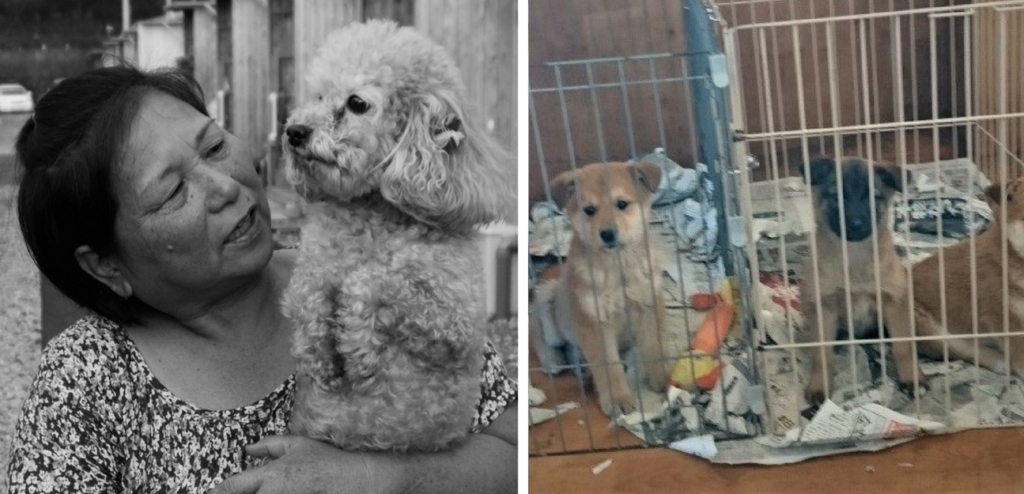 Kumamoto Earthquakes: One Year Later
On April 16, 2016, Rumiko Ohnari was pinned beneath a bookcase in her destroyed house by the earthquake that rocked Kumamoto Prefecture in Japan. The heavy piece of furniture broke Rumiko's leg, but the rest of the family was unharmed, including her three dogs. With their home destroyed, they sought shelter, but like many in Kumamoto, the Ohnari family was rejected by numerous shelters because they had dogs. Instead, the family slept in their car for three months until they were connected with Peace Winds. During an in-person interview at her new temporary house in Mashiki last October, Rumiko told Peace Winds, "We could not have survived without the Peace Winds shelter."
Challenging Lives of Kumamoto Evacuees
April 2017 marked the one-year anniversary of Kumamoto Earthquakes. Peace Winds connected with Rumiko in the hope of hearing about her well-being. "We can't make a living" were her first words over the phone.
The stress is taking its toll--and not just on the humans. "I found that all my three dogs have lost some of their teeth. Can you believe this? Rumiko told us. Her dogs stay home all day in a tiny cage in her very small temporary house (only 208 square feet) because Rumiko works outside the home. Even on weekends, her dogs have to stay inside because the neighbors who don't own pets complain about any dog's behavior. Rumiko has not had to give up her dogs, but she knows others who have.
Pets Need Shelter in Kumamoto
This is a difficult situation, as pets have been an important source of comfort for earthquake survivors in Kumamoto. Many have reluctantly decided to turn their dogs over to pet shelters because of their limited living space. Now pet shelters are full. Peace Winds is supporting a local dog rescue organization called Dog Rescue Kumamoto. With just two staff, Dog Rescue Kumamoto is getting a boost of support from Peace Winds.
For those who have had to send their dogs to shelters, Peace Winds is setting up visits between dogs and their humans. Peace Winds is also supporting to hire more staff to help find "forever homes" for sheltered dogs--the Kumamoto earthquake's forgotten victims.
GlobalGiving is currently matching ALL donations, dollar for dollar, to Kumamoto--up to $39,000! We've already raised $16,000. Can you help us do more for evacuees and their dogs?
As always you have our sincerest gratitude.