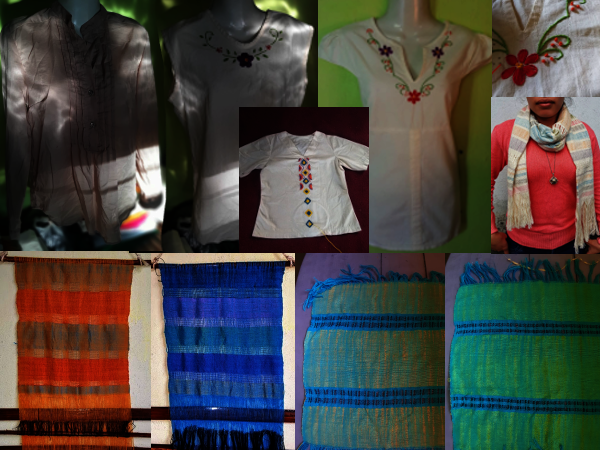 TIJIOTHLI DURING COVID-19
Our April-June report has to mention Covid-19. This global pandemic has shaken us all to our core, and a lot of the things that we took for granted have been shaken. Also, we have been reminded that we are a global community, and that what happens in one corner of the world affects even the farthest region too. Fortunately the situation was not so dire where we live; there have been only 4 confirmed cases so far. Three of theses cases are not active anymore, and only one is active. The situation is currently unfolding, and we still don't know how the next weeks might look like.
Economically the region has been greatly affected, as a great number of people depend on tourism for income. As tourism halted, the sales have been almost non-existent. A few people managed to switch to online sales, but mostly people have switched their products to food or other things they can sell in their own towns or in neighboring towns. Our own plans were also affected, as we were planning on selling a variety of products during "Holy Week", and instead, we had to switch our plans.
The school:
The government ordered schools to be closed on March 20th, however the online platform we use -Prepanet by Tecnológico de Monterrey- did not stop activities, because in theory the contingency did not affect students studying online. However the majority of our students lack internet at home or a computer, and it would have been impossible for them to complete their activities on time. Because of the rigidity of the system, not completing their work would have meant staying at least three months more in school once the contingency was over. To avoid this, we managed to negotiate with Tecnologico de Monterrey to let students hand in less work, and instead of studying for three weeks more (before their vacations started), they studied for around a week more. They all stayed inside our lodge, and could not go back to their homes until the end of the week, after they had sent their work. It worked out fine and in general everyone was calm and comfortable with the solution.
After this the students had a break for about three weeks. During that time some of the staff worked online, others worked from home, and a small number of the team continued coming to school to tend to the plants that we had sowed. During these times we felt a lot of uncertainty, as one of our main donors, "Lemonaid & Charitea Foundation", changed the amount and dates of the donation we were expecting to receive precisely in April 2020. This affected us greatly and though our expenses have been less these past months because the students have not been eating with us daily as they were before, we are still struggling because of this unforeseen situation.
In May, the students went back to working online in their activities. We made teams depending on their locations, and we managed to give one computer to the students by teams (1-3 students), with preloaded content, so they could keep on studying even without internet. Some of our teachers were available through whatsapp, and the school started being open for anyone who wanted to go to use the internet. We had no food service, and we followed all the distancing protocols for both students and staff. Most students completed their course work, though many did suffer in their grades and understanding of the content. Also, some parents really didn't let the students dedicate enough time to their school work, and instead pushed the students to work. It has been a desperate situation, as we have seen some students change completely their priorities, and lose the rythm at which they studied at school. Seeing this, we are trying to find new solutions that could work, but because the world looks very uncertain still, we are waiting a bit more to take more informed and useful solutions.
The workshops:
Not all was dire and bad during the pandemic for us. In a way it was a much needed time to reorganize ourselves and the four workshops we have. Our goal is to have these workshops as a way to sustain our school, and mostly as a place where students can learn and at the same time -if they are good enough- sell some of their creations. So, we used part of this time to develop products we can sell.
Textile workshop:
In the textile workshop we began experimenting with clothes' designs that usually don't get made in our region. In particular we're trying to find new designs in which students can embroider; using new textiles to make clothes; new color patterns and schemes to sell the traditional waist loom textiles, and ways in which we can teach students to upcycle clothing. We're still halfway through. Though we have put the emphasis on innovation, we're not there yet!
Bamboo workshop:
We experimented with construction, and did a bamboo open space for students, a "palapa". It was a big hit, and we will shortly be using more of this technique. We also developed a couple of products that we will be selling online, specially a nice plant pot to be used for producing your own food.
Visual Arts workshop:
The students worked from home, and did a couple of virtual expos in Facebook. We hope you enjoy the students' work! Again,. we hope to be selling some of these prints shortly online. Also, we finally took pictures of all the t-shirts we have for selling. Again, we will be uploading this shortly to an Amazon Handmade platform. Wait for it! Finally, the visual arts workshop and the textile workshop, are jointly designing some very cute bags for our coffee production.
Agroecological workshop:
This workshop was where we experimented the most transformation; we revived an old tradition called "mano vuelta" or "faena", in which one person works in a collectivity, in exchange for that collectivity doing something he or she needs. We have done the "faenas" for the people working in the organization. Next month we will start working with students too. This kind of work has permitted us to exchange a lot of our different cultures and views on life; we have activated the production of food in our own homes; and we have made a lot of team building. It has been exhausting but also very refreshing.
A word from us in these tough times:
There are very tough times that are not easy to understand. We are presented with information we do not fully understand, and there are lots of contradicting opinions that daily flood our facebook feeds. Friends can feel far away, for a hug can never be fully replaced with screens. If you have lost someone or have had a hard time during this pandemic, we send you all our love, and we hope that through this email, you can feel a certain calmness that daily surrounds us here; through the enormous mountains and their everpresent green; through the constant chirping of birds and the colors of butterflies; through the throbbing rain and poweful thunder, that we feel daily. The times ahead do not look any more easy or subtle than the times we have lived the last couple of months. We must not forget that we are guests on this Earth, and that we must find ways of living in which we can listen more clearly to what our true purpose on life is. Time is running, and we must not continue acting as if the destruction of Earth has no consequences -as if our life is just a tiny piece in the puzzle with no effect on the whole. If COVID-19 can teach us anything, is that change can happen very quickly. There are no excuses now to say that we can't change the system, because we just saw the fragility of it, and we felt the urgency to change our ways. In this ongoing transformation, we believe many of the answers we need now as a civilization, lie in interculturallity. As such, we hope our work can contribute to a world in which different cultures can respect each other, learn from each other and co-exist together. Thank you for being a part of this.