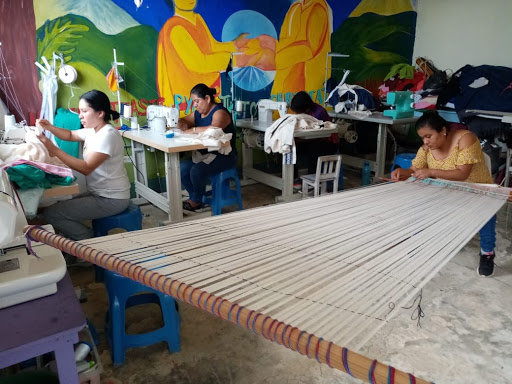 THE SCHOOL
We currently have 10 students enrolled in the program, and after a change in restrictions due to a drop in Covid infections, they have been able to access face-to-face counseling that takes place 3 days a week in our institution, following hygiene measures and prevention.
THE WORKSHOPS
During the month of May, the workshops took a four week training program with "Pro-Empleo, A.C.", developing their business idea both conceptually and financially. Their business plans still need further improvement, but they are a good start to work with each shop and push them to become more self-sustaining.
In addition, the following was experienced in each workshop:
Textile Arts workshop:
Since the beginning of April, the workshop has been receiving 3 students who have been training in tailoring and backstrap loom. They have continued to experiment with new designs that combine the loom with not-so-traditional clothing designs. And along with producing they have made agreements with new spaces to be able to sell their products in different parts of Cuetzalan. These months they also managed to use an industrial cutter, to speed up production time and be more profitable in their costs. Finally, they also enrolled in the "Young People Building a Future" government program, and now they receive the help of 3 more people in the workshop.
Agroecology Workshop:
The agroecology team is working to recover the nutrients from the soil in the organization's land, which serves as a demonstration plot for other producers in the region. These months the team maintained the coffee planted, and also planted beans, kidney tomatoes, peanuts, and various varieties of fruit trees. A demonstration chinampa was also done in the field, and various recipes were experimented with to make compost. Finally, they also began to work with a group of producers from one of the Cuetzalan communities called Tepetzintan. In this community a group of "faenas" was formed (also known as hand-return work or tequio in other regions). In this work scheme, the group of producers support each other with work, and once a week the whole group goes to work on a plot owned by a member of the group; and each time they work on a different plot until all those of the group are covered. The team hopes that with this way of working, agroecological forms of production can be shared, and other knowledge can also be learned from other producers.
Graphic Arts Workshop:
A new space was rented for "Tiltik", to separate the painting workshop from the engraving one. This space, called "Casa Tiltik", will also be able to host different professors that come to teach at Tiltik and also to the other workshops. On the other hand an alliance was achieved with the organization "Alas y Raíces", which is part of the Ministry of Culture at the federal level, to give more impetu to Tiltik's activities. A new instructor for the workshops, Erik Ávila, a major in Plastic Arts, joined the team. Luis Edgardo Mejía, also known as "Zanik", and a student and workshop teacher at Tiltik, was also the recipient of a grant from the "PECDA", a program of the Ministry of Culture. Zanik will be carrying out a project to explore the meaning of dreams in Nahuatl culture through painting. Meanwhile the students of both painting and engraving, approximately 25, continue their learning and practice.
Bamboo Workshop:
The bamboo team these months developed its training plan and is about to open the workshop to the general public. At the same time, it is developing products such as chairs and tables with bamboo and smaller items such as jewelry boxes, gift boxes and some toys with which it seeks to make its way into the market.