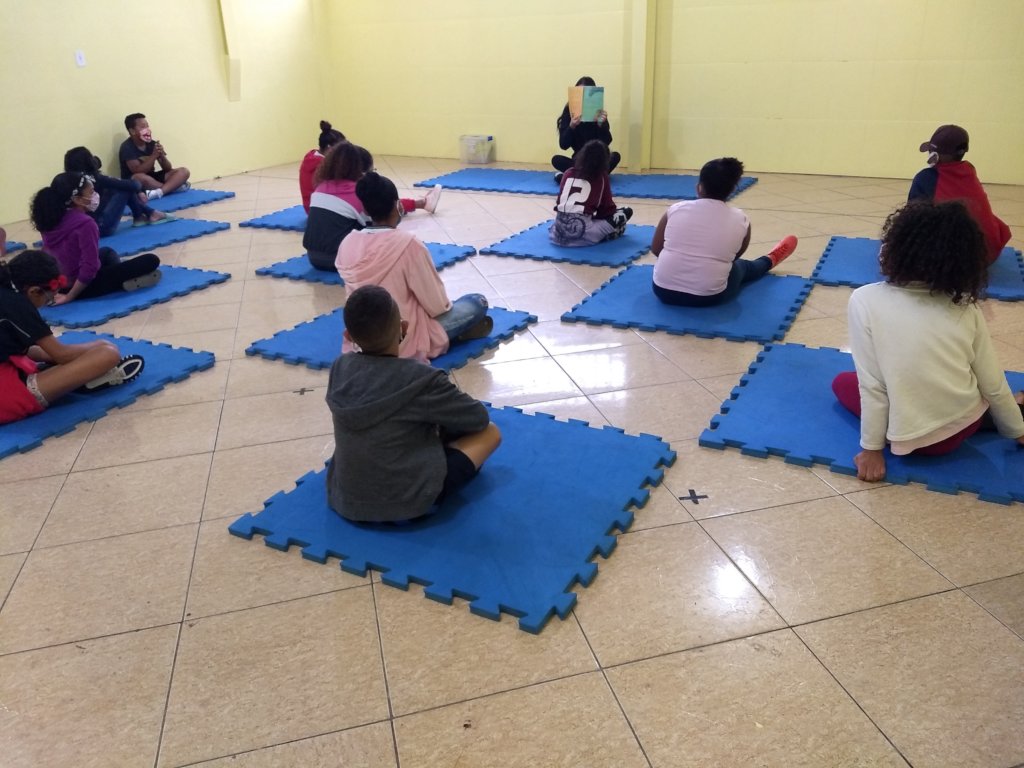 With the quarantine extension meaning schools have stayed closed, and the return of some face-to-face classes at our community centre, the Stories Transforming the Future Project also resumed activities in a different way. Before, young mediators went to schools to read and play with children in their own classroom, but now the children who go to ACER to participate in other activities, now have the story telling and games sessions at our centre.
Lucas, the young man who leads the project, told how this period of activities is going:
"At the beginning, we had a lot of difficulty, due to the return of activities and protocols, but we talked and adjusted all the points and we already have a way to carry out the sessions. The biggest difficulty in the beginning was to follow all the protocols, but with day to day we adjust this, like when books are returned to the library, we leave them 48 hours in a closed box, but we talk about all the difficulties of the project and we solve them in the best possible way.
It is certainly a new experience for them, before we went to them, now they come to meet us, and the environment here at ACER is different from the school ".
One of the reading mediators, Kaylaine, also gave us her point of view:
"I confess that this year was not easy, having to get away from what I was used to doing, but when it returned, it was not difficult to adapt again and everything happened normally and in a positive way.
I don't really think that when we got back we had difficulties, what we have to talk about is the sanitary protocol, which we had to adapt as well.
I think the kids are enjoying it, we always try to do it in a way that they like and I wouldn't change anything ".
The children who participate in this project visit ACER twice a week and are divided into two different time slots, wearing a mask and with all the spaces and materials sanitized, thus avoiding crowding and following all precautions and safety protocols.
In addition to the activities of the Stories Transforming the Future Project, ACER's community library has contributed to the development of reading, not only for children and young people, but for people of all ages since it contains books of various types and genres, even in Braille. One of these people is Tatiana, 41, who is used to borrowing books: "I take a book out at the ACER library weekly, I think this is very important. I like it there because of the diversity of titles and the practicality of the books being already separated and during the pandemic I request the number of books and subjects via WhatsApp. It would be really nice if they gave suggestions. I would like to take the children to enjoy the environment to get a taste for reading, outside the pandemic ".