Project Report

| Oct 15, 2023
Key milestones on community projects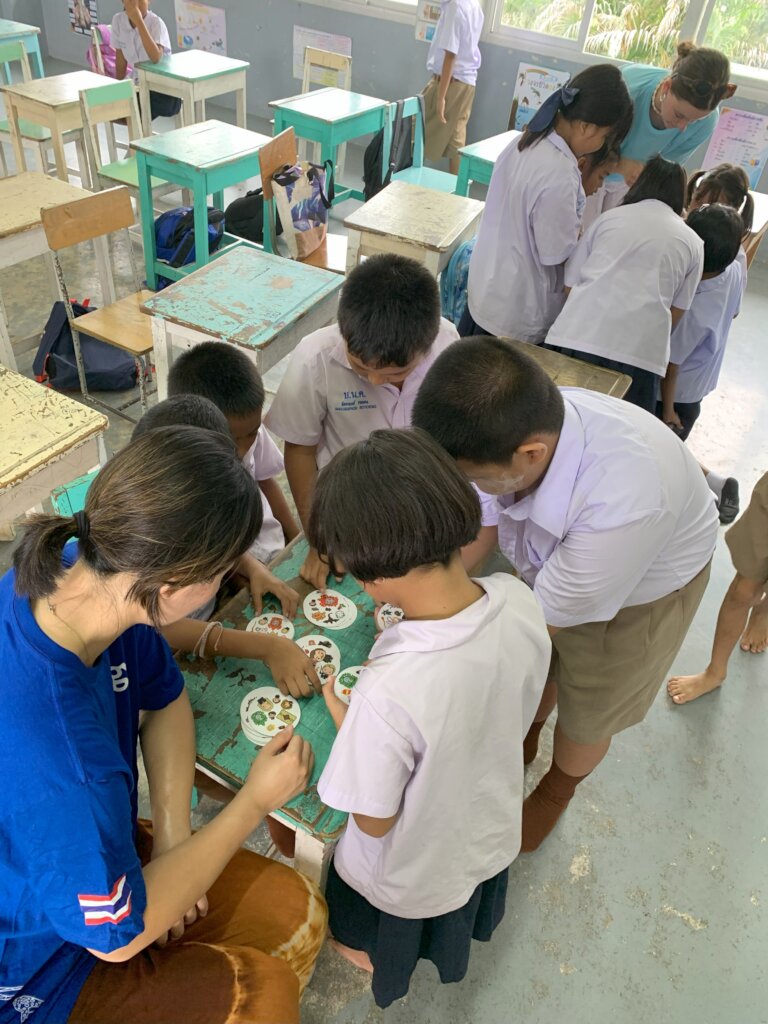 To our Esteemed Donors,
I trust this report finds you in good health and high spirits. I am thrilled to share the remarkable achievements and profound impact of our Community Development Program in the past quarter. Your invaluable support has enabled us to continue transforming lives, and we are profoundly grateful for your unwavering dedication.
Project Milestones:
This quarter, we have witnessed significant progress in our Community Development Program, benefiting both the local community and our dedicated participants. I am delighted to provide you with an update on the key milestones:
Education Initiatives: We successfully conducted 82 lessons at the Thai government school and Burmese learning centre, reaching a total of 379 students. These lessons are fundamental to empowering the next generation with the knowledge and skills they need to build brighter futures.
Adult English Classes: A total of 64 students benefited from our 46 adult English classes, which also extended to staff members at the local hotel. These classes not only enhance individuals' employability but also promote cross-cultural understanding and community integration.
Healthcare Workshops: We organised 10 health care workshops, reaching 658 students in the local community. These workshops covered various healthcare topics, contributing to improved well-being and awareness among participants. Notably, we hosted a free dental health care clinic staffed by dentists from Bangkok, providing much-needed care to the entire village, positively impacting the overall health of the community.
Community Impact:
The impact of these activities on the local community cannot be overstated. The education initiatives create a more educated and skilled workforce, increasing employability and ultimately leading to improved livelihoods. Our English classes foster better communication, which is essential for social integration and career advancement. The healthcare workshops contribute to improved well-being and awareness, while the free dental clinic directly enhances the health and quality of life for the entire village.
Continuing Our Efforts:
With your continued support, we are eager to build on our accomplishments in the upcoming quarter. We plan to host more free healthcare clinics in the village, addressing the pressing medical needs of the community. Additionally, we intend to launch literacy courses, further enhancing education accessibility. We are also excited to initiate a work experience program across local schools, enabling students to gain valuable experience and skill sets to secure better job prospects upon graduation.
Why Your Support Matters
Your generous support is the cornerstone of our success in the Community Development Program. It enables us to continue fostering educational growth, improving language skills, and enhancing healthcare awareness within the local community. These programs create a positive ripple effect, leading to stronger, more self-sufficient individuals who contribute to the well-being of the entire community.
As we move forward into the next quarter, we are enthusiastic about the transformative impact your contributions will enable. The opportunities ahead are truly inspiring, and we are committed to making them a reality, thanks to your continued generosity.
In closing, we want to express our deepest gratitude for your unwavering support. Your dedication is instrumental in creating a better future for the community we serve.
Thank you for being a part of our mission.
Warm regards,
Phang Nga Community Development Team