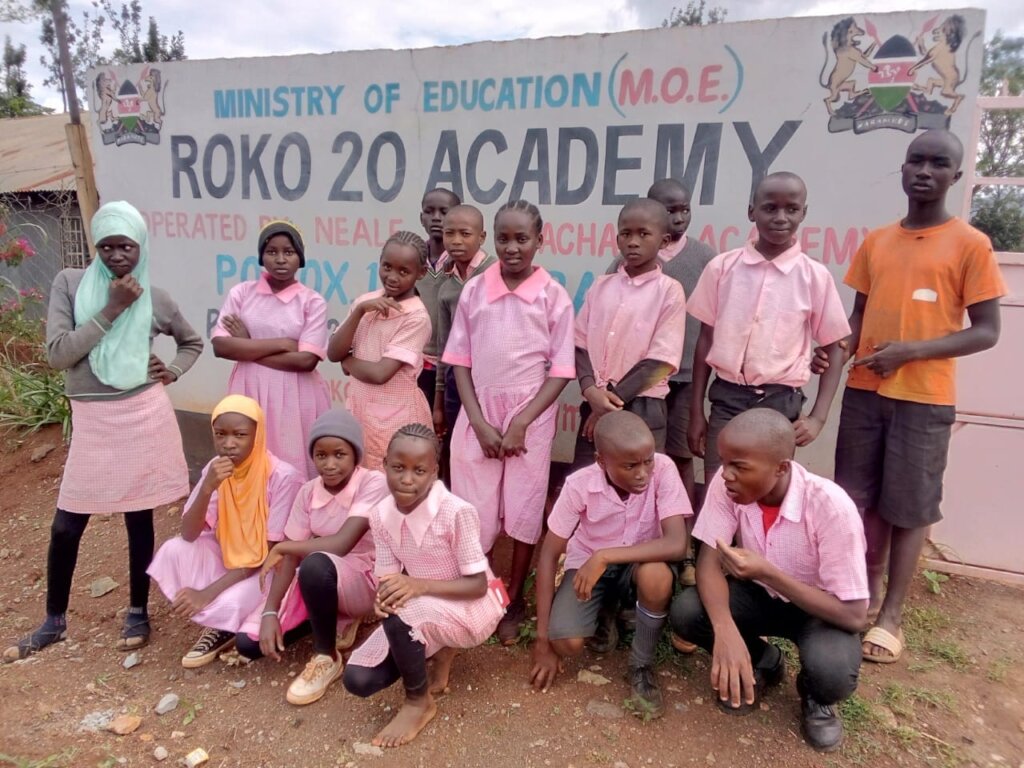 Hello everyone,
It's a sad fact that charities are being squeezed by the cost-of-living crisis resulting in falling donations. Roko 20 has felt the pinch and we are doing our best to reduce costs and utilize every shilling from our budget.
Food
Many families in our community survive on just one meal per day eaten in the evening. Most parents work as casual labourers on small holdings and work is scarce so what they earn in a day is what they will eat. At Roko 20 Academy we ensure that no child will struggle to concentrate in class due to hunger or suffer the stress about when they will next eat.
Despite significant increases in the price of all food items we continue to provide our children with a morning breakfast, mid-day snack and lunch. Some are even given food before leaving school at the end of the day. Each child will get a small breakfast of a cup of porridge in the morning before class and during mid-morning break and also a lunch containing beans, vegetable and maize or rice. More recently, due to the kindness of two sponsors, we have been giving out a small meal before children leave school in the afternoon.
Our Manager is always monitoring the cost of food staples such as rice, beans and maize. Due to the increase in the cost of maize he has adjusted the lunch programme to include more rice dishes. Cow peas have replaced beans in the diet. Morning tea has been replaced with a cup of porridge.
Other areas where we are actively making cutbacks:
Self -sufficient farming
The change in rainfall patterns has a huge impact on Kenya because 98% of the country's agriculture is rain-fed. The major challenge we have growing food on the school land is timing. It's critical to know when rains start and stop so that we know when to plant or harvest our crops. In addition another challenge is that the source of our piped water supply is erratic and insufficient to keep our plants healthy. The Department of Irrigation is now supplying bigger pipes to the community to rectify this problem. These should be in place by the end of July and will enable us to successfully grow more vegetables and fruits.
School Van
The school van is old and is a constant source of expenditure as it was always breaking down and would usually spend a lot of time in a garage awaiting repairs. Finding alternative means of transport was costly. We had to make a list of those children who could reasonably walk the distance to school. We alerted a good friend and supporter of Roko 20 of our problem and to help resolve it she offered to purchase a new engine for the van. It is now running perfectly. We are so very grateful for this lady's investment as it has removed a constant headache in terms of time and big expense.
Solar lights
We have recently added more solar lights to keep electricity costs down and use clean/green energy. These have been placed around the school compound and used at night for security purposes.
Parents' responsibility
Historically we have provided everything a child needs to receive an education at Roko 20 Academy. However, to reduce our costs parents are now required to contribute some things towards educating their children. We are aware there are some who simply cannot afford anything and we will continue to support these families. These are elderly grandmothers who are unable to work and left to raise their grandchildren unsupported and parents with mental health issues or with alcoholism / addictions.
Parents are now expected to provide their children with :
- exercise books and stationaries,
- replacement uniforms,
- payment of the fees imposed on all parents by the Government such as exam fees and extra-curricular activity fees
- school fees for pupils in Junior school (grade 7) and also secondary school (commencing 2024)
We are continually working out ways of saving the school money. These are funds that you have donated and we are so very thankful to you for helping us to continue our important work.
Thanks as always for your continued support.