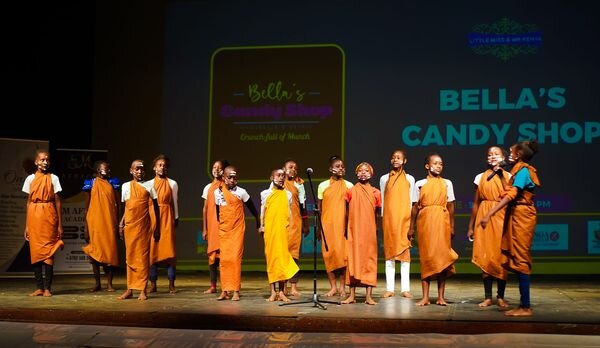 Hello
We hope you are all keeping well.
I'm pleased to provide you with an update of news and a sneak preview of our next project.
Thanks to you and your generous support we continue to ensure that all our pupils' educational needs are met as they receive a free full time education, food, books and stationery and uniforms. There are no other schools in our community providing this and we simply could not do this without you.
Nairobi's National Theatre
We were over the moon when we received an invitation to perform at the Kenya National Theatre during the Little Mr & Miss Kenya grand finale. What an honour! Our budding stars really enjoyed the trip to Nairobi and performing in front of hundreds of people. This did so much to boost their confidence as they gave an outstanding performance. We are very proud of their achievement.
Sports
In August ball games were reintroduced to schools. Roko 20 Academy entered a Regional Schools competition with 11 pupils. Three of these pupils reached County level in handball, football and netball. Well done everyone, a tremendous effort.
Agriculture
Kale and passion fruits. Yummmm. We are growing lots of these thanks to the help received from the parents of our sponsored pupils. Kale is included in our lunch programme and mixed with cabbage to accompany Ugali. The fruits are a treat to be enjoyed with lunch.
Volunteers
Roko 20 is slowly seeing volunteers return after a long absence due to the restrictions of Covid.
In September we hosted Carmen from Spain, who did great work helping us arrange and promote the library. As a treat for our Grade 6 pupils she funded a trip to Nairobi Animal Orphanage and Giraffe Centre. What a great day they had!
Gillian arrived from South Africa and contributed to helping pupils get back on track with our Learning Support Programme.
Dan is currently with us and concentrating on improving our pupils' understanding of maths.
Thanks to all our amazing volunteers!
Fundraising
Menai to Menai Challenge around Angelsey in 4 days
Jonny, Volunteer and a Roko 20 Board Member, completed his challenge to trek 200 kms around Angelsey to raise money for Roko 20 Academy. Despite challenging weather and with apprehension about finishing he raised over £2,200. What an achievement. Thank you!
Yorkshire Three Peaks Challenge
In 2019, Rebecca volunteered at Roko 20 and it was quite clear to her during her time with us that there was a need for a safe space for the children to stay due to the neglect suffered at home. (Read more about our new project below)
Rebecca had the idea of raising funds for us to build a boarding facility for the children to stay during the school week providing the food they need and a safe place to sleep and study.
The team at Home Instead Harrogate Ripon and Thirsk decided to take on the challenge of walking the Yorkshire Three Peaks to raise funds for this project. They completed this on 1st October. Having set a target of £2,500 they managed to raise a grand total of £3,027. Thank you so much everyone for your tremendous effort.
Our next project
More often now we are hearing reports of the neglect and abuse of some of our pupils. Children as young as 6 years old are locked out of their homes for long periods of time and left to fend for themselves. Older children have been facing dangers sleeping on the streets.
High food and fuel prices typically hit the most vulnerable households hardest. Currently most of these families can't afford even one meal per day regularly.
All of this has had a detrimental effect on our pupils' education. We want to ensure that they healthy, free from abuse and have a safe environment to concentrate on their academic studies. So we are going to tackle this in two ways:
1. Provide a small boarding facility at the school
Thanks to the funds raised by Rebecca and her team we will:
Build a girls and boys boarding facility at the school
Accommodate pupils from Monday through to Thursday evening
Appoint a mature female teacher to take residence at the School to take care of pupils and provide support with homework
The cost of boarding for a child from Monday to Thursday evening is just £7 a month.
Huge thanks are to go to Rebecca and her work colleagues who raised the funds for us to build this facility.
2. Introduce an After School Food Programme
We will provide a meal for all our sponsored children to ensure they have an evening meal.
We would like to thank Benoit and Florence who came up with the idea for the After School Food Programme. With their generous donation we will be able to cover the costs of this for the next year.
We continue to be so very humbled by the generosity and concern of our friends, volunteers and donors who we can rely on for support.
Thanks to each and everyone of you.