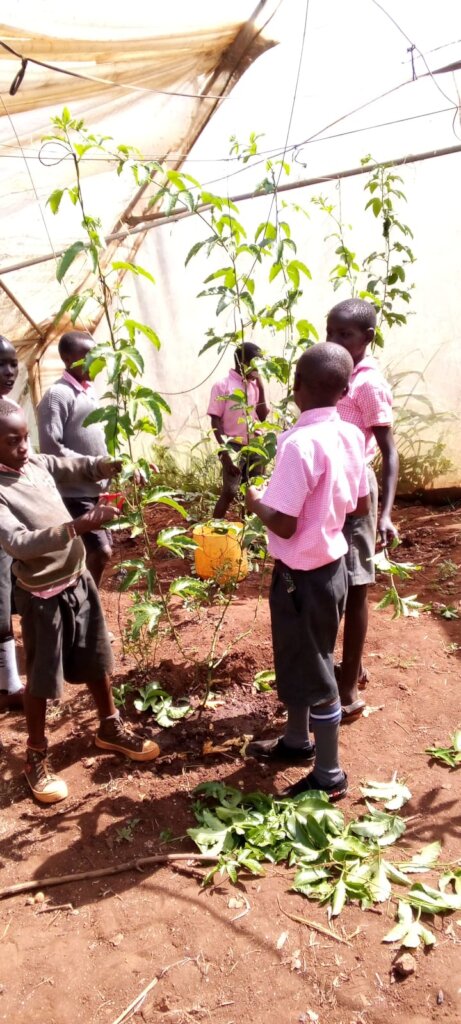 Hello from Kenya
We recently celebrated Madaraka Day here in Kenya. This is a national holiday that is celebrated on 1st of June and commemorates the day in 1963 when Kenya attained internal self rule after being a British colony since 1920. We invited some of our pupils to school to join in the celebrations with a meal and games. A good time was had by all.
We hope that the following update on progess will be of interest to you :
This term we've initiated extra curriculum clubs such as scouts, agriculture and dancing.
Gardening Club
Pupils in our agriculture club have started planting passion fruit in our greenhouse. They started by planting 30 passion fruits and we expect our first harvest in October.
The Club is also busy rearing rabbits and chickens which they feed with kitchen leftovers. The manure from the poultry and rabbits are placed on the passion fruit for added soil nutrient. At the end of Term 1 in March, pupils enjoyed a lunch of rabbit and chicken meat.
Community Support
Community support is very important to us. Parents and guardians of our pupils regularly volunteer at the school helping on the land with weeding, planting and harvesting, or perhaps assisting our cooks in the kitchen with cleaning. Recently we were gifted with 54 school sweaters from someone who had heard about the work we do and simply wanted to support us. Our pupils were so grateful to receive them.
Folk dancing
We were delighted that some of our pupils were chosen and trained by traditional dancers to perform and entertain guests during the Annual Little Miss Muranga county competition. Our pupils dressed in a colourful display of traditional costume and did brilliantly. We are very proud of their achievement.
Scouts
Our scouts were able to attend the Founder's Day in February where they met with thousands of scouts from other primary and secondary schools. We saw their confidence and skills improve during the day.
Fundraising
We recently managed to raise a little over £400 at a recent Bingo event in Pembrokeshire. We have another two events coming up shortly and one of our Board Members is undertaking a 200km Endurance challenge in June, running around the Isle of Anglesey to raise much needed funds. If you'd like to sponsor him then please do get in touch.
Child Sponsorship
Sadly we have lost a few sponsors along the way this year, mostly due to the pandemic. We are aware that people do not have the spare cash that they used to have. Providing a free education to children whose families are living in abject poverty really does make an impact so please do ask your family, friends and colleagues if they would like to sponsor a child.
Finally thanks everyone for your continued support from all of us at Roko 20 Academy.
The school is doing really well under the capable hands of our Manager, with the support from his Head Teacher and staff.
Its a great school and its doing great work for our community.