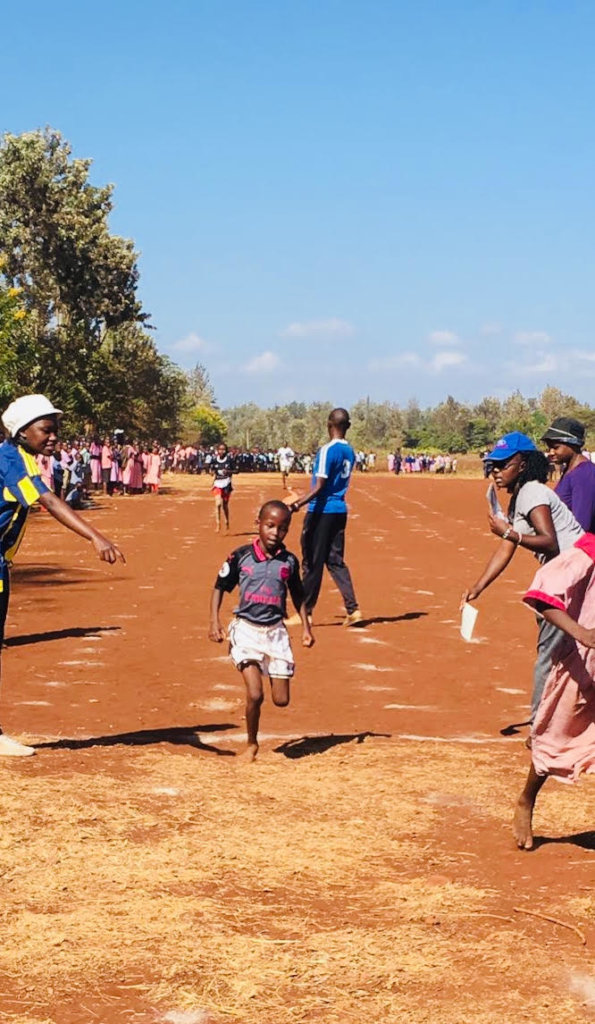 We are happy to update you with news from the first term of 2019.
Athletics
This year we were fortunate enough to be able to participate in the zonal athletics competitions competing against nine other local schools.
Two of our pupils, John Kamondia and Beatrice qualified to the next level in the 5000 metre race.
Beatrice, who is 11 years old, amazed everyone by winning her race and beating the runner-up with a gap of 200 metres on the finishing line. Unfortunately, whilst competing in the sub-county level races she became sick in the last lap and went on to finish in 6th place. Despite the set-back Beatrice will still qualify to the next level.
We recognise that Beatrice has focus, perseverance and talent. We will do all that we can to ensure she reaches her full potential by helping her to maintain good health and become more self-confident.
Water Tank
We are so very grateful to have received £550 from the Rotary Club of Narberth and Whitland to purchase a 5,000 litre water tank.
We have now become self-sufficient having a permanent supply of drinking water and reserve water for the kitchen.
Pupils and staff maintain good water drinking/ hydration habits so they do not develop any unnecessary health issues as a result of dehydration or suffer from the illnesses associated with poor water storage.
We fitted three taps outside the pre-school classes so pupils have easy access to drinking water as well as a constant supply for hand-washing.
A big thank you to all those who made this possible.
Level ground for the playing field
Rebecca and Matt, two volunteers from the UK, are doing great work assisting teachers in class and on the playing field developing football and athletic skills.
Shocked by the state of our playing field, which these days rather resembles Mount Kenya as the incline has become quite steep, they decided to start a fundraising campaign in an effort to help us fund levelling of the field. Their JustGiving campaign did tremendously well and they exceeded their target raising £620.
During the recent school holidays we hired large machinery to level the soil. We dug deep trenches to prevent soil erosion and have plans to lay tarmac on the field in the not so distant future. Pupils will be thrilled when they return to school for Term 2 to find a playing field which will allow their game to improve.
Big thanks to Rebecca and Matt as this is a huge step forward for Roko 20.
Roko 20 depends on the generosity of people like you, to raise funds and give precious time to helping us improve.
We are indebted to our staff on the ground who, despite considerable challenges, are dedicated to making Roko 20 one of the best performing schools in the area giving pupils an opportunity to change their lives for the better.
Thank you all so very much!