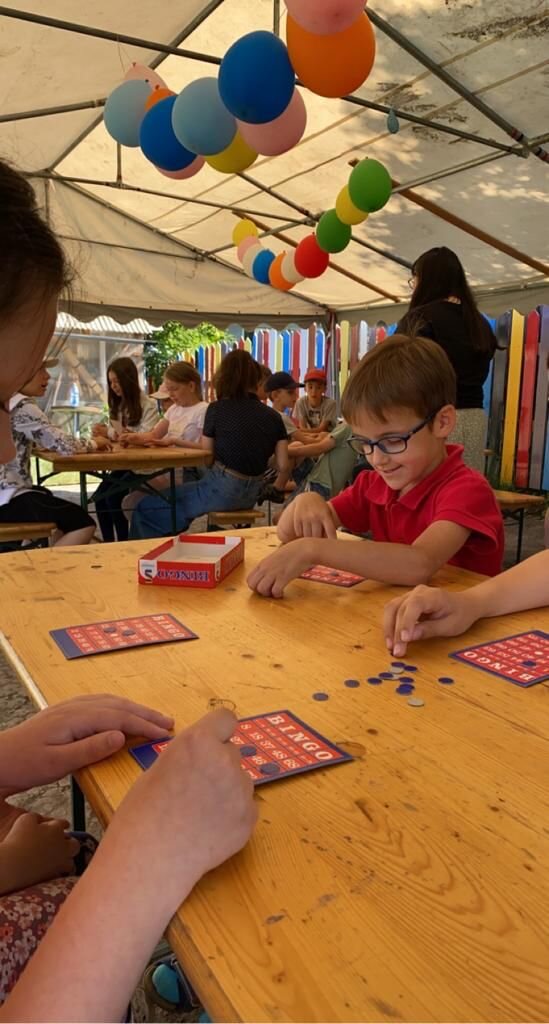 Dear Donors,
Summer is slowly ending and the first day of school is right around the corner. Our last week was quite rainy. Rest assured we've just had a pleasant and busy summer, filled with lots of sunshine and laughter. During this summer we reached out to local children and engaged them in informal, playful English-speaking activities.
A couple of our volunteers shared their experience and their favourite moments about the camps :
James, UK: "I am 16 years old, I used to participate in summer camps. I was one of them not too long ago, this program reminds me of a happy time. Seeing their happy faces means a lot to me. They are a group of friendly, happy kids, and more than happy to help each other. I can see their progress every day, which makes me very satisfied."James choose 3 words to describe his experience. "Inspiration. The children are so positive and happy, which also inspired my optimism. They are very enthusiastic about studying and willing to help us and each other. Learning experience. Every child is different and has his/her own thoughts and personality. You need to find the balance between collective and individual. You need to think more, prepare more, and be more creative. I learn a lot from kids."Satisfaction. I feel satisfied every time I see their smiles and progress, and I feel useful and needed here. " Amaia, Spain: "On my last day, the children were so sad, they hugged me, kissed me, gave me gifts, and they said they will miss me. That was so lovely and touching. You can feel their love and their hearts are so pure."She also choose a couple of words to describe how the camp was for her: "New. For me, it is a new experience that I have never had before. This is the first time I work with kids. I was afraid at the very beginning, but children made things much easier, I got to love them so quickly. Creative. Working with kids you must be creative. Because each kid is special and different, and they will change your plan every moment, so you need to find a way to improve all the time. Great. Just great. It is so great so far. I can not think of anything better than this."
For children, the summer camp is a great way to learn as well as to learn how to help each other and work together. For the volunteers, it's also satisfying to see the children's progress. As the children laughed and ran around the field, we became acutely aware of the importance of this job. It means so much to all of us.
For me personally, the greatest moment in all the camps is always in the end. I guess it's somewhat bittersweet as well. It's the moment when the kids leave, they hug us and tell us how great they felt, they got to play and learn as well. They tell us that they are definitely going to return next year. This year we also had kids returning from last year. It's so nice seeing them again, seeing how much they grew and their excitement of the camp altogether. I hope we can continue these camps, we keep seeing each other and see them learn & grow more.
A huge thank you to all our donors and volunteers who made this amazing camp possible! Here's to the next one!