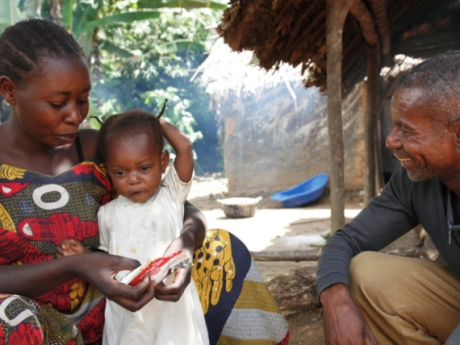 As you are already aware, the DR Congo often falls below the radar of the media's attention, so it's always encouraging to come across a positive story to share with you from this country in the heart of Africa. Today I wanted to share with you a blog post written by Elisabeth Anderson Rapport from Action Against Hunger, the partner that received Edesia's shipment of Plumpy'Nut.
Here is an excerpt:
"Every Thursday morning, Bitondo made the more than five mile trek with her daughter from Kalama to Kilambwigali, to the nearest outpatient centre, where nurses trained by ACF nurses are treating and monitoring acutely malnourished children during their weekly visits.
Bitondo says the journey was well worth it, as Wabiwa received high-quality nutritional therapy, including protein-dense ready-to-use therapeutic foods. These innovative foods have revolutionised the treatment of child malnutrition, allowing children to be treated at home, and enabling health actors to scale up nutritional programmes and reach more children than ever before."
It's heartening to know that Wabiwa's life was changed because of the Plumpy'Nut that was made in our Providence, Rhode Island factory.
Unfortunately for Wabiwa's country, the obstacles never cease. Today I read about another threat in the DR Congo that will most certainly affect the nutritional status of families, and especially young children like Wabiwa, whose bright futures' depend on proper nutrition in the first 1,000 days - from conception to age two. A virulent pest is taking the lives of thousands of goats and sheep.
It is the poorest families in the DR Congo that rely on sheep and goats for their livelihoods and sustenance. My heart aches, thinking about all of the thousands of families that will be even less able to feed and care for themselves now, as a result of this latest threat. But I am encouraged that organizations like Action Against Hunger are on the ground, helping ensure that children get the nutritional support they need.
Thank you for supporting our project. We appreciate your caring and your ongoing partnership with us.
Links: