Project Report

| Sep 4, 2023
Critically Endangered crocs & pangolins rescued!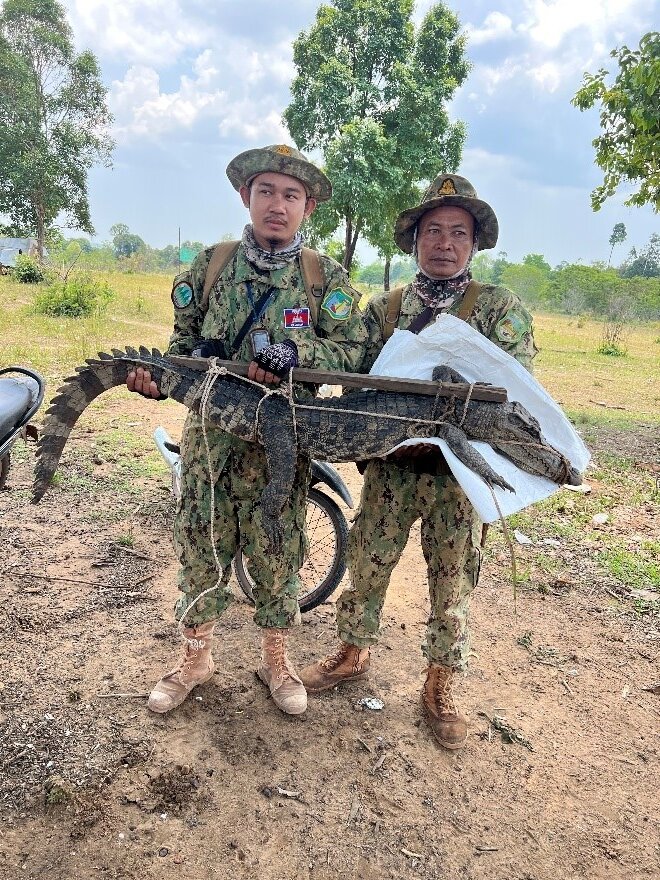 In the past few months, the rangers in the Cardamom Mountains who your donations support have rescued several live animals from Critically Endangered species, including Siamese crocodiles (Crocodylus siamensis), Sunda pangolins (Manis javanica) and elongated tortoise (Indotestudo elongata). Pangolins have risen to unfortunate prominence in recent years as 'the most trafficked mammals in the world' due to demand for their scales and other body parts. Siamese crocodiles, on the other hand, are primarily threatened by human alterations to their habitats, such as aquaculture, dam construction and climate change, and by hunting and trapping. Elongated tortoises face a combination of similar threats including habitat loss and hunting for food, parts and the pet trade.
Siamese crocodiles have been teetering on the brink for decades. Current worldwide population estimates stand at just 1,000 individuals, with approximately 400 in Cambodia, according the Ministry of Environment, which is our partner in the Cardamom Forest Protection Program. With so few left, every single one of these crocodiles is of conservation importance and our ranger patrols both safeguards the species' most critical habitat and sometimes even help rescue them! In early April, a villager in Chi Phat contacted our Stung Praot Patrol Unit for assistance after he accidentally caught an almost 60-pound (27 kilo) female crocodile in a fishing net. After a health check and consultation with a Siamese crocodile expert, rangers moved her to a bigger stream and released her back into natural habitat. The good news is that local villagers and wildlife experts report seeing crocodiles of her kind many times recently in this area, where they move around a lot during the rainy season. In late-April, Ministry of Environment rangers also collaborated with community members who rescued a baby Siamese crocodile in Sre Ambel District of Koh Kong Province. The baby crocodile was released into natural habitat.
In early August, our Sre Ambel Patrol Unit stopped an offender who was transporting one live elongated tortoise and two live pangolins by motorbike. The offender was arrested under Article 61.5 of the Protected Area Law. Because these species are Critically Endangered, catching and taking them from their original habitat classifies as an offence of the third grade, and he was sent to Koh Kong Prison. The tortoise and pangolins were released.
Donations from GlobalGiving supporters like you help ensure threatened species are returned to their natural habitats by paying rangers' food, salaries, transportation and equipment costs so they can respond to cases like these, whether seizing animals being trafficked out of protected areas or assisting local villagers who want to help wildlife they encounter. Thank you so much for your support!