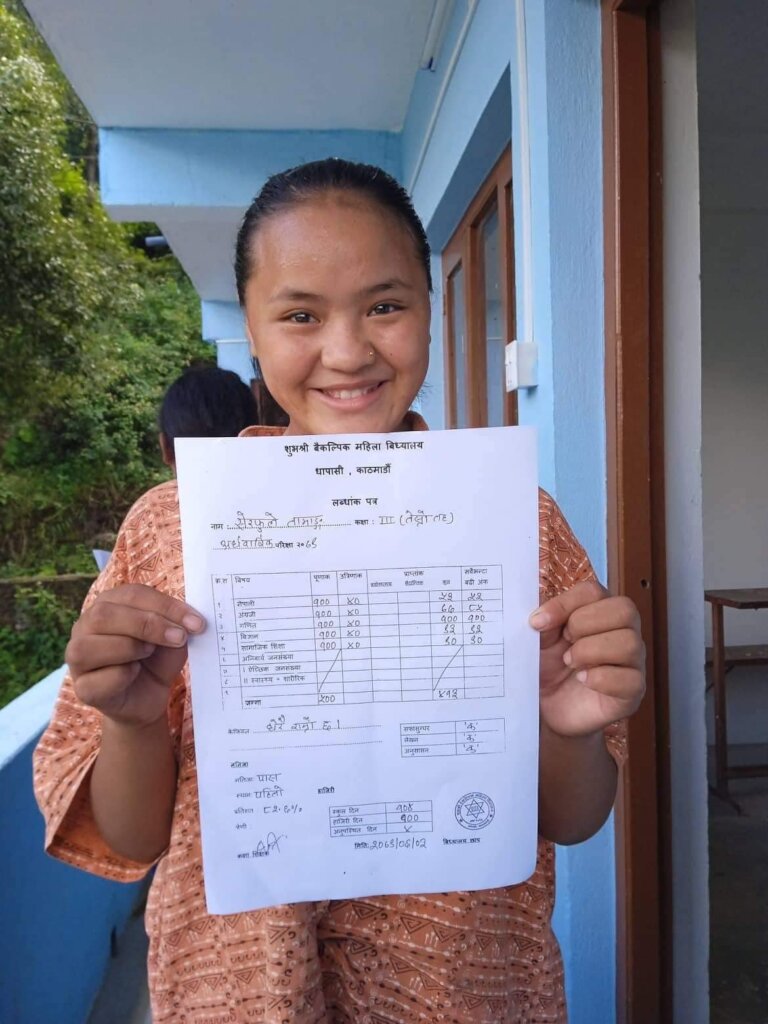 Dear friends,
Greetings, Namaste.
It's our great pleasure to share with you friends the Quarterly progress report of SDO-Nepal's child-home-orphanage for the duration of 8 August to 27 November 2022 as follows:
Achievements:
1)Serfule,13 years old girl who came from highly sex-trafficking prone area just 5 months ago at this orphanage. Due to her hard labor , Serfule received 82.60 % marks in half yearly examination of Level-3 held on last month, securing 1st-Position at her class. Before coming here, she could not get opportunities to study in better school at her village due to her excessive work load and lacking of basic needs at her home. She lived there scaring always from sex-traffickers.
Serfule is very industrious, well disciplined and very eager on dancing. Now,she is boundless happy at her great achievement and every day's life that she is spending."
We heartily thanks to all kind friends for your love and support and providing new life to Serfule.
2) Saraswati passed the SEE examination and now she is studying at class-11 on management stream at Tilingatar Higher Secondary school.
3) A qualified doctor's team conduced Dental and medical check up and health counseling with all required medical equipment at orphanage. General health and dental hygiene found good to all children. Team provided toothpaste and brushes to all children. Thank you DOCTORS for your love and great help.
4) The energetic Team from ADARA development Nepal conducted a day long counseling workshop to teenagers children protected at this orphanage on sexual abuse, good touch, bad touch, menstruation management etc and providing a complete HYGIENIC- KITS to each children. Thank you for providing delicious TEEJ DAR (feast) to children and dancing with children on TEEJ SONGS and making the moments so joyful.
5) Children celebrated Dashain, Dipawali, Teej, Father's Day feast and festivals with great joys visiting the neighboring homes and singing, dancing and begging the blessings from elders with cash and gifts.
6) We conducted 10th General Assembly Meeting and endorsed the financial and progress reports and program of SDO.
7) The General Secretary, Treasurer and care giver staff participated on 3 days long interactive workshop between child homes and elected members organized by Tokha Municipality.
8) Children are managing nicely the kitchen garden which is being the learning place and also helping to reduce the costs of vegetables.
Financial status:
During this period we paid for food /water/ hygiene -$ 850, dress/clothes/shoes- $ 410,Book- $ 20, Fee- $ 62 ,Electricity/ Internet/telephone/ cable charges, paid-$ 86 , Organization renew charges- $ 283, Website Renew charge- $ 80, Audit fee: $100, Care-Giver salary paid- $ 360. House rent paid- $ 1,000.
Our kind Gratitude and Acknowledgements:
i) We are always Grateful to our most-respected-DONORS for your precious DONATIONS through GlobalGiving to ensure the lives of these children !
ii) Similarly, we are also thankful to you all beloved friends for your love and support with cash, foods, cloths stationery and accessories at our office to ensure the lives of these children.
THANK YOU ALL!!
Dear friends, from the love and support from all of you, our hopes are sprouting and getting encouragement to protect more needy children and run the orphanage sustainably. But, due to the highly increasing market prices of the basic necessities day by day and rapidly increasing education costs, it is being hard to provide the fundamental needs to our orphans and abandoned children.
For your kind information, we are participating on Giving Tuesday campaign run by GlobalGiving, which will last 24 hours from 00:00:00 EST to 23:59:59 EST on November 29. The more amount we raise, the more incentive we get. Your worthy donations will fully utilize to provide the the basic needs to the children protected at this orphanage. You can make your precious donations through our PROJECT LINK.
Your every donation is precious and will bring the significant changes on the life of these orphans and abandoned children. we look forward for your continuous support, encouragement and hoping that you will spread your kind words to your lovely family and friends to support on our Cause. These are also your own children.
Before closing, we SDO members and all the children would like to extend our heartiest thanks to GlobalGiving Team, Our valued Donors and Supporters who have been supporting to our children!
Please take care and stay safe.
With kind gratitude !