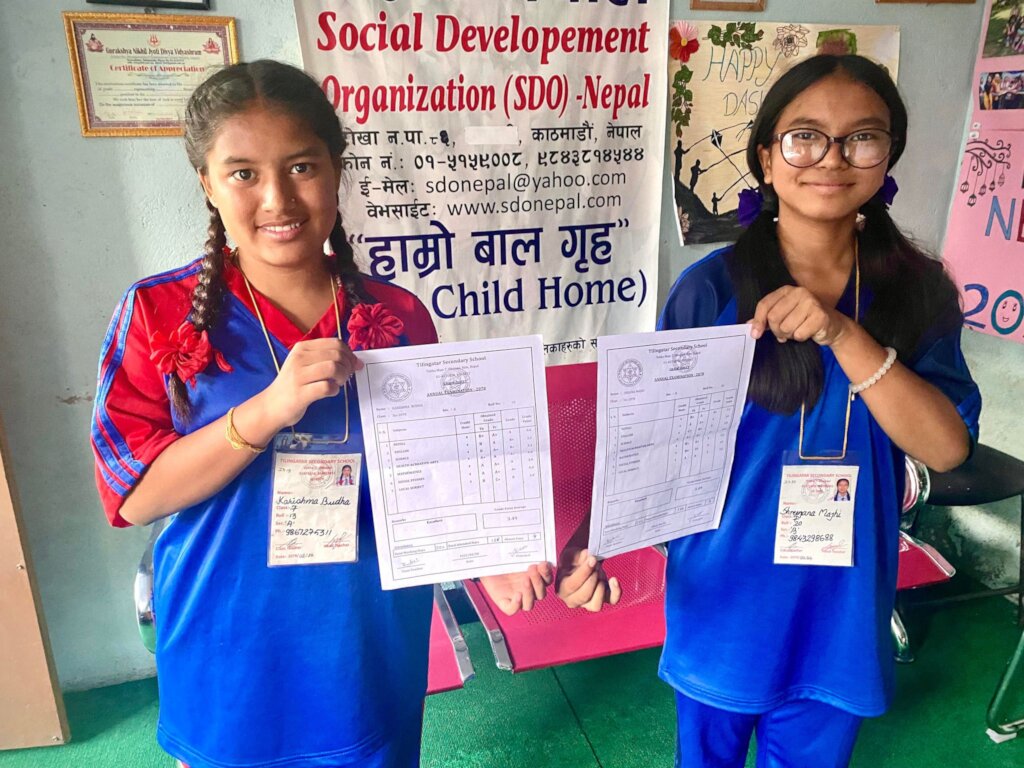 Dear friends,
Greetings, Namaste.
It's our great pleasure to share with you friends the Quarterly progress report of SDO-Nepal's child-home-orphanage for the duration of 12 April to 8 August,2022 as follows:
1) Endanger life of Serfule: Real story:
"13, years old Serfule,, could not get opportunities to study in better school at her village due to her excessive work load at her home. Before coming here of Serfule, Her brother engaged to a neighboring girl. But, before marriage, she was influenced by a neighboring sex-trafficker man and sold to a brothel in Bombay, India. After few months later, our SERFULE was also contacted by the same trafficker and told he will bring Serfule to meet her sister-in-law at India and will provide good job. Luckily Serfule remembered the last words which her father told before his death that " my lovely daughter Serfule, please don't accept any offers given by these sex traffickers otherwise, they will also sell you at brothel at Bombay, India and you have to spent Hellish life there ". So Serfule strictly denied traffickers offer and being able to save herself. Serfule's village areas is highly prone areas on sex-trafficking. Difficult to see young girls more than 12 years at her village as they all are already sold to brothel at Bombay. Only male and old ones are left at village. Her father died and her mother is suffering complete mental disorder as she throw stones to neighbor's house and hence, people always chess and beats to her mother as she is totally mental disorder.
One of the good and kind social activist seeing the everyday risky situation, he asked to Serfule, do you have rice to eat ? she replied innocently, yes sir, I have 2 sacs of rice which the people have donated few months ago during my father's mourning (death) function. Then this activist thought Serfule is endanger situation and facilitated to her Municipality to bring out her from village. As a result, Now, Sherfule is safe and under the protection of SDO Nepal. She is studying at class-3. Her happiness can be seen on her innocent face and enjoying her days with lovely sisters at SDO and her school."
2) Educational progress of children:
The TOP-ACHIEVERS during ANNUAL-RESULT are:
* Shrijana , class-6 GPA: 3.49
* Karishma, class-6 GPA: 3.49
*Susmita , class-7 GPA: 3.18
* Sabita , class-3 GPA: 3.04
* Pratikshya, class-5 GPA: 2.91
Rest girls also achieved good results.
- Saraswati PASSED the SEE ( Secondary Education Examination).
- "GoGreen" Our children SRIJANA, KARISHMA and PEMBA studying at class-7 have prepared beautiful POST CARDS themselves to display on the Environment awareness rally organized by their school.
- We have announced that, children who will secure highest % on Final-Exam will be rewarded with TASTY ICE CREAM. This year, SRIJANA class-7 and KARISHMA class-7 both achieved the same GPA-3.49. So, both girls are rewarded with double cone of ice cream in the first. Then rest girls were also received ice cream for their achievements and encouragement.
- New Academic-Session started. Children happy with New-Books. New-Bags, new class.
2) Others:.
We protected a 13 years old new girl Serfule who was highly at-risk and in-need. Her father died and mother is totally mental disorder.
PRIYA, 14 years old, studying at class-8, suddenly faced mild fever, vomiting, bending of all fingers on curve, couldn't stand straight at her school. So, we admitted her at Kanti Children Hospital, Maharajgunj. After all diagnosis , observation, lab reports and treatments, Priya's condition improved satisfactorily. Priya discharged from hospital with medicine. Sodium, Potassium, Calcium and Vitamin-D3 found in very lower levels, so, it may have suddenly attacked to her body specially at her all fingers leading to bend. Now, Priya is feeling better.
SRIJANA class-7 and PRATIKSHYA class-6 faced difficulties in reading books and seeing the letters in blackboard . They also faced serious headaches and eyeballs pain which badly affected their studies too. So, they both were consulted to an ophthalmic Doctor and checked them in an eye clinic and Doctor prescribed them SPECTACLES. Now they are feeling better.
KARISHMA and ROSHANI celebrated their BIRTHDAY at child home with great joys.
Children surprisingly celebrated the Mother's Day with SDO'S Treasurer SHANTI by cutting cake and giving a GIFT to her.
3)Financial status:
During this period we paid for food /water/ hygiene -$ 900, dress/shoes- $ 200, Medicals-$208, Book- $ 40, Fee- $10 ,Electricity/ Internet/telephone/charges paid-$ 100 , Laptop maintenance-$ 20, Care-Giver salary paid- $ 316. House rent paid- $ 806.
4) Our kind Gratitude and Acknowledgements:
i) We are always Grateful to our most-respected-DONORS for your precious DONATIONS through GlobalGiving to ensure the lives of these children !
ii) Similarly, we are also thankful to you all beloved friends for your love and support with cash, foods, cloths stationery and accessories at our office to ensure the lives of these children.
THANK YOU ALL!!
Dear friends, from the love and support from all of you, our hopes are sprouting and getting encouragement to protect more needy children and run the orphanage sustainably. But, due to the COVID-19 pandemic and highly increasing market prices of the basic necessities day by day and rapidly increasing education costs, it is being hard to provide the fundamental needs to our orphans and abandoned children. Your every donation is precious and will bring the significant changes on the life of these orphans and abandoned children. we look forward for your continuous support, encouragement and hoping that you will spread your kind words to your lovely family and friends to support on our Cause. These are also your own children. Before closing, we SDO members and all the children would like to extend our heartiest thanks to GlobalGiving Team, Our valued Donors and Supporters who have been supporting to our children!
Please take care and stay safe.
With kind gratitude !